Join Our Telegram channel to stay up to date on breaking news coverage
Finding the best crypto to buy right now is a never-ending task, with dozens of tokens launched on CEX and DEX platforms daily.
In the latest market update, the global cryptocurrency capitalization stands at $1.41 trillion, reflecting a 2.21% intraday increase. Concurrently, the total crypto trading volume has surged to $97.74 billion, marking a substantial 61.66% upswing.
Best Crypto to Buy Now
Moreover, stablecoins contribute significantly to the market activity, accounting for $82.91 billion, equivalent to 87.39% of the total crypto market volume in the same timeframe.
1. Solana (SOL)
Solana (SOL) has recently experienced over 6% intraday price rally to surpass the $47 mark. This surge is attributed to the news of BlackRock's application for a spot Ethereum ETF. This news has generated increased interest in the alternative blockchain, making it the best crypto to buy now.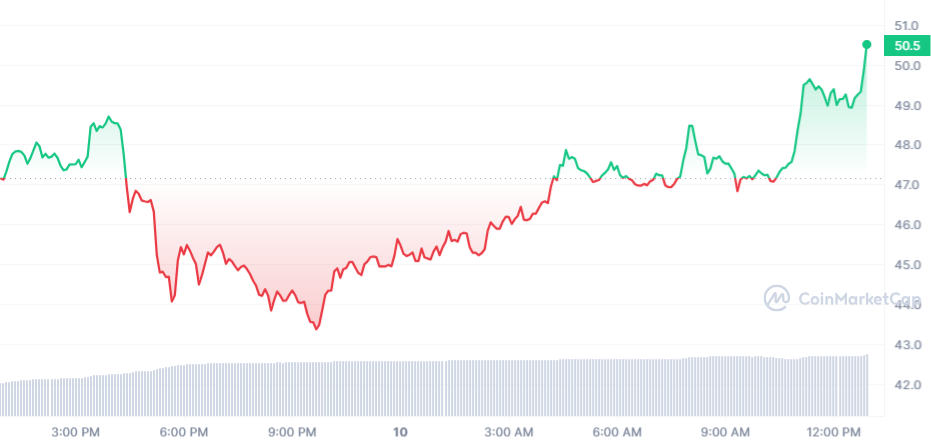 Over the last 30 days, SOL has witnessed a substantial increase of more than 113%, breaking through the $46 level, previously identified as a 15-month resistance point. The ongoing rally requires a daily candlestick closure above $46 and consistent support testing at this level.
While the current upward trend is significant, the possibility of profit-taking by investors could lead to a correction. This scenario is likely if the $46 support level is breached. A drop below this level may result in a correction towards $36, and a subsequent candlestick closure below $36 could push SOL down to $31.
"Solana is the fastest, most performant, most scalable, and the most cost-efficient chain out there, and will continue to be for a very long time" –@0xMert_ 💪

Learn why developers across the globe are building on Solana: https://t.co/nQ0eqeuTmd pic.twitter.com/OoN2KxNTCF

— Solana (@solana) November 8, 2023
The recent surge in SOL's price is attributed to the generally positive trend in the cryptocurrency market. Likewise, it is attributed to optimistic expectations regarding the potential reopening of the troubled cryptocurrency exchange FTX. Nonetheless, the Solana rally has persisted despite FTX selling all unlocked SOL in its wallet over the past two weeks.
2. FTX Token (FTT)
FTX Token (FTT) is valued at $2.89, indicating a 25.03% surge in the past 24 hours. The 24-hour trading volume has reached $518.01M, contributing to a market capitalization of $951.56M and a market dominance of 0.07%.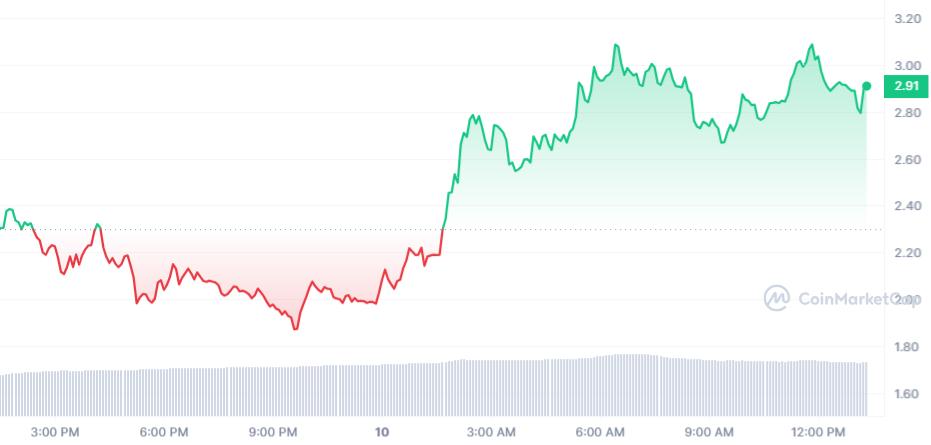 Furthermore, the current sentiment for FTX Token is bullish, accompanied by a Fear & Greed Index of 70, indicating greed in the market. Circulating supply stands at 328.90M FTT out of a maximum supply of 352.17M FTT. Similarly, the yearly supply inflation rate is 145.49%, creating 194.92M FTT in the past year.
In terms of performance, FTX Token has shown a 6% price increase over the last year, outperforming 50% of the top 100 cryptocurrencies. Notably, it has consistently traded above the 200-day simple moving average, with 17 green days in the last 30 days. Hence representing a 57% positive trading trend.
(4/4) All creditor representatives involved agreed to support a related amended Plan of Reorganization to be filed by 12/16/23: https://t.co/qAp9kxXNEP

— FTX (@FTX_Official) October 17, 2023
Additionally, FTX Token boasts high liquidity based on its market cap. It is actively traded on KuCoin, facilitating trading with the US Dollar. Presently ranked #6 in the Exchange Tokens sector, FTX Token's current state is characterized by factual observations. Thus offering a comprehensive overview of its recent performance and market position. Furthermore, this places FTT as the best crypto to buy now.
3. ORDI (ORDI)
Ordinals (ORDI), the cryptocurrency associated with the Ordinals Protocol, has garnered attention in the cryptocurrency market due to a significant surge in its native token, $ORDI. Over the past 30 days, $ORDI has experienced an impressive increase of +520.14%, resulting in a fivefold return for investors.
This surge in value highlights the growing influence of ORDI tokens within the competitive cryptocurrency landscape. Currently trading at $20.43, the token has demonstrated a 35% increase in just one day. Thus contributing to an impressive market capitalization of $428 million.
The catalyst behind this surge is listing Ordinals coin on Binance, a well-known cryptocurrency exchange. This development has propelled ORDI into the spotlight, attracting increased interest and investment, ultimately leading to substantial gains for early adopters.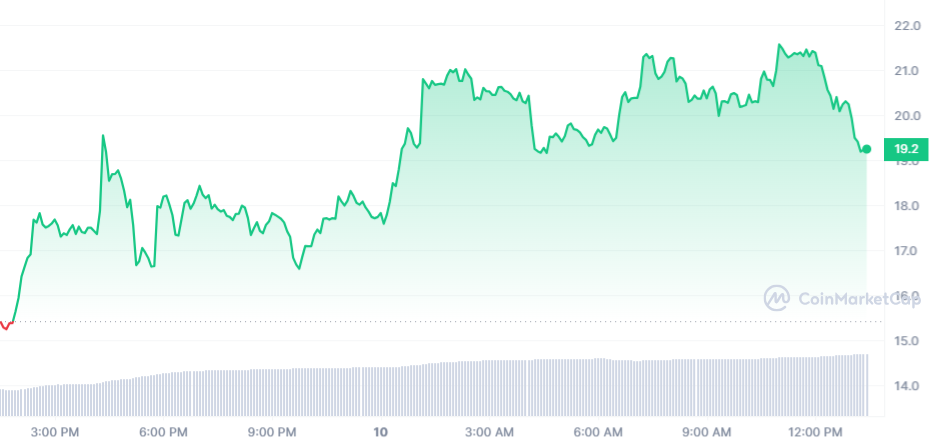 With the cryptocurrency market constantly evolving, Ordinals and its native token ORDI have positioned themselves as formidable participants. Given its recent performance, investors now keenly observe this digital asset's trajectory.
ORDI's price is $19.37, with a 24-hour trading volume of $2.23 billion. The coin also has a market cap and dominance of $406.83 million and 0.03%, respectively. Over the last 24 hours, the ORDI price has increased by 26.72%.
Notably, the market sentiment for Ordinals is currently bullish, and the Fear & Greed Index indicates a level of 70 (Greed). ORDI has experienced 16 green days in the last 30 days, accounting for 53% of the observed period. The project boasts high liquidity based on its market capitalization and is also the best crypto to buy now.
4. Immutable (IMX)
Immutable, a leading web3 gaming platform, has recently entered into a collaboration with Ubisoft's Strategic Innovation Lab. Thus marking a significant milestone in decentralized gaming. This partnership aims to harness the capabilities of web3 to enhance the gaming experience for players.
Immutable positions itself as an all-encompassing solution for creating top-tier games. Moreover, the collaboration with Ubisoft's Strategic Innovation Lab is expected to combine the respective strengths of both entities. Hence crafting a mainstream web3 gaming experience.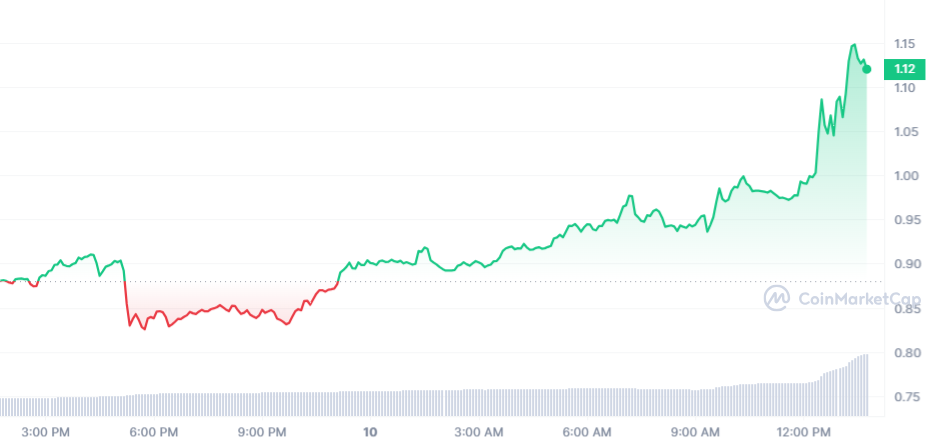 Nicolas Pouard, the VP of Ubisoft's Strategic Innovation Lab, highlights Immutable as a preferred platform within the Web3 community. Therefore, emphasizing Immutable's advanced technology and expertise in seamlessly integrating decentralized technologies into games.
As of the latest data, Immutable X is priced at $1.100226, boasting a 24-hour trading volume of $493.40M. Furthermore, it has a market cap of $1.38B and market dominance of 0.10%, making it the best cryptocurrency to buy now. Over the past 24 hours, the IMX price has witnessed a 24.90% increase.
Immutable 🤝 Ubisoft's Strategic Innovation Lab

Immutable, the leading web3 gaming platform, is joining forces with Ubisoft's Strategic Innovation Lab to create a new gaming experience to further unlock benefits for players through the power of web3.

This is another significant… pic.twitter.com/x3XvHwP0Zd

— Immutable (@Immutable) November 9, 2023
Immutable X's circulating supply is currently 1.25B IMX out of a maximum supply of 2.00B IMX. The yearly supply inflation rate is 432.04%, creating 1.02B IMX last year. Regarding market cap, Immutable X is third in the Layer 2 sector. Key highlights include a 134% price increase last year, outperforming 89% of the top 100 crypto assets. Moreover, it surpassed the performance of Bitcoin and Ethereum.
IMX is trading above the 200-day simple moving average, maintaining positive performance compared to the token sale price. Additionally, there have been 19 green days in the last 30 days, accounting for 63% of the observed period. As such, the token is well-placed as the best crypto to buy now.
5. TG.Casino (TGC)
TG.Casino's presale has seen it secure a total funding surpassing 1,834,324. The project partially attributes this early success to its unique staking and buyback mechanisms. Therefore setting it apart from conventional staking systems.
We have passed the $1.8 million milestone👏 🙌

This is a monumental achievement for us all. The $TGC community never stops🎰 pic.twitter.com/xw48V1VtxV

— TG Casino (@TGCasino_) November 9, 2023
The project's design aims to establish a dynamic framework wherein staking rewards increase progressively. In contrast, the token supply decreases as TG.Casino gains popularity and generates more revenue. The primary objective is to enhance the intrinsic value of TGC tokens.
This unique approach has drawn the attention of experts and analysts, who closely monitor the impact of these staking and buyback mechanisms on the supply and demand dynamics of TGC. Additionally, YouTuber John Crypto Bury has acknowledged the project, emphasizing the substantial staking rewards as a notable advantage in a video.
Presale participants can achieve a noteworthy Annual Percentage Yield (APY) of 1,500% on their TGC tokens. Moreover, early investors are promised exclusive rewards upon the platform's official launch on Telegram. Hence providing additional incentives for engagement.
Read More
New Crypto Mining Platform – Bitcoin Minetrix
Audited By Coinsult
Decentralized, Secure Cloud Mining
Earn Free Bitcoin Daily
Native Token On Presale Now – BTCMTX
Staking Rewards – Over 100% APY
Join Our Telegram channel to stay up to date on breaking news coverage