Join Our Telegram channel to stay up to date on breaking news coverage
The Ethereum price is trading with a bullish bias, with a sustained uptrend beginning mid-October. It is up almost 4% in the last week to trade at $1,887 as of November 6 at 4:30 AM EST, with a 24-hour trading volume of 40%. With this surge, one expert says the Ethereum price will never drop under $1,500 again.
Been a while since my last update on $ETH, but chart is clean at the moment. You can see we held the $1400-$1500 zone which was my HTF buy zone and the BOTTOM imo.

I don't think you get a chance at sub $1500 ETH again.

That being said, I do think we are due a pullback before… https://t.co/5cL00EK7vs pic.twitter.com/zihipHy7Ja

— CrediBULL Crypto (@CredibleCrypto) November 6, 2023
The stance of this analyst sprouts from the fact that the Ethereum price has managed to maintain a "clean chart" for almost a month now. "You can see we held the $1400-$1500 zone which was my high timeframe buy zone and the bottom in my opinion. I do not think you get a chance at sub $1500 ETH again," the analysts said.
Nevertheless, this expert, going by @CredibleCrypto on Crypto X joins our assumption in a previous article that the market may be due for a pullback before a continuation of the uptrend. He says, "That being said, I do think we are due a pullback before continuation," acknowledging that while many people are anticipating a move to the $2,000 psychological level, Ethereum price could revisit $1,700 first.
It is worth mentioning that overreliance on the predictions of other analysts and investors is not advised. Traders must always conduct their own research and only invest in money they are okay to lose. One trader, @rayanhassan96 has challenged @CredibleCrypto's market outlook, saying that if Bitcoin could head straight to $40,000, why can't ETH forge north?
Meanwhile, bullish fundamentals for the broader market continue to pile up. Hong Kong is mulling allowing spot crypto exchange-traded funds (ETF) as part of its broader endeavour to become Asia's hub for crypto, Bloomberg reported today.
💥 Hong Kong paves the way for mainstream adoption of digital assets by allowing spot ETFs to invest in cryptocurrencies. A significant step towards bolstering its position as a digital asset hub. https://t.co/6GOsjAsk5k

— Coincu News (@Coincuofficial) November 6, 2023
Ethereum Price Outlook As ETH Confronts The $1,935 Mean Threshold
After a 23% climb that began on October 13, Ethereum price is now facing the $1,935 mean threshold of the supply zone extending from $1,861 to $2,004. If Ethereum price manages to break and close above the $1,035 level, it would clear the path for a continuation of the uptrend, with ETH likely to convert the supply zone into a bullish breaker by flipping the $2,029 resistance level into a support floor.
Further north, Ethereum could stretch to tag the $2,141 range high, about 15% above current levels. The case to the upside draws support from the Awesome Oscillator (AO), recording green histograms in the positive territory to show bulls leading the ETH market.
In the same way, the Relative Strength Index (RSI) is above the 50 level, showing a strong price strength with the possibility of more gains.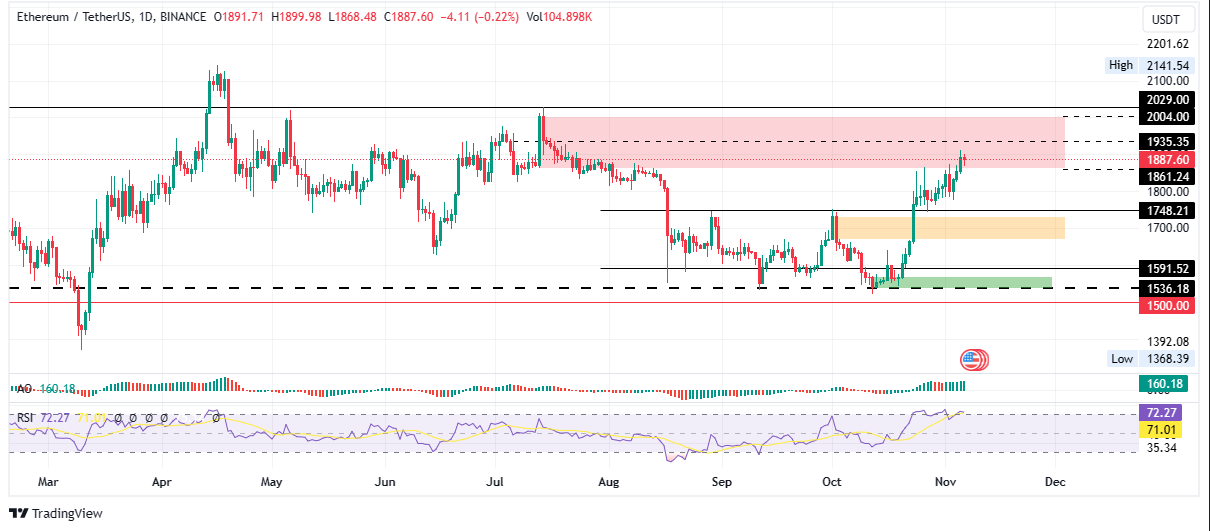 Converse Case
The RSI has just deviated south, which is risky, as it could cross below 70 soon. For starters, its deviation to the south shows momentum is already falling while its position above the 70 level shows ETH is overbought. If the RSI crosses below 70, it would signal a sell-off, clearing the drains for the Ethereum price to spiral south.
The ensuing selling pressure, and therefore a rejection from the supply zone could see Ethereum price drop below the support due to the lower boundary of the supply zone at $1,861. Further, south, the slump could extend for ETH to test the $1,748 support level.
If the aforementioned buyer congestion level fails to hold as a pivot for Ethereum price to turn around, the landslide could extend for Ethereum price to dip into the supply zone cum bullish breaker extending from $1,666 to $1,733. A break below the midline of this order block at $1,700 would confirm the continuation of the downtrend.
In the dire case, Ethereum price could dig deeper to test the $1,591 support or worse, extend below the demand zone cum bullish breaker, shattering the lower boundary at $1,536 before revisiting the $1,500 level. Such a move would constitute a 20% rampage and would have invalidated the experts prediction.
Meanwhile, three tokens present better alternatives. BTCMTX, MK, and TGC offer ETH holders better prospects if they buy in early.
Promising Alternatives To Ethereum
BTCMTX, MK, and TGC are among the top three cryptocurrency ICOs to consider investing in this month and beyond. They power the Bitcoin Minetrix, Meme Kombat, and TG.Casino ecosystems, respectively.
BTCMTX
Bitcoin Minetrix is a cloud-mining project committed to making BTC ownership a reality. It has decentralized and tokenized the process of mining Bitcoin, putting it in the hands of BTCMTX token holders, thus removing intermediaries. In so doing, it reduces the chances of scams or swindles.
Educate yourself on the dangers of #CloudMining fraud! ⚠️

Certain prominent entities like #FancyCrypto & #IDMining have raised concerns with their dubious activities.

Gaining insight into the potential risks is crucial for making safe choices in the #BitcoinMining sphere. 🔒 pic.twitter.com/P4IyAVDTam

— Bitcoinminetrix (@bitcoinminetrix) November 4, 2023
The BTCMTX token is selling for $0.0114 in the current stage of the presale, due to end in less than a day.  The project has breached the $3.4 million mark in presale sales, recording $3,454,351 million out of the $3.904 million target.
#BitcoinMinetrix marks another notable milestone!

Surpassing $3,400,000 raised. ✅ pic.twitter.com/jb9TGSPvFe

— Bitcoinminetrix (@bitcoinminetrix) November 6, 2023
Visit Bitcoin Minetrix to buy BTCMTX here.
MK
MK is the ticker for the Meme Kombat ecosystem, a gaming platform where participants can choose their meme characters for battles. It contends against pioneers in the meme coin space, including Dogecoin, Shiba Inu, Pepe, and Floki, but the hype around Meme Kombat suggests it may supersede them all.
The world of #memecoins can be a rough place, but #MemeKombat is coming in hot 👊 pic.twitter.com/EotbPRQMyh

— Meme Kombat (@Meme_Kombat) October 4, 2023
With Annual Percentage Yields (APY) as high as 112%, and its bullish outlook boosted by Pepe, Meme Kombat presale is still ongoing. Investors are buying MK tokens at rates as low as $0.183, limited for the next three days before another presale price increase, with sales nearing $1.25 million out of the $1.50 million target.
New price, who dis? pic.twitter.com/AOMuDcDaPM

— Meme Kombat (@Meme_Kombat) November 2, 2023
Visit Meme Kombat website to buy MK here.
TGC
TGC crypto powers the TG.Casino ecosystem, where gambling enthusiasts can seek refuge for exclusivity and anonymity in online gambling. The project does not require KYC and has 25% cash back for all losses made when the player bets TGC tokens. The presale for the project is still on, boasting upwards of $1.742 million in collections so far.
We have just reached $1.7 million raised in presale for $TGC 🎊

LFG players! We have some exciting things coming this week🤫 pic.twitter.com/uSDU3XEkv9

— TG Casino (@TGCasino_) November 5, 2023
Buy TGC token for as little as $0.15 here now before the next price increase, and stake it for 298.08% in annual percentage yields (APY). Notably, more than $10 million in TGC tokens have been staked so far.
We've been quietly growing, it's time for our first public release of Casino numbers, from launch…

💰Players have wagered $10 Million+
🎖Casino players has surpassed 1200+
🚀 Total deposits has exceeded $1 Million

Join our Community TG for more info. pic.twitter.com/OdJCCevITf

— TG Casino (@TGCasino_) November 2, 2023
Also Read:
New Crypto Mining Platform – Bitcoin Minetrix
Audited By Coinsult
Decentralized, Secure Cloud Mining
Earn Free Bitcoin Daily
Native Token On Presale Now – BTCMTX
Staking Rewards – Over 100% APY
Join Our Telegram channel to stay up to date on breaking news coverage