Join Our Telegram channel to stay up to date on breaking news coverage
XRP price surged 13% in the last seven days as it traded at $0.622 as of  3:00 a.m. EST.
XRP whales are now stacking up as they gear up for a breakout on XRP price.

🚨 25,400,000 #XRP (15,426,739 USD) transferred from unknown wallet to #Bitstamphttps://t.co/VFHTWoVbXx

— Whale Alert (@whale_alert) November 2, 2023
XRP Price Prediction
The XRP price is en route to a breakout as it continues to get approval from global regulators. Recently, the Dubai Financial Services Authority (DFSA) approved Ripple (XRP) under its virtual assets regime. This suggests a bullish future for XRP as more adoption is now anticipated. 
Dubai's regulators have consistently demonstrated their pro-innovation approach, with this announcement as the latest example. @Ripple will continue doubling down in regions where there is regulatory clarity for crypto – a key reason we're hosting #RippleSwell in Dubai this… https://t.co/PlIj7ubTcg

— Brad Garlinghouse (@bgarlinghouse) November 2, 2023
Looking at 4-hour charts, XRP has formed a couple of bullish engulfing candle stick patterns showing bull dominance on XRP price. The Relative Strength Indicator (RSI), currently in the overbought region, is going up. This shows that bulls have control of the market as they want to break above the $0.626 resistance level and send XRP above the $1 mark.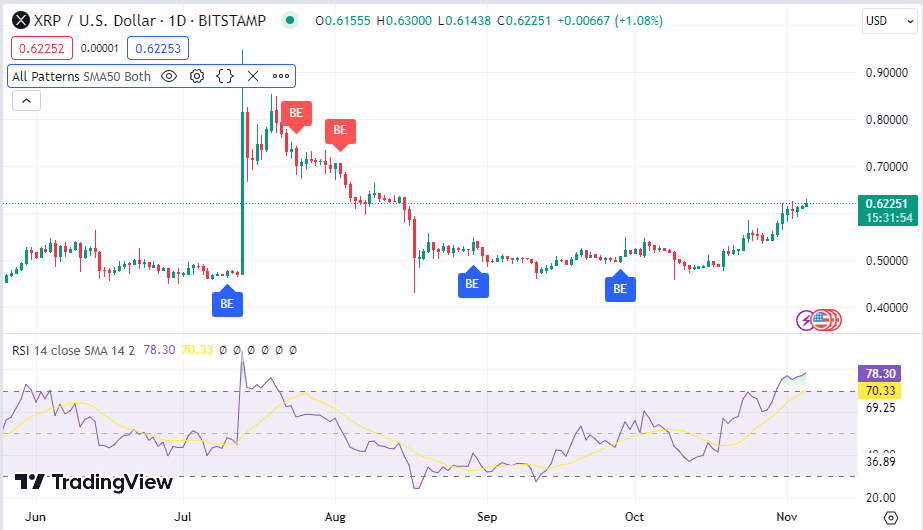 The MACD indicator is currently in the green zone. The 25-day moving average has exceeded the 50-day moving average to form a golden cross. Both these indicators point out bullish authority on XRP price. Looking at volatility, the XRP price is currently facing high volatility levels. This is shown by the Bollinger bands, which are presently wide apart.  
Meanwhile, as a rally looms on the XRP price, the new Meme Kombat MK token is also poised for take-off as the community continuously acquires more investor confidence in its current pre-sale.
Meme Kombat Raises Over $1.2M, Surpasses Expectations
Meme Kombat (MK) has raised over $1.2 million. This underscores the project's growing influence and traction in the market. Investors and enthusiasts are drawn to Meme Kombat's enticing offer of a 112% Annual Percentage Yield (APY) on stakes, presenting a lucrative opportunity for those seeking robust returns.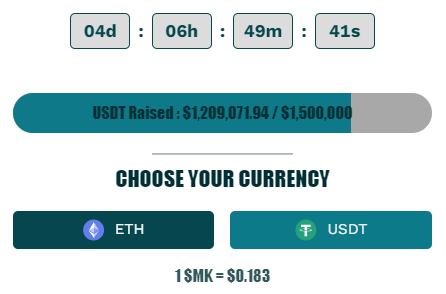 Embracing a fusion of meme culture and sophisticated GambleFi technology, Meme Kombat enables users to immerse themselves in thrilling combat scenarios featuring beloved meme characters. Its multifaceted multiplayer and player-versus-game formats also allow players to explore various betting methods, ensuring an exhilarating and equitable gaming experience.
Firm Footing in the Meme and Crypto Spheres
Meme Kombat's success is not confined to GambleFi alone. The project has become a significant player in social media memes. It is dedicated to honesty and trustworthiness and has a fully doxxed team. Well-known people like CryptoTony believe and support it as they call Meme Kombat the "next Pepe."
New presale i am bring some awareness too .. Legends at @Meme_Kombat who are an innovative new gaming platform designed for hardcore gamers.

– Doxxed team ✅
– $100,000 raised already ✅
– Passive staking ✅
– AD / NFA / DYOR ✅

– Presale link : https://t.co/TWAEnq5WG0
– TG :… pic.twitter.com/r6xtdbBmeX

— Crypto Tony (@CryptoTony__) September 28, 2023
With the presale price scheduled to increase in four days, investors are encouraged to seize the moment and capitalize on the potential gains.
Embrace the Meme Kombat movement today and become part of a cultural and financial phenomenon that promises to redefine the crypto landscape. As you watch out for an XRP price rally, remember not to miss out on this opportunity.

Visit here to take part in the pre-sale.
Related News
New Crypto Mining Platform – Bitcoin Minetrix
Audited By Coinsult
Decentralized, Secure Cloud Mining
Earn Free Bitcoin Daily
Native Token On Presale Now – BTCMTX
Staking Rewards – Over 100% APY
Join Our Telegram channel to stay up to date on breaking news coverage