Join Our Telegram channel to stay up to date on breaking news coverage
Despite the crypto market's downward trend, DEXTools boasts many thriving cryptocurrencies. The presence of numerous daily gainers, accompanied by their substantial percentage increases on DEXTools, serves as a promising harbinger of brighter days ahead for the crypto market.
The prominent pairs displayed on the charts often involve tokens paired with others, frequently in their wrapped forms. These pairings not only signify considerable growth potential but also enhance their attractiveness to prospective investors, generating additional avenues for acquisitions and investments.
It's noteworthy that even the top trending coins from the previous day displayed relatively modest performance. Trading activities continue to act as a stabilizing force in the market, effectively guiding it through turbulent times.
Top Trending Crypto Coins on DEXTools
Global stock indexes saw a significant surge on Friday, while the US Dollar experienced a decline to its lowest point in six weeks. Simultaneously, benchmark 10-year US Treasury yields dropped to their lowest levels in five weeks. This shift followed the data release indicating that US job growth in October had slowed more than initially anticipated.
This deceleration in job growth further emphasized that the Federal Reserve may have completed its interest rate hikes for now.
1. Joe Coin (JOE)
Joe Coin (JOE) is currently priced at $0.02065250, with a robust 24-hour trading volume of $2.36 million. This marks an impressive 8.21% surge in the past 24 hours and a substantial 36.51% increase over the last seven days. However, it's important to note that the current market cap of Joe Coin remains unreported due to undisclosed circulating supply information.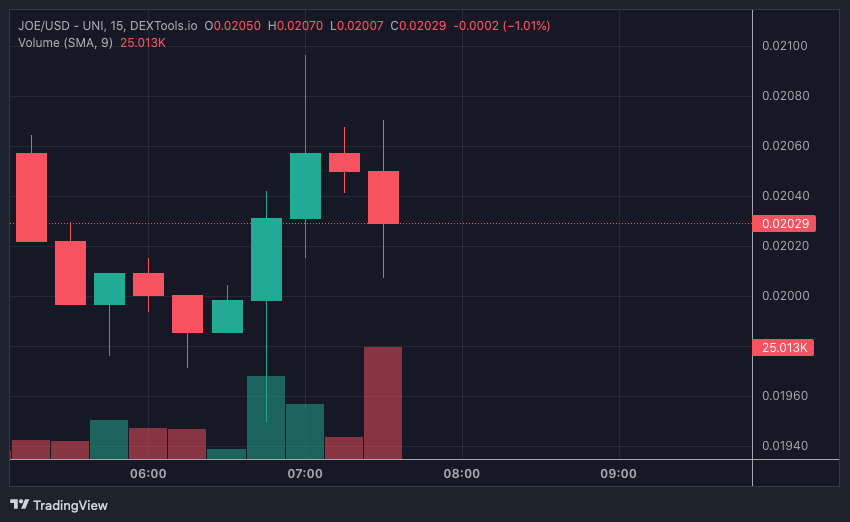 The highest recorded price for Joe Coin (JOE) reached $0.03447 on November 1, 2023. Presently, the price reflects a decrease of 42.12% from this all-time peak. Its lowest price point, on the other hand, was $0.00220676 on October 16, 2023. The current price reflects a remarkable increase of 804.16% from this all-time low.
Joe Coin (JOE) has a fully diluted valuation of $20.65 million. This represents the potential maximum market cap, assuming that the entire 1 billion JOE tokens are currently in circulation. However, realizing this FDV may take several years, depending on the emission schedule of JOE tokens.
Joe a superhero $JOE pic.twitter.com/j7AiQJXBG5

— joecoin (@joecoin_) November 4, 2023
Over the last seven days, Joe Coin (JOE) has outperformed the global cryptocurrency market, registering a remarkable 36.50% increase, while the broader market saw a 3.60% increase. Additionally, Joe Coin has also surpassed similar cryptocurrencies within the Ethereum Ecosystem, which displayed a 12.70% increase during the same period.
The community sentiment surrounding Joe Coin (JOE) is overwhelmingly bullish, with more than 83% of users expressing optimism about this top-trending cryptocurrency's performance. This positive sentiment reflects a high level of confidence and positivity within the Joe Coin community.
2. XVG ERC-20 (XVG)
In an exciting development, Verge Currency has achieved a significant milestone by reaching its maximum supply last week. It now totals 16,521,951,237 XVG coins in circulation. However, the Verge team has introduced an addition to their ecosystem—the XVG ERC-20 token.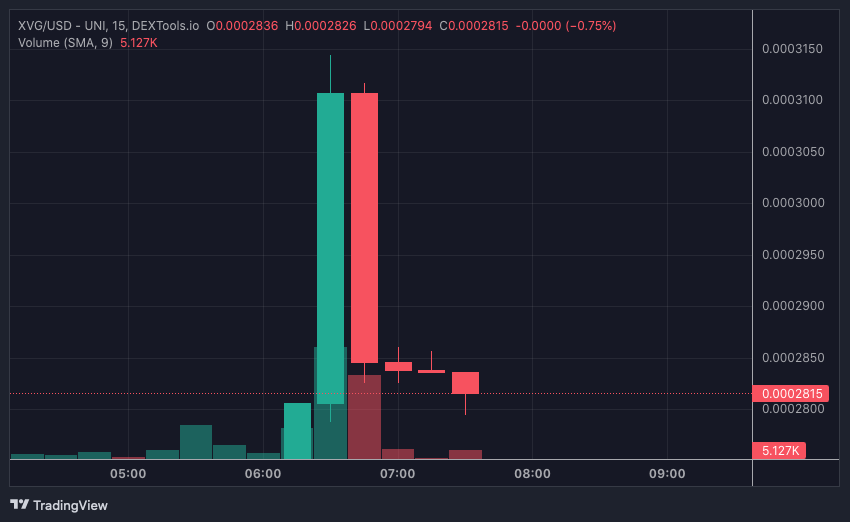 The XVG ERC-20 token, operating on the Ethereum blockchain, ushers in a realm of possibilities for Verge. It's not just a new token; it harmoniously coexists with Verge's native blockchain (XVG). This Ethereum-based XVG ERC-20 token empowers users within the Verge ecosystem to effortlessly exchange or swap assets between these two distinct networks.
51% of the token supply will be locked for 400 days to fortify a vibrant and stable ecosystem, enhancing liquidity and resilience. Moreover, a "burn wallet" holds 20% of the supply, ensuring these tokens are permanently removed from circulation. This deflationary mechanism benefits token holders by gradually decreasing the overall supply. A substantial portion of the token supply, 29%, is also allocated to bolster the Verge ecosystem, with 15% reserved for facilitating exchange listings, ensuring broader accessibility. Additionally, 6% of the supply is earmarked to support the ongoing endeavors of the Verge team, advancing the project's growth and sustainability. Finally, 1% of the token supply directly contributes to the original Verge blockchain, reinforcing its continued expansion.
"BUYBACK"

The Team has bought back 1% total supply of #XVG #ERC20 $XVG pic.twitter.com/vdS5inKYWl

— VergeCurrency (XVG) (@vergecurrency) November 3, 2023
This strategic move to introduce the XVG ERC-20 token underscores Verge's dedication to innovation, community support, and diversifying its offerings. As Verge Currency continues to adapt and thrive in the ever-evolving blockchain landscape, this new addition holds the promise of a more interconnected and promising future for the project and its users. It will also strive to become the most trending cryptocurrency as time goes on.
3. XAI (X)
Presently, XAI (X) is priced at an exceptionally low $0.000000000004299, and the last 24 hours have witnessed a remarkable surge, with a staggering 598.32% price increase. Over the past seven days, the price has experienced an impressive growth of 784.08%. However, it's important to note that the market cap of XAI remains undisclosed today owing to the absence of data regarding the circulating supply of X tokens.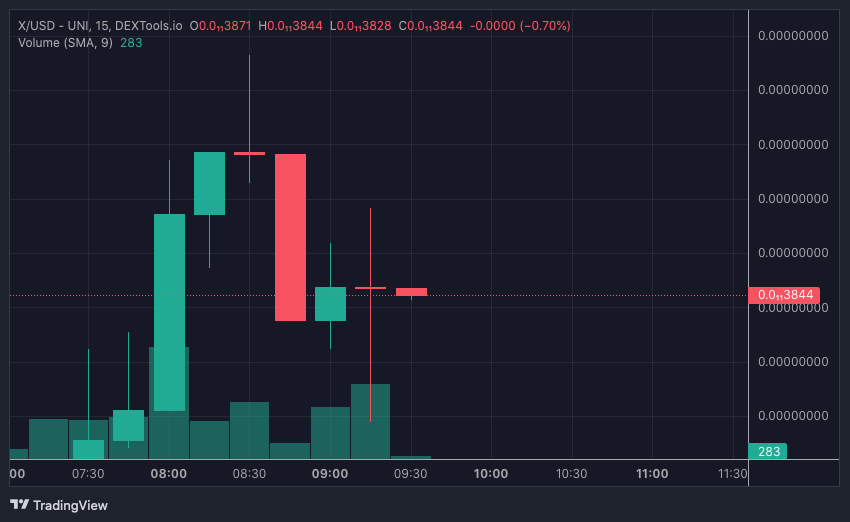 In the past seven days, XAI (X) has exhibited remarkable growth, surging by 784.90%. This places XAI well ahead of the broader global cryptocurrency market, which experienced a 3.60% increase during the same period. Additionally, XAI has outperformed similar cryptocurrencies within the Ethereum Ecosystem, with a notable 12.70% growth in comparison.
The community sentiment surrounding XAI (X) is overwhelmingly bullish, with over 100% of users expressing optimism about the token's performance today. It maintains its position as a top-trending cryptocurrency despite the prevailing conditions.
What Might Be The Next Top Trending Crypto?
TG.Casino (TGC) is a comprehensive cryptocurrency casino seamlessly integrated directly within the Telegram app. Through this Telegram integration, TG.Casino offers users a smooth and user-friendly gambling experience without additional software downloads or applications. What sets it apart is that users can place bets anonymously, as TG.Casino does not mandate KYC verification.
Furthermore, users can conveniently fund their accounts using various cryptocurrencies, including TG.Casino's native TGC token. Opting to wager with TGC tokens rewards users with a generous 25% cashback on any sustained losses.
Weekends are made for kicking back and enjoying your preferred pastime.

We know TG Casino is your top pick, but what's your second favorite weekend jam? 🏖️ 🏔️

— TG Casino (@TGCasino_) November 4, 2023
These attributes are backed by a full gaming license from Gaming Curacao, ensuring regulatory compliance and fortified with end-to-end encryption to safeguard user data.
For TGC token holders, there's an additional opportunity to stake their tokens, yielding returns exceeding an impressive 313% annually. Presently priced at $0.15 per token, the presale has already garnered significant interest, with over 66% of the allocation already claimed. 
Visit TG.Casino.
Read More
New Crypto Mining Platform – Bitcoin Minetrix
Audited By Coinsult
Decentralized, Secure Cloud Mining
Earn Free Bitcoin Daily
Native Token On Presale Now – BTCMTX
Staking Rewards – Over 100% APY
Join Our Telegram channel to stay up to date on breaking news coverage