Join Our Telegram channel to stay up to date on breaking news coverage
We cover some contenders for the best cryptocurrency to buy right now, potentially worth adding to your watchlist over the coming days.
Within decentralized finance (DeFi), the 24-hour trading volume currently stands at $3.98 billion, constituting 11.97% of the total crypto market 24-hour volume. DeFi is significant in the cryptocurrency ecosystem, offering innovative financial services.
Best Crypto to Buy Now
The cryptocurrency market has undergone some notable fluctuations in terms of market cap, trading volume, and dominance in recent times. These statistics offer valuable insights for investors and analysts, aiding in their comprehension of the current state and trends within the market.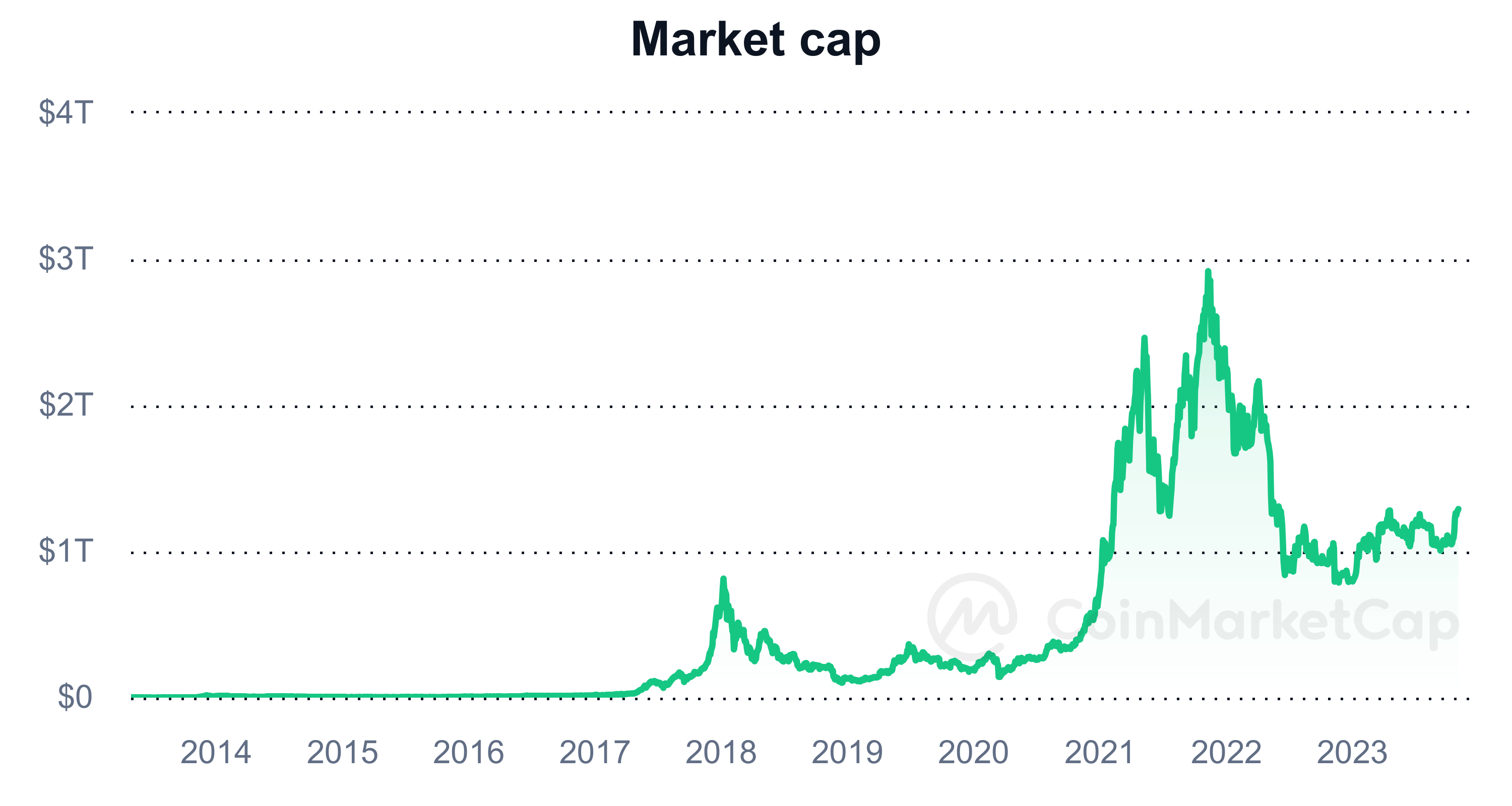 Global Crypto Market Cap Chart
1. The Graph (GRT)
The Graph (GRT) is a project in blockchain data management, garnering attention within the cryptocurrency space. Its unique approach to web3 projects and data processing has made it a subject of interest for investors and the crypto community.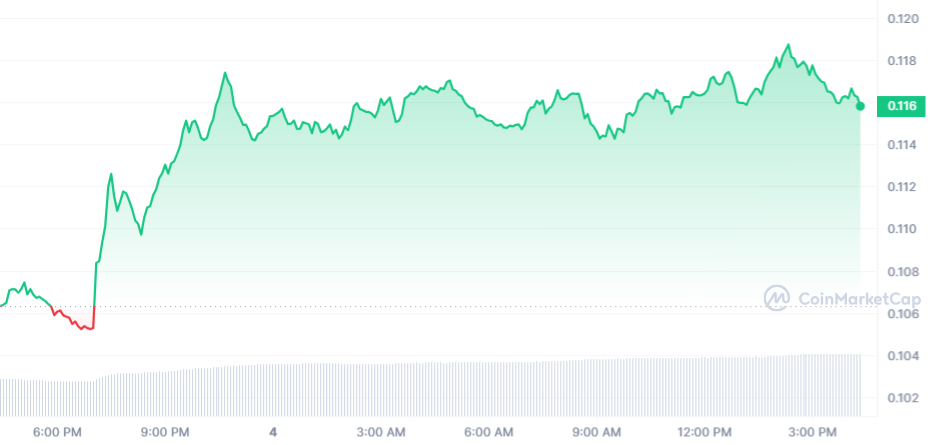 Since its inception, The Graph has grown substantially, with its native GRT coin experiencing an all-time high in 2021. The project's team is actively working on a distinct roadmap for the future, comprising various new initiatives that hold promise for long-term development. As of its listing on several major cryptocurrency exchanges, The Graph's coin has garnered positive attention from the investor community.
GRT's value is anticipated to reach a maximum of $0.52 by the end of 2023, placing it among the best crypto to buy now. However, this is contingent on a generally positive crypto market and no significant bearish events. The average projected price for The Graph Coin in 2023 is approximately $0.44. Nonetheless, a bearish market could see the minimum estimated price for GRT reach $0.29.
The Graph on Campus worldwide tour recently made a stop at UPenn 🧑‍🎓

The goal? To help young builders get started on their web3 journey 🛣️

What university should be next – let us know & tag below! https://t.co/yhAiq48Wgd pic.twitter.com/0qgoXtOttQ

— The Graph (@graphprotocol) November 3, 2023
While the crypto market's dynamics can be volatile and unpredictable, there is optimism for a bullish rally. This could drive significant price increases for The Graph Coin. However, this prediction is subject to market conditions and various variables influencing cryptocurrency values.
2. Oasis Network (ROSE)
The Oasis Network (ROSE) currently trades at $0.068980 with a 24-hour trading volume of $72,986,047. The token holds the 84th position on CoinMarketCap with a market cap of $451,285,330. Rose has a circulating supply of 6,542,267,493 ROSE coins out of a maximum supply of 10,000,000,000 ROSE coins. In the last 24 hours, ROSE has seen a 16.78% increase in price, making it the best cryptocurrency to buy now.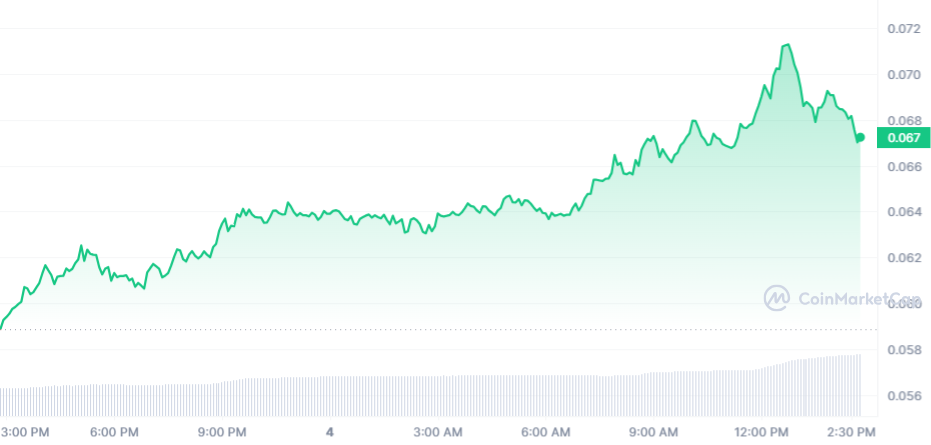 Oasis Network, since its launch, has shown noteworthy growth in the cryptocurrency market, offering returns to early investors in 2021. The project has tried to engage with the crypto community and attract investors.
ROSE is actively tracked on various coin-tracking websites and is listed on reputable exchanges such as Binance and Gate.io. Moreover, technical analysis suggests potential growth for ROSE in the future.
The Oasis Network's growth prospects are attributed to the increasing demand for blockchain-based solutions and advanced privacy features. The project's expanding user base, development of new partnerships, and enhanced security measures contribute to its positive outlook.
Our partnership with @Covalent_HQ brings better historical data access to Oasis Sapphire developers

Let's review how Oasis and Covalent are working together to shape the future of Web3: 🧵 pic.twitter.com/3Jz1Iu5POq

— Oasis Network (@OasisProtocol) November 3, 2023
Regarding price predictions, the maximum price level for ROSE in 2023 could reach around $0.26. This is based on the assumption the overall crypto market performs as expected. On average, the price is expected to trade around $0.14 in 2023.
3. Lido DAO (LDO)
Lido Finance recently approved a proposal integrating the Simple Distributed Validator Technology (DVT) from the Obol Network. The motion passed with robust support, with over 99% approval on November 3. As part of this decision, the Lido DAO will allocate funds to cover module-slashing penalties and associated expenses.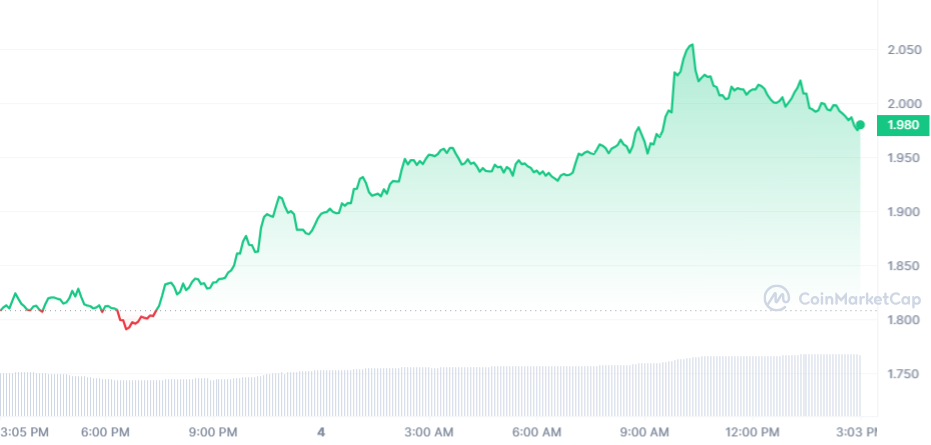 This integration aims to swiftly expand the Lido Node Operator set by incorporating a diverse range of staker participants. Additionally, this move aims to capitalize on the inherent advantages of DVT, such as increased resilience, distribution, and security. 
This integration further promotes diversification within the Lido Node Operator set on the Ethereum network. Thus paving the way for more scalable and permissionless DVT-based modules soon.
Experts have expressed optimism regarding the prospects of Lido DAO's native token, LDO. Predictions suggest that LDO's maximum price might hover around $5.15 as the broader cryptocurrency market recovers its value. 
5 hours left ⏰

A number of exciting DAO initiatives are currently up for vote including:
– wstETH on Base 🔵
– Rapidly growing Lido NOs through SimpleDVT 🌐
– Lido DAO 1-3 year goals ✅

Head to Lido Snapshot and make your LDO count today: https://t.co/yqbRrFDpyg https://t.co/QJnpiPNojm

— Lido (@LidoFinance) November 2, 2023
Projections suggest an average price of $4.54 is anticipated for LDO. However, it's crucial to remain cautious, as the cryptocurrency market is volatile, and a major bearish trend could bring the minimum price down to $3.93 in 2023.
4. Immutable (IMX)
Immutable X is positioned as one of the early entrants in layer-two solutions utilizing zk-rollups. It places a particular focus on Non-Fungible Tokens (NFTs). This places the project at the forefront of Ethereum's ongoing development as zk-rollups increasingly become a scaling solution.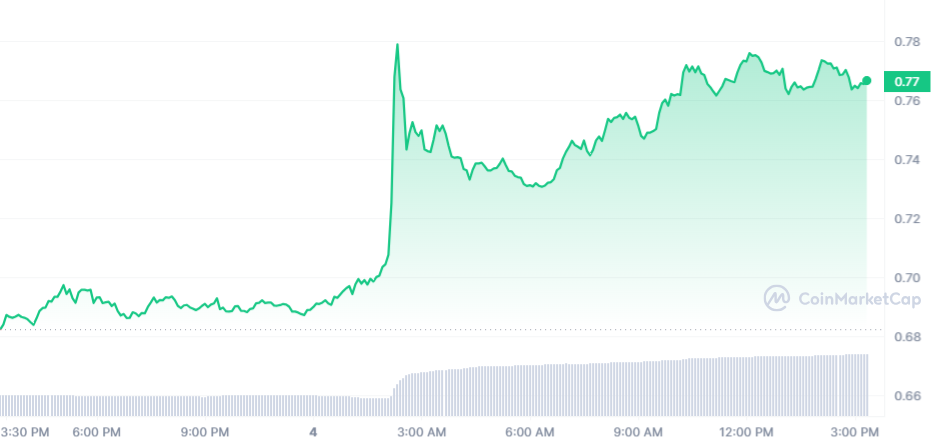 The project can potentially establish itself as the default "NFT blockchain" in the future, making it the best crypto to buy now. However, it is contingent on achieving the promised speed of over 9,000 transactions per second (tps).
A pivotal element in delivering on this commitment is the API abstraction layer. Immutable X has streamlined NFT-related actions such as minting, trading, and transferring through REST APIs. Thus making these processes accessible through simple API calls. This feature is anticipated to be a significant draw for new entrants, including established gaming and content companies looking to engage with NFTs.
Immutable has recently unveiled its plan to deploy three forthcoming blockchain games – GensoKishi Online, Cursed Stone, and Sailwars – on the Immutable zkEVM network. 
Immutable is bringing gaming and digital asset ownership to mainstream users and developers.

Together, we must make digital assets easy, affordable, secure, and scalable to implement and use.… pic.twitter.com/3pO1UBv6sL

— Immutable (@Immutable) November 3, 2023
Immutable zkEVM is a gaming oriented Ethereum scaling network constructed using Polygon's zkEVM technology. Moreover, It is fully compatible with the Ethereum Virtual Machine. Scaling networks like this enable applications, including games, to manage larger transaction volumes at reduced costs compared to Ethereum's mainnet.
In the cryptocurrency market, Immutable (IMX) is currently valued at $0.765869, with a 24-hour trading volume of $108,425,342. Over the past 24 hours, Immutable has experienced an 11.65% increase. The project holds the 47th position on CoinMarketCap. Thus boasting a live market capitalization of $958,713,952. There are 1,251,798,947 IMX coins in circulation, with a maximum supply of 2,000,000,000.
5. Launchpad XYZ (LPX)
Launchpad XYZ is a blockchain startup that aims to play a significant role in the Web 3.0 investment landscape. In Web 3.0 investments, various products such as utility tokens, NFTs, play-to-earn games, and ICOs coexist. Launchpad XYZ's primary objective is to simplify the Web 3.0 experience for newcomers and seasoned investors through its ecosystem.
Dive deep into digital assets with #ApolloAI 🔥🚀

Unveil the secrets of crypto with #LaunchpadXYZ 😎#AI #Crypto #Blockchain #Web3 pic.twitter.com/RUwhK5re0F

— Launchpad.xyz (@launchpadlpx) November 3, 2023
The core approach of Launchpad XYZ revolves around providing comprehensive analysis, insights, sentiment analysis, and data to the users. The ultimate goal is to empower cryptocurrency investors, regardless of their experience level, with valuable information that enables well-informed decision-making.
From an investment perspective, Launchpad XYZ employs a stake-to-access mechanism intended to stimulate demand for LPX tokens. Additionally, LPX tokens are required to cover fees when participating in fractional asset investments. Moreover, LPX token holders can benefit from reduced trading fees on the Launchpad DEX. This makes Launchpad XYZ the best crypto to buy now during its presale.
Investors interested in acquiring LPX tokens, whether for utilizing the platform's features or as an investment, can do so through the Launchpad XYZ presale. The presale comprises 10 stages, each progressively adjusting the token's price.
Read More
New Crypto Mining Platform – Bitcoin Minetrix
Audited By Coinsult
Decentralized, Secure Cloud Mining
Earn Free Bitcoin Daily
Native Token On Presale Now – BTCMTX
Staking Rewards – Over 100% APY
Join Our Telegram channel to stay up to date on breaking news coverage