Join Our Telegram channel to stay up to date on breaking news coverage
Polygon's multi-chain has made quite a good impression on the crypto space in the last few days. The recent integration of the Polygon (MATIC) network by Coinbase for USDC deposits has unlocked unprecedented control for crypto investors, streamlining access to the official USDC token and catalyzing a surge in TVL within the Polygon ecosystem. This collaboration signifies a major step in bridging the gap between traditional banking and the crypto sphere, offering users the benefits of quick transactions and lower fees while promoting stability and reliability through the trusted USDC stablecoin.
This development enhances the user experience and establishes a promising pathway for the future of digital currencies, fostering a more inclusive and interconnected crypto environment.
Coinbase just expanded multi-chain availability for USDC on Polygon. We look forward to more efficient USDC transactions with this launch! pic.twitter.com/xrRxXKSs7f

— Coinbase Assets 🛡️📞 (@CoinbaseAssets) October 10, 2023
The total value locked (TVL) on Polygon is currently above Solana and Avalanche, according to DeFiLlama. Polygon's TVL has increased by 1% within the last 24 hours as the blockchain seems to catch more attention amid its latest innovations. The TVL stood at $708.67m as of October 17 at 6:30 a.m., with an active user count of 362,434.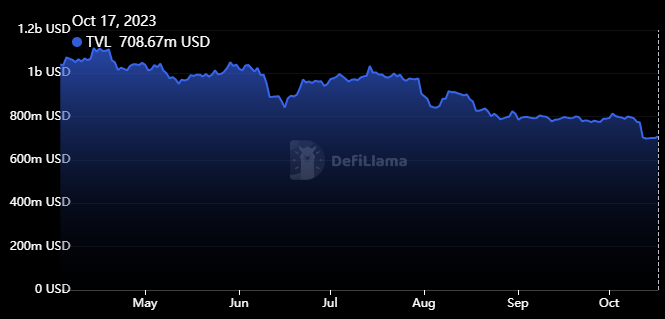 Polygon's zkEVM
Polygon's zkEVM could be a key factor in this growing attention on Polygon. Polygon zkEVM is a roll-up solution on the Polygon blockchain that is revolutionizing the scalability and privacy aspects of the Ethereum ecosystem. With zero-knowledge proofs, zkEVM efficiently stores rollup states on the Ethereum mainnet, ensuring heightened security and improved decentralized applications (dApps) scalability.
Serving as a Layer 2 scaling solution, it effectively tackles congestion and high gas fees on the Ethereum network, providing developers with a conducive environment for dApp deployment and fostering the continued growth of the Ethereum ecosystem. Meanwhile, as Polygon continues to impress, Bitcoin Minetrix's presale makes waves with non-ending achievements.
BTCMTX Achieves $1.6M in Funding Amid Polygon's Achievements
Bitcoin Minetrix's presale has achieved yet another significant milestone as the project enters its second phase, with an impressive fundraising amount exceeding $1,600,000. This success is a testament to the growing confidence and interest in the platform within the cryptocurrency community. As the company continues to advance, it is establishing itself as a prominent player in the ever-evolving world of digital currencies.
Witness #BitcoinMinetrix achieving another remarkable milestone!

More than $1,600,000 raised!🪙 pic.twitter.com/yyrHTMRQz2

— Bitcoinminetrix (@bitcoinminetrix) October 17, 2023
Bitcoin Minetrix's Cloud Mining Solution
The revolutionary cloud mining solution offered by BTCMTX has become a beacon of trust for individuals seeking to participate in the crypto mining landscape. In the past, the barriers to entry, including the high hardware costs and the prevalence of mining-related scams, had deterred many from venturing into this domain. However, Bitcoin Minetrix's decentralized approach has effectively addressed these concerns, offering users a transparent and secure mining experience.
The exploration of Bitcoin's mining process through the lens of Bitcoin Minetrix highlights the accessibility and convenience it brings to both newcomers and seasoned enthusiasts. The utilization of cloud mining has simplified the onboarding process for beginners, eliminating the need for substantial hardware investments. This approach makes entry into the crypto space more convenient and cost-effective, removing the financial burdens associated with hardware procurement.
Exploring the mining process of $BTC with #BitcoinMinetrix! ⚒#Cloudmining unlocks a direct path to #Crypto:

✨ Easy entry for beginners
💵 Cost-effective with zero hardware expenses
🌆 No worries about space, noise, or overheating
🚀 Simple upgrades pic.twitter.com/unhHqpWHw2

— Bitcoinminetrix (@bitcoinminetrix) October 16, 2023
Moreover, the hassle-free nature of this mining solution ensures a seamless experience, free from the usual worries of managing physical hardware, such as space constraints, noise disturbances, and potential overheating. Furthermore, the flexibility to upgrade the mining setup effortlessly adds an extra layer of convenience for users looking to scale their operations.
As the polygon multi-chain makes waves, the remarkable success of BitcoinMinetrix's pre-sale and the introduction of its user-friendly, secure, and cost-effective cloud mining platform marks a significant advancement in cryptocurrency mining, paving the way for a more inclusive and accessible future for all participants. Don't miss out on the Presale!
Related News
New Crypto Mining Platform – Bitcoin Minetrix
Audited By Coinsult
Decentralized, Secure Cloud Mining
Earn Free Bitcoin Daily
Native Token On Presale Now – BTCMTX
Staking Rewards – Over 1,000% APY
Join Our Telegram channel to stay up to date on breaking news coverage