Join Our Telegram channel to stay up to date on breaking news coverage
Cardano (ADA) price remains bearish, standing almost 50% below its high for the year of $0.4617 recorded on April 13.
ADA's barely moved in the past 24 hours and currently stands at $0.2473. Over the same period, trading volume fell by almost 15%, which is not unusual at the weekend, when retail traders tend to be less active.
Despite the gloom in the ADA market, experts say Cardano may be ready for a push north, amid growing decentralized finance (DeFi) and its spearheading smart contracts.
Cardano DeFi transitioning From Bear To Bull Market
Alexander Legolas, a Crypto X community member boasting 8.6k+ followers believes Cardano price could be poised for a bull run.
Cognizant that the Bitcoin (BTC) halving is around six months out, the user says ADA is ready to run despite the calendar date that is expected to kickstart the next bull run cycle.
🔥Is Cardano DEFI About To Run Hot🔥

The raging bull market doesn't really begin till about 6 months after the bitcoin halving, bitcoin halving is in April so we are talking October 2024.

However Cardano Defi might be transitioning from bear to bull despite all the macro… pic.twitter.com/iUCRtQDSpd

— Alexander Legolas (@ShillMoBaggins) October 15, 2023
Legolas says that "Cardano DeFi could be transitioning from bear to bull despite all the macro economy downturn and slump in Bitcoin price."
He attributes this assumption to the DeFi summer that came early in 2023 with altcoins outperforming Bitcoin. At the time, the economy was worse, withstanding the worst of heightened inflation and rate hikes from the Federal Reserve.
The user also draws the ADA community's attention to assets such as LENFI, which rallied almost 2,400% thanks to the economic turmoil as investors sought haven in DeFi.
Lenfi is a decentralized lending and borrowing protocol built on the Cardano blockchain leveraging NFT bonds and previously called Aada Finance. Latest updates on the Lenfi ecosystem point to a total value locked (TVL) of $3.73 million.
Want to know how much TVL each $ADA #Cardano native token has?🚀

Total $ADA $158.7M USD TVL 📈$LENFI – $3.73M$MIN – $40M$VYFI – $9.03M$INDY – $38M$LQ – $18M$WRT – $7.2M$SUNDAE – $5.25M#Cardano #CardanoADA #crypto #cryptocurrency #Cardanofeed #DeFi pic.twitter.com/LFzYYRW8lq

— Cardano DApp ₳nalyst (@TheDAppAnalyst) October 14, 2023
As such, the user anticipates a run in the Cardano DeFi, hinging upon technical indicators on the longer timeframes. In his words:
…there might be little corrections on the way up plus all the gains won't happen overnight. It can take 32 or more weeks before another correction and consolidation. This is before the raging bull market this time next year in October/November. Considering we might have a run that last 32 weeks or more if indicators keep confirming bullish as they have thus far, when does one start accumulating? Now or in 20 weeks' time?
Meanwhile, analysts, including Jacob Crypto Bury anticipate the end of the bear market, with the Bitcoin halving countdown going fast.
Cardano TVL Rises 210% Year-To-Date
Meanwhile, data according to DefiLlama indicates that Cardano boasts a total value locked (TVL) of $153.95 million. This represents an increase of about 210% from the TVL of $50.10 million recorded in January.
In the last 24 hours, the Cardano network has recorded almost 30,000 active users with a transaction volume of about $3.74 million.
The increased TVL, signifying increased capital inflow into the Cardano ecosystem, can be attributed to positive sentiment from community members.
#Cardano pioneered liquid staking and delegating to pools for consensus years ago. It's had 100% uptime, no messy hardforks, and is the most decentralized protocol as measured by block production/consensus. Staking is a breeze, and decentralization is increasing with stakepool… pic.twitter.com/BnTQKxzPU0

— Ed n' Stuff (@EdnStuff) October 7, 2023
Cardano Price Prognosis
Despite the bullish sentiment, Cardano's price is still bearish with little optimism of an uptrend in the near term.
To begin with, the Relative Strength Index (RSI) is at 38, holding below the 50 level for almost six months. Over the same period, the Awesome Oscillator (AO) has remained in negative territory.
With momentum still weak and overhead pressure only mounting, the odds for an uptrend for Cardano's price remain slim to none. Increased selling pressure could send ADA price below the support floor at $0.2414.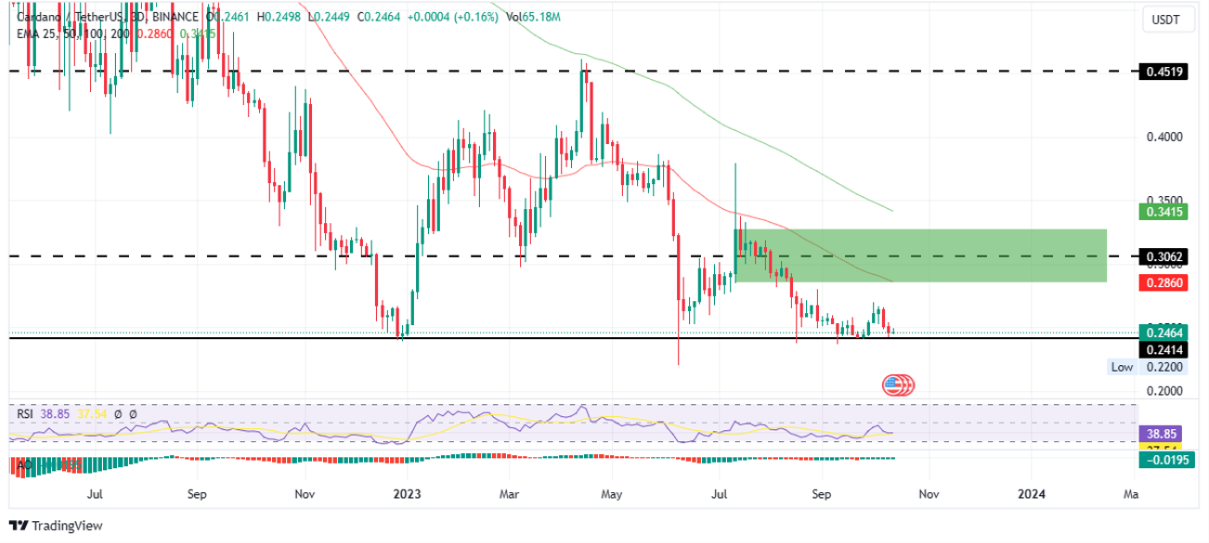 Conversely, if sidelined or late investors come in, potentially looking to capitalize on the dip, Cardano's price could rise.
In this case, while a break above the 50-day Exponential Moving Average (EMA) at $0.2860 would be ideal, the bearish outlook would only be invalidated once ADA breaks and closes above the supply barrier ranging from $0.2849 to $0.3282.
This zone is a supply zone, characterized by aggressive selling. This makes it likely that the price would face a rejection here.
In a highly bullish case, the gains could extrapolate to the 100-day EMA at $0.3415. Such a move would constitute a 40% climb above current levels.
Cardano Alternative
While ADA remains in the woods, consider TGC, the powering token for the TG.Casino ecosystem.
It is an exclusive avenue for online, anonymous crypto gambling, fully licensed and 100% safe, according to the website.

The token is in presale, and has already collected more than $1 million of its $2.5 million target. Buy TGC at current rates of $0.125 to enjoy early entrant prices. Those prices will increase in just under a week.
Analysts say it is among the few tokens with 10X growth potential for stakers.
Buy TGC here
Also Read:
New Crypto Mining Platform – Bitcoin Minetrix
Audited By Coinsult
Decentralized, Secure Cloud Mining
Earn Free Bitcoin Daily
Native Token On Presale Now – BTCMTX
Staking Rewards – Over 1,000% APY
Join Our Telegram channel to stay up to date on breaking news coverage