Join Our Telegram channel to stay up to date on breaking news coverage
Insidebitcoins regularly updates a list of the best tokens investors should consider for investment. This article summarizes several altcoins that are worth considering for your investment portfolio.
In the early part of the week, Bitcoin and other tokens experienced notable gains in trading across Asia. This rally is primarily driven by recent SEC developments in the United States. 
Bitcoin increased slightly over 1%, reclaiming the $27,000 price level. Meanwhile, Ethereum, the most significant rival to Bitcoin, also registered a modest gain, rising by just half a percent to maintain a value above $1,550. 
Altcoins, representing various other cryptocurrencies, also exhibited favorable trading performance in the early morning. The recent stability in Bitcoin's price, hovering around the $27,000 level, can be attributed to the SEC's choice not to contest the court's decision that favored Grayscale Investments. 
5 Best Altcoins To Buy Now
Market participants are currently displaying cautious optimism regarding the potential approval of Bitcoin's spot ETF applications by the SEC. This has led to a modestly positive sentiment within the cryptocurrency market. As such, investors are seeking the best altcoins to purchase, given a bullish run. These are some of the poised for a rally:
1. Maker (MKR)
In recent months, Maker has witnessed a significant influx of deposits, swaps, and accumulations executed by prominent figures in the cryptocurrency space. These actions are part of Maker's strategic "Endgame" plan to improve operational efficiency, resilience, and broader participation in the project.
Over the last 30 days, Maker (MKR) has demonstrated an 18.6% increase in value. In addition, Maker's live price currently stands at $1,440.21, with a 24-hour trading volume of $40,813,766. In the last 24 hours, Maker has experienced a 1.89% uptick, with a circulating supply of 977,631 MKR coins.
Maker (MKR) is the governance token for the MakerDAO and the Maker Protocol. MakerDAO is decentralized, and the Maker Protocol is a software platform built on the Ethereum blockchain. These platforms enable users to issue and manage the DAI stablecoin.
Initially conceived in 2015 and fully launched in December 2017, Maker's primary mission is to oversee DAI, a community-managed decentralized cryptocurrency with a stable value pegged to the US dollar. Moreover, MKR tokens operate as voting shares within the organization governing DAI, conferring voting rights on matters related to the development of the Maker Protocol. 
The first functioning DeFi product developed by a SubDAO has gone multi-chain.

SparkLend has been successfully deployed and is now available to all users on @gnosischain.

→ https://t.co/6z0TuiZF1b pic.twitter.com/KT6MUhIiYF

— Maker (@MakerDAO) October 9, 2023
In summary, the Maker ecosystem is pioneering in the decentralized finance (DeFi) sector. It seeks to construct decentralized financial products on smart-contract-enabled blockchains. Ethereum is a prominent example of such a blockchain.
2. Loom Network (LOOM)
Loom Network (LOOM) has recently garnered substantial attention from investors due to a significant surge in trading volume. LOOM has witnessed a significant market volume rise from approximately $200 million to over $900 million. This increase in trading activity has been attributed to an influx of buying pressure, contributing to the substantial growth of LOOM.

The recent announcement of a collaboration further fueled the heightened interest. Loom Network entered a partnership with Atlassian, a globally renowned leader in team collaboration software. 
Atlassian's acquisition of LOOM for $975 million positively impacted investor sentiment. Thus resulting in a price increase of over 1000% in the past 30 days. This surge in value has propelled LOOM's market capitalization from below $50 million to over 400 million.
From a technical perspective, LOOM has entered a pronounced bull run phase that appears to be ongoing. The super trend indicator remains bullish, and a well-defined lower support level indicates reduced chances of a retracement to previous levels. Unless a significant bearish event occurs, intermediate pullbacks are more likely than a return to lower levels.
It has come to our attention that there's some confusion about the LOOM token supply across the Ethereum and BSC networks.

The LOOM token has a total supply of 1.3 billion, ~1 billion tokens are in active circulation on Ethereum, ~130 million are in active circulation on BSC.

— Loom Network (@loomnetwork) October 13, 2023
The price of LOOM is currently at $0.37, having experienced a 4.5% increase in the past 24 hours and a significant 117.23% rise over the last seven days. Given the current dynamics, there is a possibility that LOOM could maintain this upward trend till the end of 2023.
3. Cronos (CRO) 
Cronos (CRO) is the native cryptocurrency of Cronos Chain, an open-source blockchain developed by Crypto.com. Cronos Chain is part of Crypto.com's efforts to promote the global adoption of cryptocurrencies, offering users greater control over their finances and data protection. Currently, the CRO blockchain primarily powers the Crypto.com Pay mobile payments app, with potential expansion into other products in the future.

Cronos (CRO) is trading at $0.0528, with a 24-hour trading volume of $6,238,698. The market displayed a bullish momentum, propelling CRO higher as buying pressure steadily increased. 
In addition, the $0.05000 level has been a significant focal point for bulls. Despite prevailing bearish conditions, CRO managed to stay above this level today. The continuation of buying pressure may likely propel CRO to higher price levels.
Analyzing Cronos on its daily chart, the bullish trend is evident, with the price consistently staying above the $0.05000 level. Moreover, it has broken the $0.05200 resistance level, potentially triggering a price surge. 
We're nearing the end of the $PSTAKE Trading Competition! ⏳

You have 3️⃣ days left to:

✅ Trade US$10 for the chance to win US$5

T&Cs apply

Learn More 👇 https://t.co/pXkMNgxbU8

— Crypto.com (@cryptocom) October 15, 2023
It's worth mentioning that the $0.05000 level has proven to be a robust support. Furthermore, any potential downward movements from the current levels are expected to encounter buying interest at this point.
Analysts suggest a positive outlook for the cryptocurrency, particularly as it surpasses the $0.05200 resistance level. The bullish momentum has been robust, and if it remains, further upside potential can be anticipated in the coming days. 
4. Bitcoin Minetrix
Bitcoin Minetrix offers a cloud mining platform that addresses common concerns among crypto users interested in Bitcoin mining. The platform provides an alternative to traditional hardware mining by enabling users to stake BTCMTX tokens in exchange for cloud mining credits. This decentralized approach aims to enhance security and transparency for participants.
The fundamental concept of Bitcoin Minetrix revolves around users staking their BTCMTX tokens to earn cloud mining credits. Thus decentralizing control and creating a more secure and transparent mining experience. 
Exploring Safety and Security with #BitcoinMinetrix.#BTCMTX: Decentralized, user-owned tradable #Tokens. 🔄

Traditional Cloud Mining: Cash deposits are required.#CryptoMining pic.twitter.com/bDE2Paz6tP

— Bitcoinminetrix (@bitcoinminetrix) October 14, 2023
The project has seen substantial participation, with over 400,000 BTCMTX tokens currently locked in staking. It's important to note that the current annual percentage yield (APY) is at 103,225%. However, this rate is expected to decrease with additional tokens entering staking.
Bitcoin Minetrix has gained traction, especially through its ongoing BTCMTX presale. The presale has raised over $1,578,829 by selling BTCMTX tokens at $0.011 per token. Out of the total token supply of 4 billion, 70% (2.8 billion BTCMTX) are available during the presale phase, and investors can acquire them using ETH or USDT. 
Significantly, the minimum investment required is a modest $10, making this crypto-mining opportunity accessible to many participants. With 13 days left until the price rises, investors should capitalize on this window to get the token at the lowest possible price.
Visit Bitcoin Minetrix.
5. Band Protocol (BAND)
Band Protocol (BAND) is a cross-chain data oracle platform to connect real-world data with blockchain applications. This innovative project allows for incorporating external data sources into smart contracts. Hence, effectively expanding the capabilities of decentralized applications (DApps) capabilities to include real-world data, such as sports scores, weather updates, and more.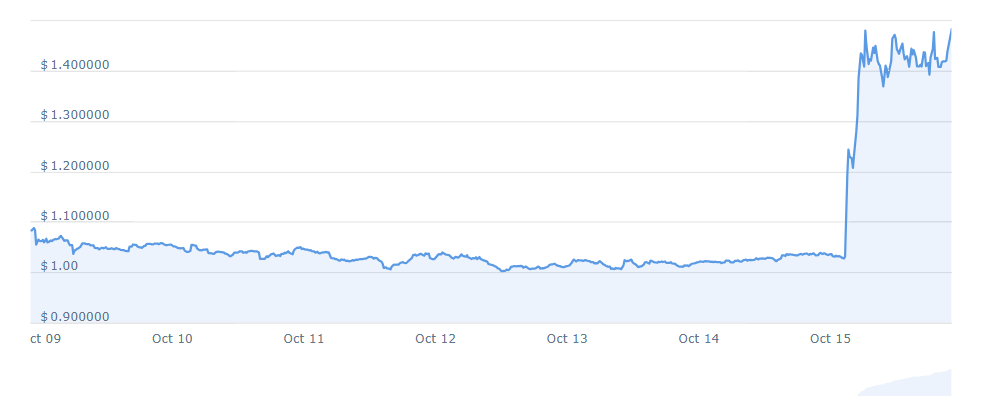 At the time of writing, Band Protocol (BAND) is trading at $1.44, with a 24-hour trading volume of $122,614,521. It is currently ranked 131st on CoinMarketCap and boasts a market capitalization of $194,432,941. Moreover, Band Protocol's circulating supply comprises 134,973,541 BAND coins, with no specified maximum supply.
Projections regarding the future value of Band Protocol suggest it could reach $3.91 by the close of 2023. These forecasts are underpinned by the expectation that Band Protocol will continue to gain traction and witness increased adoption. 
It's essential to remember that several factors may influence its value. This includes global economic instability and inflation, which can drive demand for secure and decentralized currencies.
1/ 🌟 Validator in Spotlight #2 👉@BitNordic @SmartStake @w3coins_io
📣 Dive in and discover the highlights of this collaboration in the thread! 👇
👉 Interested in becoming a validator? Check out how you can get started here: https://t.co/7OltTecDUj
. $BAND #bandprotocol pic.twitter.com/I4Ro6YEZjw

— Band Protocol (@BandProtocol) October 12, 2023
In summary, Band Protocol is dedicated to facilitating the integration of real-world data into blockchain applications. Its strategic shift to the Cosmos network and the innovative role of its oracle nodes make it a noteworthy player in the blockchain ecosystem. However, as with any cryptocurrency investment, prospective investors should undertake comprehensive research and consider the inherent risks associated with this volatile market.
Read More
New Crypto Mining Platform – Bitcoin Minetrix
Audited By Coinsult
Decentralized, Secure Cloud Mining
Earn Free Bitcoin Daily
Native Token On Presale Now – BTCMTX
Staking Rewards – Over 1,000% APY
Join Our Telegram channel to stay up to date on breaking news coverage