Join Our Telegram channel to stay up to date on breaking news coverage
Newly released crypto assets can offer a higher return on investment (ROI) for buyers – today, we review various new coins on the market.
On Friday, Bitcoin and other cryptocurrency tokens faced their fourth consecutive decline. Lower-than-expected inflation numbers in the United States propelled the dollar index and treasury yields higher, dampening sentiments for the riskier asset class.
Dogecoin (DOGE) struggled to breach a previous resistance level at $0.061, experiencing a downward momentum. Despite an attempt to rebound this week coinciding with its 50-day moving average, DOGE broke down from a horizontal channel instead.
New Cryptocurrency Releases, Listings and Presales Today
Ethereum (ETH) finds itself at a critical juncture in its trading history as it struggles around $1,558 amidst the cryptocurrency market's recent turmoil. This level serves as a substantial support zone, acting as a barrier preventing a potential freefall to $1,420, a low last seen in the early days of the 2021 bull market. 
The current market exhibits signs of a liquidity crisis, with investors pulling back due to widespread uncertainty and a preference for cash or stable assets. Ethereum, a major player in the crypto space, is not immune to this sell-off frenzy, experiencing a noticeable depreciation in its value.
In contrast, stablecoins like Tether, Ripple, USD Coin, and Binance USD are trading positively today. This article analyzes some newly listed tokens that have also shown signs of surging in the future.
1. SILVER (SILVER)
According to the project's website, SILVER is more than just a cryptocurrency; it represents an intriguing blend of elegance, innovation, and a tight-knit community. Inspired by the timeless allure of the precious metal, Silver's mission transcends the traditional meme coin landscape.
It seeks to infuse humour and empowerment into the decentralized world, creating a digital asset that resonates with those who value limitless potential. The Silver Squad, their vibrant community, embodies inclusivity and collaboration.
$SILVER has added a MEME section
🚀🚀🚀🚀🚀🚀🌕#SILVER #Argentum #PEPE #ELONMUSK #DOGE #SHIBA #tothemoon #Gateio #LBANK #OKX #Binance #MEXC #CoinMarketCap pic.twitter.com/VVOWMl2KXa

— SILVER (@Silver_Ag_ETH) October 13, 2023
It's not merely about amusement; Silver pushes the boundaries by offering a secure platform for transactions and tipping. What sets it apart is its transparent approach and commitment to rewarding token holders in a balanced manner.
With a revenue-sharing mechanism and referral benefits, Silver encourages active participation. While the crypto space is brimming with possibilities, Silver's unique character and dedication to its community make it an exciting venture worth exploring, provided one approaches it with an understanding of the inherent risks and potential for community-driven growth.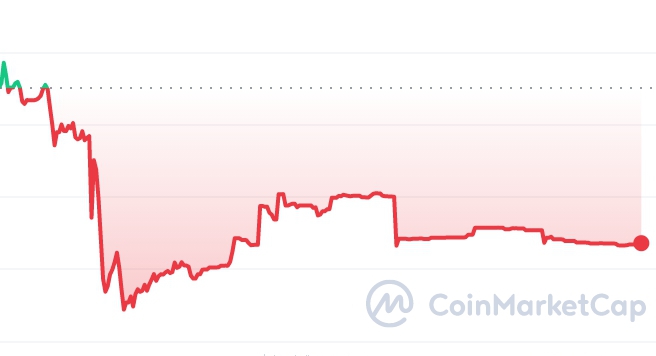 Shine Bright with SILVER Where Laughter Meets Financial Freedom!
Today's live SILVER price is $0.000000000001 with a 24-hour trading volume of $653,764. SILVER is down 47.74% in the last 24 hours. The current CoinMarketCap ranking is #2297, with a live market cap of unavailable. The circulating supply is not available, and a maximum supply of 420,690,000,000,000,000 SILVER coins.
2. Liquid Protocol (LP)
Liquid Protocol presents itself as a pioneering platform for liquidity providers in the Ethereum network, offering a unique proposition in the decentralized finance space. The platform's core objective is to indefinitely deliver safe and assured profits for depositors, setting it apart from other projects.
With a three-phase approach involving a Treasury funded by coin taxes, lenders providing liquidity, and a liquidity marketplace, Liquid Protocol aims to ensure liquidity for launching tokens while providing flexible options to users. Transparency in fund allocation and usage is a priority, reflecting the commitment to accountability.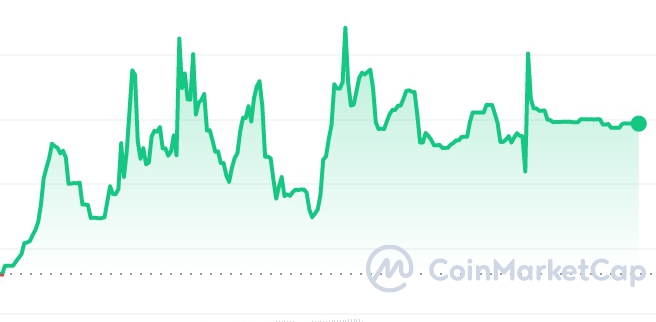 The coin's value lies in its concept and focus on users and revenue generation. It is a project worth considering for those looking to invest in a project-independent liquidity provider in the blockchain space. However, like any investment, it's essential to evaluate the associated risks and rewards carefully.
$Liquid Protocol (LP) is an innovative platform allowing users to deploy contracts on a free, remix-like site and borrow liquidity from its treasury, generating passive income distributed to token holders. With pre-coded, upcoming updates, LP offers a cost-effective liquidity funding alternative without locking funds. It solely earns from the project's trading volume, imposing no taxes on launched projects.
$LP has had a nice run until now, however, this is just the start for us as a team.

Let's have a small recap:

— V1 was released 3 days after launch.
— V2 was released yesterday (as of date of this post).
— V3 will be released Thursday, 19th of October, 2023.

Let's, however,… pic.twitter.com/agdMimYo3Q

— Liquid Protocol – ETH (@ProtocolLiquid) October 13, 2023
Today's live Liquid Protocol price is $1.18, with a 24-hour trading volume of $247,837. Liquid Protocol is up 30.59% in the last 24 hours. The current CoinMarketCap ranking is #2497, with a live market cap of unavailable. The circulating supply is not available, and a maximum supply of 1,000,000 LP coins.
3. MARIO CEO (MARIO)
Mario CEO presents itself as a rapidly growing cryptocurrency community with a clear mission to address one of the primary challenges in the crypto space – maintaining consistent volume.
The project's innovative approach of hedging a portion of its marketing wallet into yield-bearing assets to generate additional income sets it apart. This income, earmarked for development, marketing, and future rewards, can ensure sustained growth.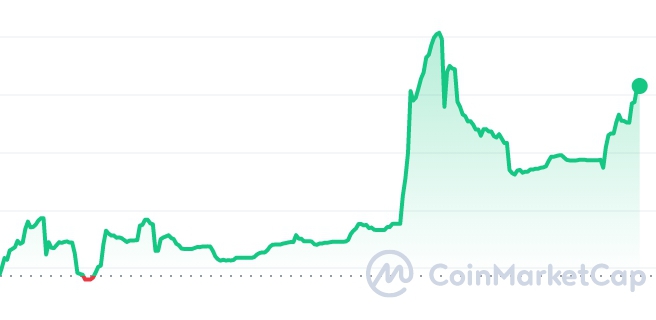 Furthermore, the long-term vision to dominate the metaverse ecosystem, expand to various blockchains and generate revenue from advertising demonstrates a forward-thinking strategy.
The roadmap reveals a commitment to enhancing the platform, expanding globally, seeking new partnerships, and increasing awareness through marketing and PR. However, potential investors should exercise due diligence and carefully evaluate the risks and rewards before considering an investment in this project.
MARIO CEO will deduct 4% of each transaction for automatic burn, helping Mario CEO stay sustainable. LP is locked forever, and devs do not hold tokens. MARIO CEO will successfully create a meme trend like no one else. The team's goal is to list 30 major exchanges.
#MARIO listed on #CoinMarketCap https://t.co/Ef2L91CrhW

— MARIO CEO (@marioceo_token) October 13, 2023
Today's live MARIO CEO price today is $0.000000000001 with a 24-hour trading volume of $47,976.47. MARIO CEO is up 202.46% in the last 24 hours. The current CoinMarketCap ranking is #3246, with a live market cap of unavailable. The circulating supply is unavailable, and there is a maximum supply of 71,042,943,544,508,216 MARIO coins.
4. Meme Kombat ($MK)
Meme Kombat introduces an intriguing concept in cryptocurrencies, bringing together various meme tokens for a unique combat experience where users can place bets on the outcomes.
Meme coins are known for their volatility, offering high risks and rewards, and Meme Kombat taps into this fascination by creating a Battle Arena. This innovation provides a single ecosystem for meme coins, potentially appealing to investors and loyal meme coin enthusiasts.
Degen or gamer or both?

Everyone can engage in kombat⚔️

Watch the full video from @BuryCrypto below👇 pic.twitter.com/GyGi2TRTvi

— Meme Kombat (@Meme_Kombat) October 13, 2023
What sets it apart is the inclusion of betting on meme combat, possibly becoming an additional revenue source, especially with its estimated 112% APY. AI enhances user engagement, interactivity, and lifelike rendering of memes, making it exciting for spectators. Moreover, blockchain technology's transparent and immutable results ensure fairness in the Battle Arena.
Visit Meme Kombat Presale
Read More
New Crypto Mining Platform – Bitcoin Minetrix
Audited By Coinsult
Decentralized, Secure Cloud Mining
Earn Free Bitcoin Daily
Native Token On Presale Now – BTCMTX
Staking Rewards – Over 1,000% APY
Join Our Telegram channel to stay up to date on breaking news coverage