Join Our Telegram channel to stay up to date on breaking news coverage
Binance Coin (BNB), Binance's native token, has investors eagerly anticipating its trajectory in the face of an expanding ecosystem. As the market fervently discusses the prospects of yPredict's new presale coin, could BNB reach $500 as the token trades at an impressive 178,734% above its debut price, per CoinMarketCap stats? BNB's spot price stood at $206.02 as of October 14, 11:12 a.m. EST.
Looking at the 3-hour BNB against the dollar charts from TradingView, the MACD indicator is moving in the green zone. This trend will likely continue as bulls hold on to the 24.9 support level presented by the RSI, which is moving close to the average line, showing a likely bullish future for BNB.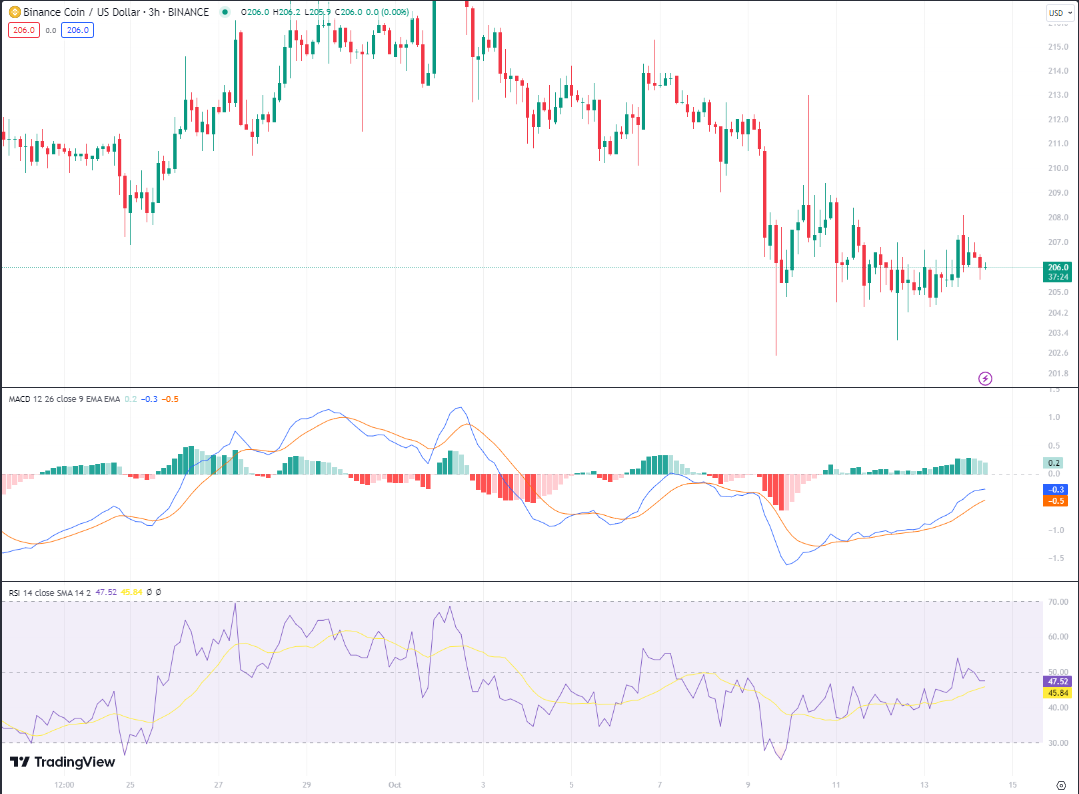 However, despite the positive indications for the bull run, there could be a few hurdles on the token's way to hitting $500. According to 24-hour charts, The 20-day moving average has exceeded the 10-day moving average, forming a death cross, which indicates a possible bearish run.  The Bollinger bands are diverging, showing high volatility levels, which could also indicate selling pressure. However, should bulls resist the pressure and maintain the 24.9 support, BNB could see a rally to $500 in the next few months. Despite this, BNB network's innovations could see the token achieve this price.

BNB Chain Making Strides
Recently, BNB Chain announced the marathon airdrop, promising an exhilarating two-month journey for crypto enthusiasts. The community awaits the prospect of lucrative token treasures. Scheduled to commence from October 10th to December 10th, this event is expected to bring forth numerous airdrop opportunities, elevating the prospects of the participating members.
Ready for an exciting two-month journey filled with token treasures? 💰

The BNB Chain Airdrop Marathon is here, bringing tons of airdrop opportunities to our community.

Join us for an adventure from Oct. 10th to Dec. 10th:https://t.co/5JtjfZVQEAhttps://t.co/9qLq3uGbog

— BNB Chain (@BNBCHAIN) October 9, 2023
In tandem with the airdrop Marathon, the BNB Chain Builders Club also unveiled its latest landing page, inviting enthusiasts to embark on a path to become pioneers in the Web3 space. The newly launched landing page is the ideal launchpad for aspiring individuals seeking to spearhead successful Web3 events in their local communities. It offers an all-encompassing platform for comprehensive career support from the esteemed BNB Chain, enabling participants to grow alongside the platform. All these projects aim to boost community engagement with the BNB chain, which could positively affect the BNB token through increased adoption and use, pushing its prices higher.
We've just launched our brand-new BNB Chain Builders Club landing page 🙌

This is the perfect destination to get started leading successful Web3 events in your local area!

Visit today and register to get career support from BNB Chain and grow with us!https://t.co/qsFqFKn1SH pic.twitter.com/cGdASBkofk

— BNB Chain (@BNBCHAIN) October 13, 2023
An alternative option?
Meanwhile, as everyone speculates on BNB's future, yPredict's (YPRED) new presale is buzzing as the new project holds massive gaining opportunities. With its sights set on revolutionizing the crypto trading landscape, yPredict.ai has unveiled its grand vision, showcasing the immense potential and future possibilities of the YPRED token through a series of ambitious developments and strategic planning. This ecosystem offers discounted access to many data repositories, prediction platforms, analytical tools, and more, offering traders and content creators a competitive edge.
🚀 Unleash the Power of AI with $YPRED! 🤖

🌟 Dive into the world of AI and trading advantages like never before. Hold $YPRED tokens to secure privileged access!

🔥 Discover the yPredict ecosystem, offering discounted access to data repositories, prediction platforms,… pic.twitter.com/k3sogrbDzr

— yPredict.ai (@yPredict_ai) October 3, 2023
The cornerstone of this endeavor resides in the precision of yPredict's analytics' exceptional artificial intelligence models, which flaunt the capacity to predict the path of various digital currencies, including BTC, Ethereum, and Shiba Inu, with unparalleled precision.
yPredict's roadmap
The reworked growth strategy for yPredict shows the team's commitment as interest in the YPRED token increases. Detailed and well-executed, the plan outlines the next year and beyond regarding the significant milestones that will be implemented.
At this time, Phase 1 is the primary concern. Several crucial initiatives, including the Backlink Calculator, WriteMingle Beta, yPredict projections, and yPredict analytics, have been successfully implemented at this stage, all to strengthen the system's foundation and provide users with an extensive set of tools for successful trading and content creation.
The team has set an unambiguous goal of reaching a market valuation of $100 million by the end of the third quarter of 2024. It plans to do so by stabilizing key offerings and expanding its community engagement in that period. The team's conviction in the project's viability and the rising need for AI-driven cryptocurrency solutions led them to set this lofty goal.
🚀 We're excited to share an updated roadmap for yPredict! Over the next year, we'll be launching new prediction tools, analytics, data products, tokens, and more. 🚀

🛠 Phase 1: Build (Q2 2023 – Q1 2024)

✅ Backlink Calculator: June – July 2023
✅ WriteMingle: August -… pic.twitter.com/VoFACNiPtO

— yPredict.ai (@yPredict_ai) September 6, 2023
The last phase will include extensive marketing efforts and a projected token release in Q1 2024 to emphasize yPredicts's promise to create a fully established ecosystem. yPredict.ai has put a lot of thought and effort into positioning YPRED as a major player in the AI-driven cryptocurrency trading arena, as seen by the thoroughness of the strategy. As you keep an eye on BNB, get in on the pre-order.

Related News
New Crypto Mining Platform – Bitcoin Minetrix
Audited By Coinsult
Decentralized, Secure Cloud Mining
Earn Free Bitcoin Daily
Native Token On Presale Now – BTCMTX
Staking Rewards – Over 1,000% APY
Join Our Telegram channel to stay up to date on breaking news coverage