Join Our Telegram channel to stay up to date on breaking news coverage
Bitcoin (BTC) price slid below $27,000 this week, changing the bullish trajectory and introducing a significant risk of dropping to $25,000 or lower.
Bitcoin price is down 3.6% to $26,915 on Sunday as bulls strive to put a floor under the bearish sentiment that followed the release of the US Consumer Price Index (CPI) data. Trading volume is down 33% in the past 24 hours at $5.2 billion.
There is short-term support at $26,500 but as analyst and trader Rest Capital opined in his post on X (formerly Twitter), Bitcoin needs to gain some more ground to the upside " to put itself in a position to potentially reclaim the monthly support at $27,150."
Needs to muster a bit more upside to put itself in a position to potentially reclaim the black Monthly level (~$27150) as support

For the time being – still resistance

Of course, as we are in mid-October…

Lots can still change, many times over$BTC #Crypto #Bitcoin https://t.co/9hFj0f2LtH pic.twitter.com/mPSA53bk1m

— Rekt Capital (@rektcapital) October 13, 2023
The uncertainty over that outcome indicates that some investors may want to look at a more promising alternative with huge upside potential.
Bitcoin Minetrix Presale Promising 10X RoI
In their latest review, experts at InsideBitcoins have peeled the onion on what is likely to be the best-performing crypto presale of Q4 in 2023: Bitcoin Minetrix.
Unlike the many meme coins entering the market during the crypto winter, Bitcoin Minetrix is turning heads across the digital space for attempting to solve a real problem faced by the majority of crypto enthusiasts, that is Bitcoin (BTC) mining.
The idea of staking to mine is truly ingenious! 🌟

Opening #Bitcoin mining to every #Crypto enthusiast, and here's why it's so appealing.

To participate in #BitcoinMinetrix, users simply need an Ethereum-compatible wallet, like #MetaMask. It couldn't be more straightforward! ✅ pic.twitter.com/onLu7PHq4U

— Bitcoinminetrix (@bitcoinminetrix) October 14, 2023
For a long time, Bitcoin mining has been a preserve of the few who can invest huge amounts of money in the latest equipment and pay high electricity bills to add blocks to the network for rewards.
While third-party cloud mining pools are there, they gobble up investor profits due to the high fees they charge and that's if you are lucky not to have lost your hard-earned cash in the many scams masquerading as legit mining platforms.
However, a real opportunity has presented itself from the Bitcoin Minetrix team, allowing investors to stake-to-mine BTC.
BTCMTX is the native token used in the staking process to earn credits which are later exchanged for hash power to mine BTC.
More on Bitcoin Minetrix later.
Can Bitcoin Price Bounce Back To Hit $29,000
Bitcoin is holding beneath all the major moving averages, including the 21-day Exponential Moving Average (EMA), the 100-day EMA, and the 200-day EMA which could mean bulls are slightly overwhelmed.
A signal from the Moving Average Convergence Divergence (MACD) indicator confirms the bearish outlook. Therefore, short-term speculators may want to stay off long positions until BTC has confirmed action at least above one of the moving averages.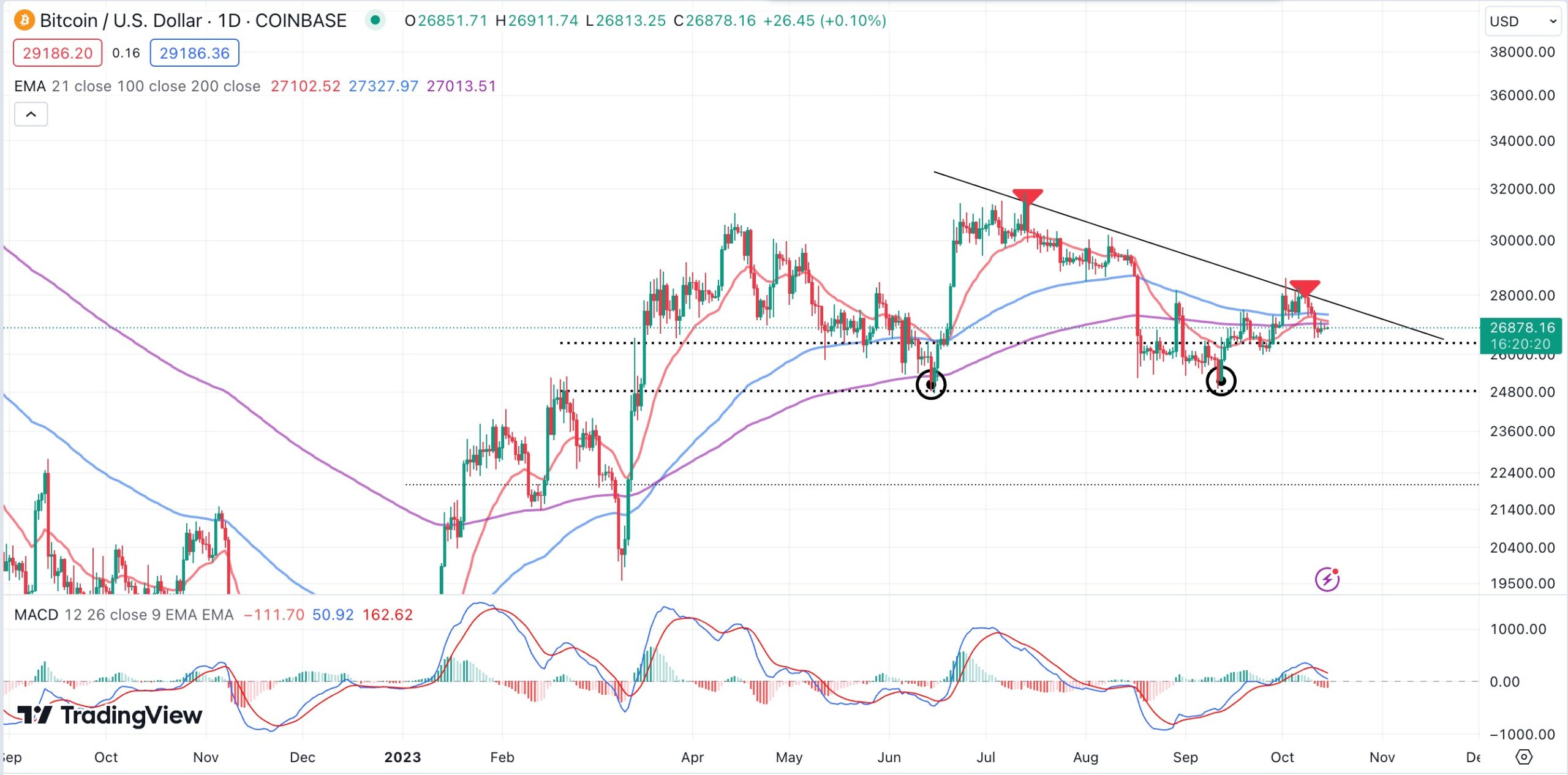 Blockchain analytics platform Santiment has recently revealed a remarkable increase in the number of whale and shark wallets holding at least 10 BTC.
"In the past 20 months, since this accumulation of new large wallets began, 11,806 more addresses have met this threshold, an 8.12% total increase," Santiment said via X.
The increasing number of whale and shark addresses shows that investors have a long-term outlook for Bitcoin and are not bothered by short-term market doldrums.
Bitcoin's upcoming halving event in 2024 could be the force behind this massive accumulation as investors anticipate a bull run to follow swiftly and peak in 2025.
🐳🦈 Since February, 2022, there has been a historic rise in shark & whale wallets holding at least 10 $BTC. In the past 20 months, since this accumulation of new large wallets began, 11,806 more addresses have met this threshold, an 8.12% total increase. https://t.co/I24TAbTB97 pic.twitter.com/AShQvlRg8n

— Santiment (@santimentfeed) October 13, 2023
Another factor that could be driving investors to buy and hold Bitcoin is the potential approval of a spot BTC exchange-traded fund (ETF) in the next six months.
A spot ETF would allow institutional investors to seek exposure to Bitcoin, thus giving the digital asset the validation the industry has long desired.
Research and data analyst James Straten believes that short-term holders (STHs) "sold the second most amount of Bitcoin at a loss this year with record divergence with long-term holders (LTHs) on Wednesday."
Meanwhile, speculation is at its lowest and this is verifiable by the drop in trading volume and volatility. At the same time, STH supply is currently at an all-time low in line with Google search interest.
To sum up this week for #Bitcoin

Most likely spot ETF approval (next 6 months. #GBTC closed higher.

Max fear: STHs sold the second most amount of #Bitcoin at a loss this year with record divergence with LTHs (Wednesday).

Speculation is near all time lows, STH supply at all…

— James V. Straten (@jimmyvs24) October 14, 2023
On the bright side, the Bitcoin network's hash rate is at an all-time high while the mining difficulty is "adjusting higher 6% this weekend, as miners double down," Straten added.
That said, Bitcoin price is fundamentally strong enough to resume the uptrend but is held back by external factors such as inflation, geopolitics, and regulatory pressure. Once some of these factors align, the next run-up could go beyond $29,000 and start a bullish phase above $30,000.
Bitcoin Minetrix Presale Is Selling Out Fast
Investors cannot ignore BTCMTX's innovative presale for a vehicle that solves one of the industry's major challenges by lowering barriers to entry in Bitcoin (BTC) mining. The presale is closing on $1.5 million raised in the current round that's likely to end imminently at $1.54 million.
One BTCMTX token is selling for $0.011 but interested investors must hurry before the price shoots up in the next stage.
Buying BTCMTX is simple as long as you have a crypto wallet loaded with either USDT or ETH on the Ethereum network or BNB on the Binance Smart Chain (BSC). Investors can also use select cards to purchase the token.
Related Articles
New Crypto Mining Platform – Bitcoin Minetrix
Audited By Coinsult
Decentralized, Secure Cloud Mining
Earn Free Bitcoin Daily
Native Token On Presale Now – BTCMTX
Staking Rewards – Over 1,000% APY
Join Our Telegram channel to stay up to date on breaking news coverage