Join Our Telegram channel to stay up to date on breaking news coverage
In yet another display of the crypto market's conditions, its capitalization dropped further in the last 24 hours. The market capitalization is currently valued at $1.05 trillion, reflecting a slight 0.34% decrease in the previous 24 hours. 
The market's total trading volume also decreased in the same period. It dropped by 9.72% to now stand at $22.7 billion. 
The decentralized finance sector contributed $1.8 billion to the total crypto market volume. This constitutes approximately 7.92% of the entire crypto market's 24-hour trading volume.
Meanwhile, $20.96 billion of the 24-hour trading volume in the crypto market belongs to stablecoins. It makes up 92.34% of the total trading volume.
Bitcoin currently boasts a dominance of 50.01%. This represents a slight increase of 0.15% in 24 hours.
Asian shares declined on Friday, signaling their most significant one-day percentage drop in a week. This downturn was triggered by robust US consumer price data, which reinforced expectations of prolonged high-interest rates by the Federal Reserve.
The sombre market sentiment is anticipated to extend into European markets, with Eurostoxx 50 futures down 0.19%, German DAX futures shedding 0.14%, and FTSE futures experiencing a 0.05% decline.
Next Cryptocurrency to Explode
Investor attention is now directed towards forthcoming inflation reports from Sweden, Spain, and France, which are expected to provide crucial insights.
1. Launchpad XYZ (LPX)
Thenext cryptocurrency to explode, Launchpad XYZ has positioned itself as a comprehensive web3 ecosystem that caters to a diverse range of crypto enthusiasts, from newcomers to seasoned participants. The platform's vision includes furnishing educational courses and training resources through its LearnWithLaunchpad initiative.
Networking, unity, and shared insights make us stronger 💪

Join us today and be part of a dynamic #Crypto network! 🤝🌐#LaunchpadXYZ #Web3 #Alts pic.twitter.com/gh7iwHBzHV

— Launchpad.xyz (@launchpadlpx) October 12, 2023
For users with a more advanced background, Launchpad XYZ intends to deliver top-tier analytics, trading signals, and a daily newsletter known as Trading Edge, boasting the promise of delivering "industry-leading alpha."
Going beyond trading aids and educational support, Launchpad XYZ aims to fulfill various web3 requirements all in one location. The platform is set to incorporate a peer-to-peer NFT marketplace, a decentralized exchange, and even new NFT creation and play-to-earn games, among other web3 initiatives.
To ensure users' assets remain secure and readily accessible, an integrated wallet is in development. Furthermore, the platform's utility token, LPX, can be staked to unlock privileges like partner discounts and whitelist access.
The company's CEO, Terence Ribaudo, envisions Launchpad XYZ as a humanized, curated portal into the web3 realm. He also described the platform's core value proposition as streamlined access to the most promising projects in the blockchain space.
Visit Launchpad XYZ.
2. THORChain (RUNE)
THORChain (RUNE) is emerging as a promising token and, indeed, the next cryptocurrency to explode. It has strategic initiatives that reinforce its potential. Notably, THORChain recently integrated the Binance Smart Chain into THORSwap, enabling DEX aggregation and connections to platforms like PancakeSwap.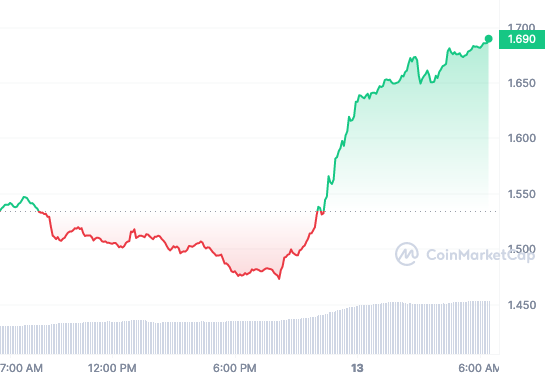 This integration significantly expands THORChain's reach and functionality, drawing more users and liquidity into its ecosystem. As a result, experts in the crypto space are bullish about the future of THORChain.
In fact, they foresee a substantial price surge for THORChain, with a projected value of $1.19 within the fourth quarter of 2023. These developments underscore the increasing influence and role of RUNE in the evolving DeFi landscape.
In 2023, THORChain is showing a robust bullish trend. According to available price forecasts, the maximum price for RUNE Coin is anticipated to be around $2.83. Many experts suggest that THORChain may experience positive growth, reaching an average price of $2.50 by 2023. In the event of a bearish market trend, the minimum price for RUNE Coin in 2023 is estimated to be around $2.17.
On-Chain TWAP: $2.5 Million $USDC to $RUNE

Streaming into 1587 sub-swaps for price execution within 5 basis points https://t.co/YcurSu1PmK

— THORChain (@THORChain) October 12, 2023
The bullish momentum of THORChain is expected to continue into 2024 as more THORChain-related financial services are introduced and global adoption grows. Crypto analysts predict that the RUNE cryptocurrency could reach a maximum price of $4.42 and a minimum of $4.02, resulting in an average price of $3.75 for 2024.
3. Trust Wallet Token (TWT)
Trust Wallet's native token, TWT, has witnessed a remarkable surge of more than 20% for over a week. Trust Wallet is a widely-used cryptocurrency self-custody wallet acquired by Binance in 2018. It boasts over 70 million downloads. The TWT token has outpaced most tokens in CoinMarketCap's top 100, which have seen only single-digit increases. Investors widely consider TWT as the next cryptocurrency to explode.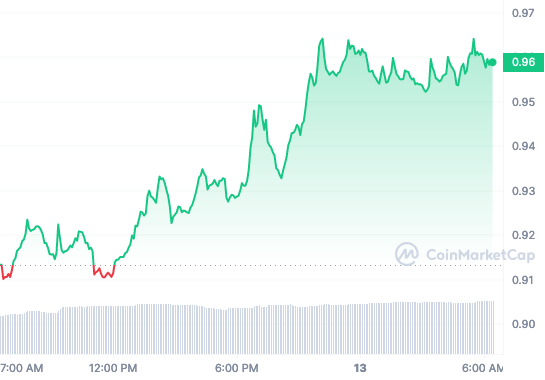 Social media influencers and analysts are attributing this surge in TWT's price to an undisclosed announcement hinted at by Trust Wallet's official Twitter account. On October 4, the Trust Wallet account posted a single, now pinned, Tweet with the caption "The countdown is on," alongside the hashtags #FreedomFoundations and #TrustYourself.
Naturally, speculation has arisen on social media regarding the nature of this announcement. Some experts suggest that Trust Wallet unveil a hardware wallet to complement its existing hot wallet offering. However, since the platform has yet to provide further details, some community members are also considering the possibility of Trust Wallet launching its own Layer 1 (L1) or Layer 2 (L2) blockchain network.
We've partnered with @Moonpay for 0% fees on your first 5 #crypto purchases within the #TrustWalletExtension.

Enjoy seamless, secure transactions in 50+ supported currencies! 🌎

Learn more👇https://t.co/88PUeeAblV pic.twitter.com/2qJYuKIv6F

— Trust Wallet (@TrustWallet) October 12, 2023
As of now, the massive announcement from Trust Wallet, which came up yesterday, is its partnership with Moonpay. Nonetheless, cryptocurrency enthusiasts have been purchasing TWT tokens, contributing to its price surge.
4. Ocean Protocol (OCEAN)
Ocean Protocol is a decentralized Web3 data marketplace running on the Ethereum blockchain and encompassing a wide array of data assets and services. Its core mission is to provide widespread, cost-effective, and secure access to data, all while ensuring comprehensive data protection measures. In essence, Ocean Protocol bridges the gap between data providers and consumers within a unified platform.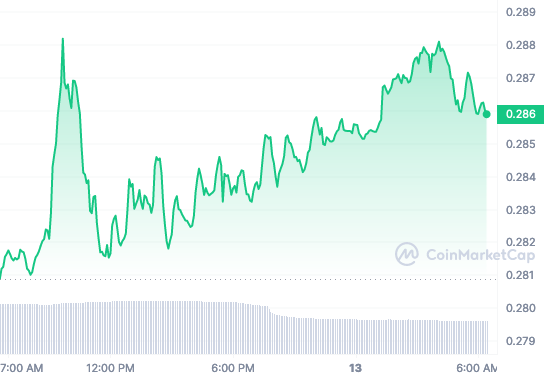 Data providers have the opportunity to monetize their offerings, while users can access and utilize data by making payments using ERC-20-based tokens. Both data owners and consumers can seamlessly explore and access public data through the marketplace. Importantly, data owners retain control over their data, even when others are utilizing it. This innovative approach leverages data tokens on the open-source Ocean Protocol integrated with the Ethereum blockchain to facilitate data access.
As of the latest data, OCEAN's price stands at $0.2854, with a 24-hour trading volume of $11.65 million. Historical data reveals an all-time high price of $1.9413 recorded on April 10, 2021, and a low of $0.01351 in August 2019. The total market capitalization is $216.36 million, supported by a circulating supply of 613.10 million OCEAN tokens.
This week, in sum…

🌊 We deployed Ocean Predictoor live on mainnet!
🌊 We went live w/ an #AI Assistant on the Ocean website
🌊 We fielded questions about Predictoor in our AMA with @OasisProtocol & @CelerNetwork
🌊 We announced a new sports car #DataChallenge pic.twitter.com/mcPcXYcB2s

— Ocean Protocol (@oceanprotocol) October 13, 2023
Looking ahead, price predictions for OCEAN cryptocurrency appear promising. Nonetheless, it's worth noting that the current price of Ocean Protocol is approximately 82.08% lower than its historical peak. If future projections materialize as anticipated, with sustained value appreciation, both the token's worth and the company's market capitalization are likely to grow, making Ocean Protocol a compelling prospect for prospective investors. It is the next cryptocurrency to explode, and all players should watch out for it.
Read More
New Crypto Mining Platform – Bitcoin Minetrix
Audited By Coinsult
Decentralized, Secure Cloud Mining
Earn Free Bitcoin Daily
Native Token On Presale Now – BTCMTX
Staking Rewards – Over 1,000% APY
Join Our Telegram channel to stay up to date on breaking news coverage