Join Our Telegram channel to stay up to date on breaking news coverage
Cream Finance, the platform transforming the decentralized finance (DeFI) sector for individuals and protocols to access financial services seamlessly, is increasing in value despite the rest of the crypto market wobbling under heavy selling pressure.
Over the last 24 hours, CREAM has surged by almost 8% to $15.68, bringing its cumulative gains in the last 30 days to 44%, according to market data by CoinGecko. The massive spike in trading volume to $8 million confirms the growing interest in CREAM as a DeFi token.
Cream Finance Announces Partnership With Manifold To Build Liquid Staking Protocol
The Shapella upgrade on the Ethereum network opened up liquid staking protocols like Lido and Rocket Pool, which have continued to achieve incredible milestones for allowing investors to stake Ether and still have access to the equivalent liquidity via liquid staking derivatives (LSDs).
Cream Finance, in partnership with Manifold Finance, believes it has what it takes to build the next revolutionary liquid staking platform called mev.io. According to a post on X, this new DeFi ecosystem "will give the Ethereum community maximal value for staking ETH while also contributing to network decentralization."
The revolution has started. MEV Protocol is now live 🔥 This ushers in a new ETH Liquid Staking Token containing mechanics previously unexplored by others. Dive into the blog post or continue on with this thread 🧵:https://t.co/xSXOrouIor

— mev.io (@mevdotio) October 4, 2023
Manifold Finance is expected to bring to the table its extensive experience in the Ethereum architecture. Together with Cream Finance, they hope to address "the threat of and opportunity for significant manipulation in the Ethereum network."
"MEV Protocol is the result of @CreamdotFinance with the first-ever ETH staking service & @foldfinance a leading figure in Ethereum infrastructure," Mev.io said in a post on X. "This collab enhances network security, promotes validator and LST diversity, promotes network decentralization, and maximizes value."
Meanwhile, investors can take advantage of a new liquidity pool for crUSDC:FRAXXBP, which Cream Finance says has the potential "to reach over 70% APR). The process of joining the pool requires users to "deposit on the Ethereum Mainnet market at app.cream.finance to get crUSDC," which can then be deposited or staked along with the LP token on Curve Finance.
Cream Finance Flaunts Cup and Handle Pattern
The bullish outlook in Cream Finance set in with support at $10 in September. This allowed bulls to regain control over the trend, and what followed was a spectacular show of bullish muscles with CREAM launching in a gigantic green candle with the wick extending to $22.86.
Profit booking followed swiftly as investors cashed out their profitable long positions. However, trading above all three major moving averages, including the 21-day Exponential Moving Average (EMA), the 100-day EMA and the 200-day EMA implied that buyers had the upper.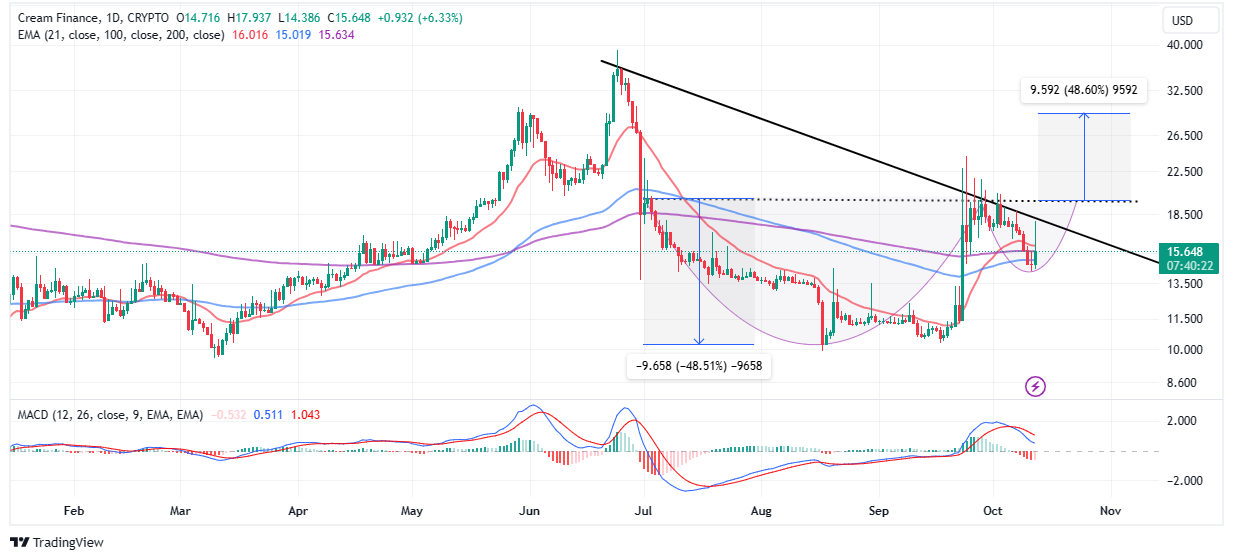 A higher support at $14 served as a springboard, boosting CREAM to $17.89 where it tested resistance at the descending trendline. Although Cream Finance rolled back, the 200-day EMA slowed the movement, hence the potential of a more significant breakout following the forming a cup and handle pattern.
A breakout from the cup and handle pattern requires that bulls push Cream Finance above the neckline resistance at $19.5. This climb would be accompanied by a massive increase in trading volume thus validating the 48.5% run up to $30—doubling CREAM's value.
However, the Moving Average Convergence Divergence (MACD) cautions that traders must be careful when placing buy orders. A sell signal sent on October 6 implies that bears could still influence Cream Finance's direction. As the MACD drops to the neutral area (0.00) traders should be keen on the next buy signal.
Cream Finance Alternative Promising 10x RoI
Investing in the crypto market requires smart portfolio diversification to minimize risk while maximizing the gains. The uptick in Cream Finance is remarkable but the token could trim gains amid the uncertainty of the market.
However, investors may want to consider a revolutionary crypto token, Bitcoin Minetrx, currently in the presale stages but promising immense gains after it lists on exchanges later this quarter.
This innovative newcomer has raised almost $1.12 million via presale within the first week of its launch. It introduces a new Stake-to-Mine mechanism that provides an accessible path for crypto users to participate in mining Bitcoin (BTC).
Opting for #BitcoinMinetrix for hassle-free mining! ⛏

With cloud mining, say goodbye to concerns about reselling equipment.#BTCMTX manages upgrades, this allows users to concentrate on their $BTC venture without the hassle of aging hardware. pic.twitter.com/qnaIY32gP7

— Bitcoinminetrix (@bitcoinminetrix) October 12, 2023
Bitcoin Minetrix had an impressive debut, gaining early investors' attention. This category of investors sees it as a potential disruptor in the BTC mining arena and the next cryptocurrency to explode.
The project aims to change the game by leveraging its Stake-to-Mine mechanism to make BTC cloud mining accessible to more people. This mechanism runs by having users stake the platform's BTCMTX token in exchange for Bitcoin mining credits.
The credits earned in this process can later be redeemed for either BTC mining time or a share of mining returns.
Related Articles
New Crypto Mining Platform – Bitcoin Minetrix
Audited By Coinsult
Decentralized, Secure Cloud Mining
Earn Free Bitcoin Daily
Native Token On Presale Now – BTCMTX
Staking Rewards – Over 1,000% APY
Join Our Telegram channel to stay up to date on breaking news coverage