Join Our Telegram channel to stay up to date on breaking news coverage
Stratis (Strax) has ignited bullish momentum that has attracted more buyers, driving the price above the critical resistance point at $0.53.
As of 11:47 a.m. EST, STRAX recorded a 6% increase in the past 24 hours, trading at $0.765463. Additionally, its daily trading volume has surged 1,364%, reaching $199 million.
Moreover, STRAX has displayed remarkable resilience, bouncing back from the $0.56 support zone despite the sellers' pullback.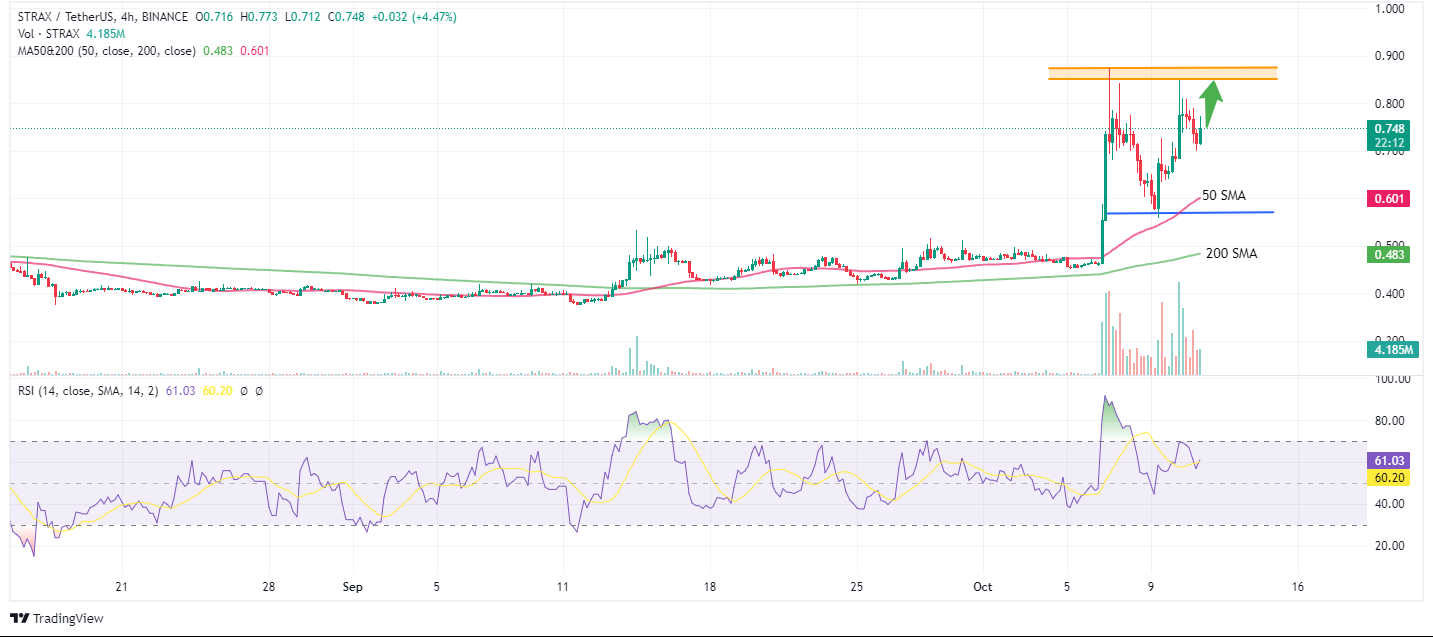 Stratis (Strax) has gradually gained bullish momentum in the $0.38 support zone. This area has acted as a solid foundation for buyers, clear in the significant spike corresponding to the 50 simple moving average.
However, buyers faced a hurdle at $0.88, prompting a temporary retreat to the $0.57 support zone. They regrouped, attempting to drive the price higher but faced rejection again, resulting in the formation of a double-top pattern, which signals a potential bearish trend reversal.
Can Stratis (Strax) Price See a 150% Surge?
Should the bullish sentiment persist, the bulls may target surpassing the $0.88 barrier, potentially increasing the price.
The 50-day and 200-day moving average indicators sit below $0.48 and $0.57, respectively, reinforcing this bullish sentiment.
The relative strength index (RSI) is on an upward trend at 66, marking a rebound from the neutral level of 50. This shows substantial buying pressure, potentially pushing the RSI into the overbought region at 70.
In this scenario, Stratis' price remains bullish, receiving support from the SMAs and the RSI. The bulls may aim to break through the resistance level and reach new levels in the coming weeks.
Nevertheless, the double-top pattern could encourage a retracement to the $0.57 support zone.
However, investors can participate in the stake to earn of the meme Kombat presale and stand a chance to earn high returns.
MK Passive Income with Staking and Play-to-Earn
Meme Kombat stands apart from many meme coins, such as Pepe, by allowing users to stake and generate passive income.
Investors now have the option to stake their tokens and earn an impressive 112% Annual Percentage Yield (APY). This exceptional return is achievable because 30% of the token supply has been allocated for staking and battle rewards.
The official MK website will soon launch a staking dashboard displaying real-time data on the number of tokens in the pool.
Meme Kombat provides profitable opportunities through its stake-to-earn and play-to-earn features. The token presale has gained momentum, raising $456,109, almost surpassing half of its $1 million fundraising target. Users can gain Meme Kombat tokens ($MK) for $1.667 per token.
Dive into Meme Kombat Season 1
Meme Kombat Season 1 introduces 11 exclusive meme characters for battles, catering to various meme communities and preferences. With its unique concept and engaging gameplay, Meme Kombat Season 1 is sure to entertain all meme lovers. The team has scheduled Season 2 for December 2023.
Don't make the same mistake. Prepare for Season 1😤#MemeKombat $MK pic.twitter.com/iWdTAxddAN

— Meme Kombat (@Meme_Kombat) October 10, 2023
Meme Kombat taps into the online gambling industry, which is roughly worth $95 billion in 2023. This is with a projected compound annual growth rate of 8.54% through 2027. Experts expect the industry to grow significantly in the coming years, driven by increased legalization of online gambling in many countries. Additionally, the rise of new technologies and the adoption of cryptocurrencies will further spur growth in the industry.
The project strongly emphasises security, having successfully undergone a smart contract audit (a rarity among meme coin projects). The project has a strong focus on community building, engaging with its followers and creating a fun and exciting environment. The team is constantly working on new partnerships and collaborations to further the project's growth.
What else you going to do when market is bad. Let off some steam in the arena 😈#MemeKombat pic.twitter.com/3zUIe7opya

— Meme Kombat (@Meme_Kombat) October 10, 2023
About 50% is set aside for the presale, 30% devoted toward staking and battle rewards, 10% for community rewards, and another 10% is for decentralised exchange liquidity. All based on a total token supply of 120 million.
Meme Kombat enables both time-staked and actively engaged participants to earn $MK tokens and valuable prizes, with a daily compounding of staking rewards, which amplifies potential returns.
According to No Bs Crypto, MK may overtake PEPE because of its rapid presale surge.
You can connect your web3 wallet to the Meme Kombat website and gain the tokens using ETH, BNB, or USDT (ERC-20 and BEP-20). MK definitely has the potential to become the next big thing in the meme coin world.
Related
Quant Price Prediction: QNT Token Shows Unprecedented Growth—Is Wall Street Memes the Next Big Thing?
Bancor Price Prediction: As BNT Token Soars, Wall Street Memes Could Be Your Next Smart Move
Bitcoin (BTC) Price Prediction: BTC Surging Ahead, But Is Wall Street Memes Coin the Better Bet?
New Crypto Mining Platform – Bitcoin Minetrix
Audited By Coinsult
Decentralized, Secure Cloud Mining
Earn Free Bitcoin Daily
Native Token On Presale Now – BTCMTX
Staking Rewards – Over 1,000% APY
Join Our Telegram channel to stay up to date on breaking news coverage