Join Our Telegram channel to stay up to date on breaking news coverage
Cosmos, a groundbreaking blockchain ecosystem, has been at the forefront of discussions regarding its potential price trajectory. Recent developments like Nomic's upgrade have piqued interest in the Cosmos network. This upgrade is designed to bridge Bitcoin into the Cosmos ecosystem, enabling swift BTC deposits and withdrawals across the network from any platform or chain within its ecosystem. 
Such advancements are not only indicative of the technical prowess of the Cosmos network but also hint at its future market dynamics. Various predictions and analyses from reputable sources suggest a range of potential price outcomes for Cosmos in the coming years, reflecting the cryptocurrency's evolving landscape and its interplay with other major players like Bitcoin.
ATOM Shows Strong Market Sentiment in the past 30 days
Cosmos price trend in the past 30 days shows ATOM price has been trading inside a narrow range of $6.30 to $7.64, forming several double bottom patterns in the process. These patterns suggest a strong support level for ATOM, which is $6.0 and has been held for the past three weeks.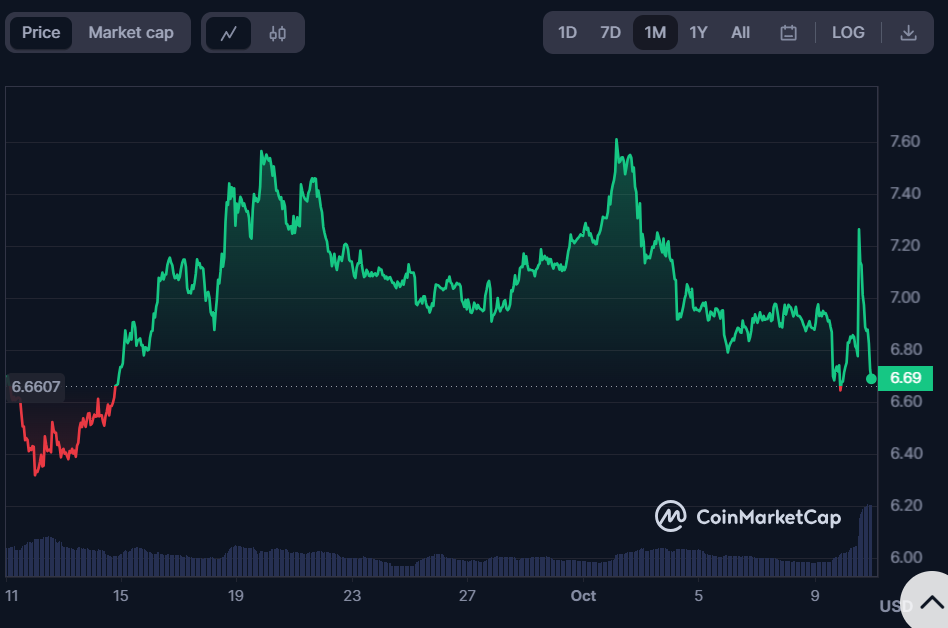 ATOM's monthly chart: Coinmarketcap
The recent price analysis reveals Cosmos is trading in a bearish trendline, falling from an intraday high of $7.4 to a low of $6.1. However, Cosmos has shown resilience in the face of such bearish pressure and has managed to bounce back from its support level multiple times. 
However, Cosmos (ATOM) has been displaying bullish, solid indicators in the monthly timeframes, and recent developments related to its Inter-Blockchain Communication (IBC) protocol have played a crucial role in this. A significant milestone has been achieved with the public release of a repository demonstrating the bridging capabilities between Ethereum and Cosmos through IBC.
We are approaching a time when Ethereum, Binance Smart Chain, and Cosmos will be interconnected via IBC. This development is poised to open up many cross-chain transactions and collaboration opportunities.
Due to these developments, market analysts are expressing optimism regarding the prospects of the Cosmos cryptocurrency. They predict a potential price range for Cosmos between $9.51 and $10.83 during the last quarter of 2023.
Cosmos Price Prediction
Market predictions offer a mixed outlook for ATOM. While some experts suggest growth potential, with price targets ranging from $20 to $75.17 by 2025, others remain more cautious, with projections as low as $5.66 for 2024. The recent price action contributes to the prediction for tomorrow, next week, and the last quarter of 2023. For instance, Cosmos price prediction by Wallet Investor for the next day is $7.71, with a 79% accuracy level.
Cosmos (ATOM) has demonstrated a notable correlation with the BTC halving cycles, a significant event in the cryptocurrency world that tends to influence the market dynamics and price actions of many cryptocurrencies, including ATOM. Historically, the BTC halving cycles have been precursors to bullish market movements, and Cosmos seems to be no exception. Its price movements, anchored by these cycles, suggest a pattern of growth that investors and traders can look out for.
Price Prediction for Cosmos in 2024-2025
Drawing from the historical price movements and the implications of the BTC halving cycles, Cosmos is anticipated to witness a price fluctuation in the coming years. For 2024, the price is forecasted to touch a low of $5.74, indicating a potential consolidation phase or a possible retracement from previous highs. However, the momentum seems to swing positively for ATOM in the subsequent year, with predictions pointing towards a high of $8.51 in 2025.
Launchpad XYZ has emerged as a beacon in the dynamic realm of cryptocurrency, guiding seasoned traders and newcomers through the intricate world of Web3. With a staggering $1.86 million amassed through its ongoing presale, the platform is not merely a speculative venture but a burgeoning ecosystem ready to revolutionize blockchain interactions and transactions.
A Comprehensive Ecosystem for Every Crypto Enthusiast
Launchpad XYZ isn't just a platform; it's a holistic ecosystem designed to cater to varied user needs, from education to trading and exploration of the Web3 space. The platform is meticulously crafted to provide "easy access to the best projects in the blockchain space," as articulated by CEO Terence Ribaudo. Through its LearnWithLaunchpad program, it doesn't merely offer access to crypto trading but ensures users comprehend, navigate, and leverage the crypto space effectively. Moreover, for the seasoned trader, robust analytics, trading signals, and a daily newsletter, Trading Edge, promise a "market-leading alpha," ensuring they stay ahead in the fast-paced crypto market.
$LPX Token: More Than Just a Cryptocurrency
The $LPX token, the native cryptocurrency of Launchpad XYZ, is not merely a digital asset. It's a key to a world of premium features and exclusive access within the Launchpad XYZ ecosystem. Holding $LPX isn't just an investment but a ticket to a suite of premium features like staking yields, whitelist access, and partner discounts. 
https://x.com/launchpadlpx/status/1710626098579403029?s=20
The token is designed to incentivize holders to explore, interact with, and benefit from the myriad offerings of the Launchpad XYZ phttps://twitter.com/launchpadlpx/status/1710626098579403029?s=20latform. During its presale, the token was offered at an attractive price of $0.0445, making it accessible to many investors.
Anticipating a Revolution in Crypto Interaction
As the countdown to one of 2023's most anticipated crypto launches ticks down, the crypto community is abuzz with excitement and speculation. 
Launchpad XYZ has a user-centric design, educational resources, and comprehensive Web3 offerings; the platform is poised to be a game-changer in how we perceive, interact with, and benefit from the blockchain and Web3.
Launchpad XYZ, with its $LPX token, is not merely a crypto platform but a comprehensive Web3 hub, ensuring that users, whether they are crypto novices or seasoned traders, can navigate, understand, and leverage the vast potentials of the crypto world. The anticipation and momentum are palpable, and as the presale progresses, the crypto community watches, ready to step into the future with Launchpad XYZ.
New Crypto Mining Platform – Bitcoin Minetrix
Audited By Coinsult
Decentralized, Secure Cloud Mining
Earn Free Bitcoin Daily
Native Token On Presale Now – BTCMTX
Staking Rewards – Over 1,000% APY
Join Our Telegram channel to stay up to date on breaking news coverage