Join Our Telegram channel to stay up to date on breaking news coverage
The search for the ultimate bottom, which should usher in the next bull run, is still raging for Cardano (ADA). Down 2% in the last 24 hours, ADA is trading at $0.247 on Wednesday during European business hours.
While investors prefer to hold Cardano long-term, the wobbly crypto market structure drives them to newer projects, especially those in the presale stage. Bitcoin Minetrix is one such token, presenting a revolutionary stake-to-mine concept for crypto enthusiasts desiring to mine BTC but are locked out due to the high initial capital required, not to mention cloud mining scams.
Mining Bitcoin (BTC) has never been so accessible as presented by the Bitcoin Minetrix team. The process is simple and takes only a few steps, starting with buying BTCMTX tokens in the ongoing presale that has raised almost $1 million within a few weeks.
Before diving deeper into the inner workings of the Bitcoin Minetrix ecosystem, Cardano's price is yet to flaunt any potential signals for an immediate reversal. The downtrend will likely continue searching for a viable support area before a trend reversal materializes.
Cardano Price Recovery On Hold – What's Next?
Cardano is trading below all key moving averages, including the 50-day Exponential Moving Average (EMA) (red), the 100-day EMA (blue), and the 200-day EMA (purple). A descending trendline (dotted) from April curtailed significant price movement to the north, leaving ADA with only a few options – to trim gains and search for a viable support area.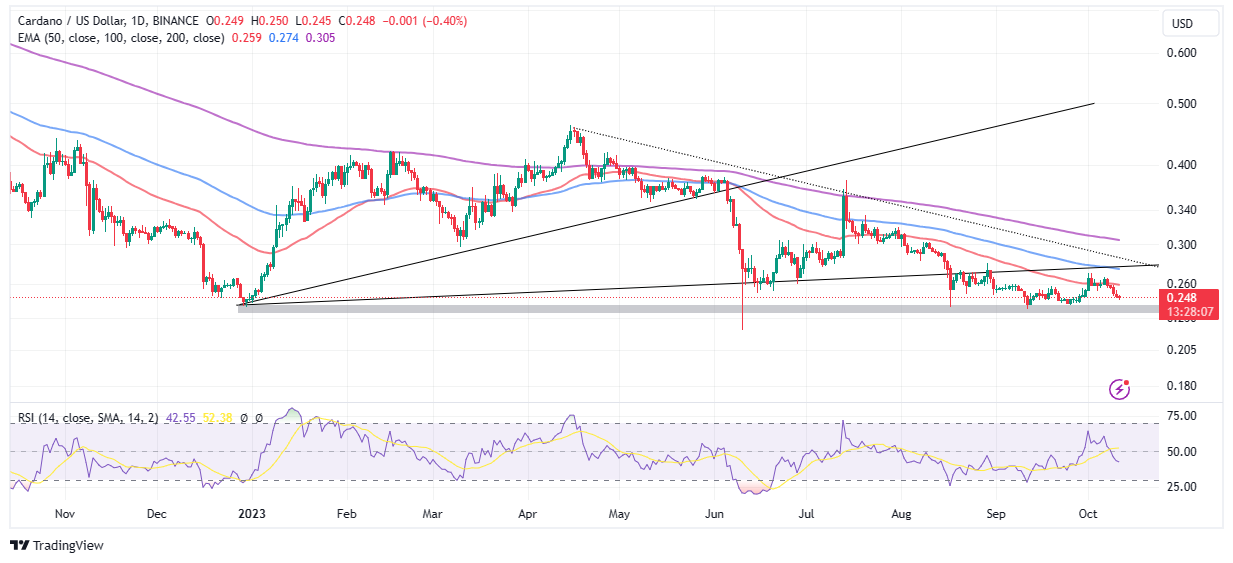 The path with the least resistance is to the downside based on the position of the Relative Strength Index (RSI) below the midline (50). As long as the RSI holds beneath the SMA, a recovery would be a pipe dream in the short term. An oversold RSI could usher in the next bullish phase.
Meanwhile, Alan Santana, a crypto analyst publishing his ideas on Tradingview, believes Cardano is at the tail end of the downtrend. Santana projects a significant upswing from the current level as long as the Adam & Eve pattern (similar to a bottom formation) is validated.
Investors need to confirm the bottom is in before going all-in on ADA. "The higher low in September vs June confirms the low is in," Santana added. "With this, it would be enough for us to say, with a high level of accuracy, that the next major move is up."

Another key confirmation is that Cardano must be trading above three moving averages: The 21 EMA, the 10 EMA, and the 50 EMA.
A solid big candle supported by a spike in volume would be necessary for the climb, implying that the best approach here could be to buy ADA and wait for the breakout.
"ADA breaks bullish, and yet we continue to wait…" Santana at the end of the analysis. "The confirmation is in for sure now. Let's wait for the correction to enter. We need a retrace for a good entry before we can move ahead… And then it goes up and up and up…"
Cardano Development Activity on The Rise
Insights from blockchain analytics firm Santiment show that the competitive smart contracts token is again in the top spot of networks with the highest development activity. Santiment revealed that Cardano's GitHub commits hit 611.47 million in the last 30 days, beating projects like Polkadot (DOT), and Kusama (KSM) with 500.67 GitHub commits.
🧑‍💻 Here are #crypto's top coins by development activity: notable #github commits, past 30 days:

1 @Cardano $ADA
T2 @Polkadot $DOT
T2 @kusamanetwork $KSM
4 @hedera $HBAR
5 @vegaprotocol $VEGA
6 @chainlink $LINK
7 @ethstatus $SNT
8 @dfinity $ICP
9 @cosmos $ATOM
10 @ethereum $ETH pic.twitter.com/LUSDsSmxw7

— Santiment (@santimentfeed) October 6, 2023
According to Santiment, high development activity indicates confidence among investors in the network's longevity. It also implies that Cardano is committed to releasing new features.
Promising Cardano Alternative | Tradingview
In addition to providing a much-needed solution for mining BTC by uplifting ordinary investors, the Bitcoin Minetrix presale promises more than 10x return on investment following BTCMTX listing on exchanges later this quarter.
Investors no longer need to be worried about third-party cloud mining scams, especially with control over their holdings staying with them. You will only be required to stake BTCMTX, which will start earning credits that can be used to mine BTC.
Navigating the #Crypto sphere alongside #BitcoinMinetrix! 🌐

Cloud mining = Cost efficiency!

Bid farewell to increased electricity bills and hardware needs.

Mining made simple. pic.twitter.com/fC1yuNJDVO

— Bitcoinminetrix (@bitcoinminetrix) October 10, 2023
"Cloud mining opens up a straightforward avenue to the world of crypto," with a simple gateway for newcomers supported by budge-friendly investment – expensive hardware equipment is not required. The team promises "smooth and hassle-free upgrades."
Interested investors can participate in the presale by heading to the official Bitcoin Minetrix website, connecting a crypto wallet like MetaMask, and ensuring it is loaded with either ETH or USDT. The current presale stage allows investors to buy BTCMTX at $0.011 per coin.
Related Articles
New Crypto Mining Platform – Bitcoin Minetrix
Audited By Coinsult
Decentralized, Secure Cloud Mining
Earn Free Bitcoin Daily
Native Token On Presale Now – BTCMTX
Staking Rewards – Over 1,000% APY
Join Our Telegram channel to stay up to date on breaking news coverage