Join Our Telegram channel to stay up to date on breaking news coverage
InsideBitcoins regularly reviews new cryptocurrency releases, ICOs, and the latest CoinMarketCap listings to add to your watchlist.
Bitcoin experienced difficulty breaking the $28,000 threshold early on Tuesday. Similarly, popular altcoins such as Ethereum and Dogecoin all registered declines in their respective market prices.
Investors appear to be exercising caution, possibly influenced by the escalating and unprecedented violence between Israel and Hamas. Over the past 24 hours, OKB witnessed a 1.3% increase in value, with Avalanche recording a 0.18% decrease in the same period. Moreover, the global crypto market cap is pegged at $1.07 trillion, registering a 24-hour rally of 0.03 percent.
Best Crypto to Buy Now
Based on the current state of the market, investors should consider looking beyond immediate uptrends for investment opportunities. The recent price declines across various cryptocurrencies present an opportunity to explore the concept of "buying the dip." The following tokens appear to have the potential for an upward trend in the coming days.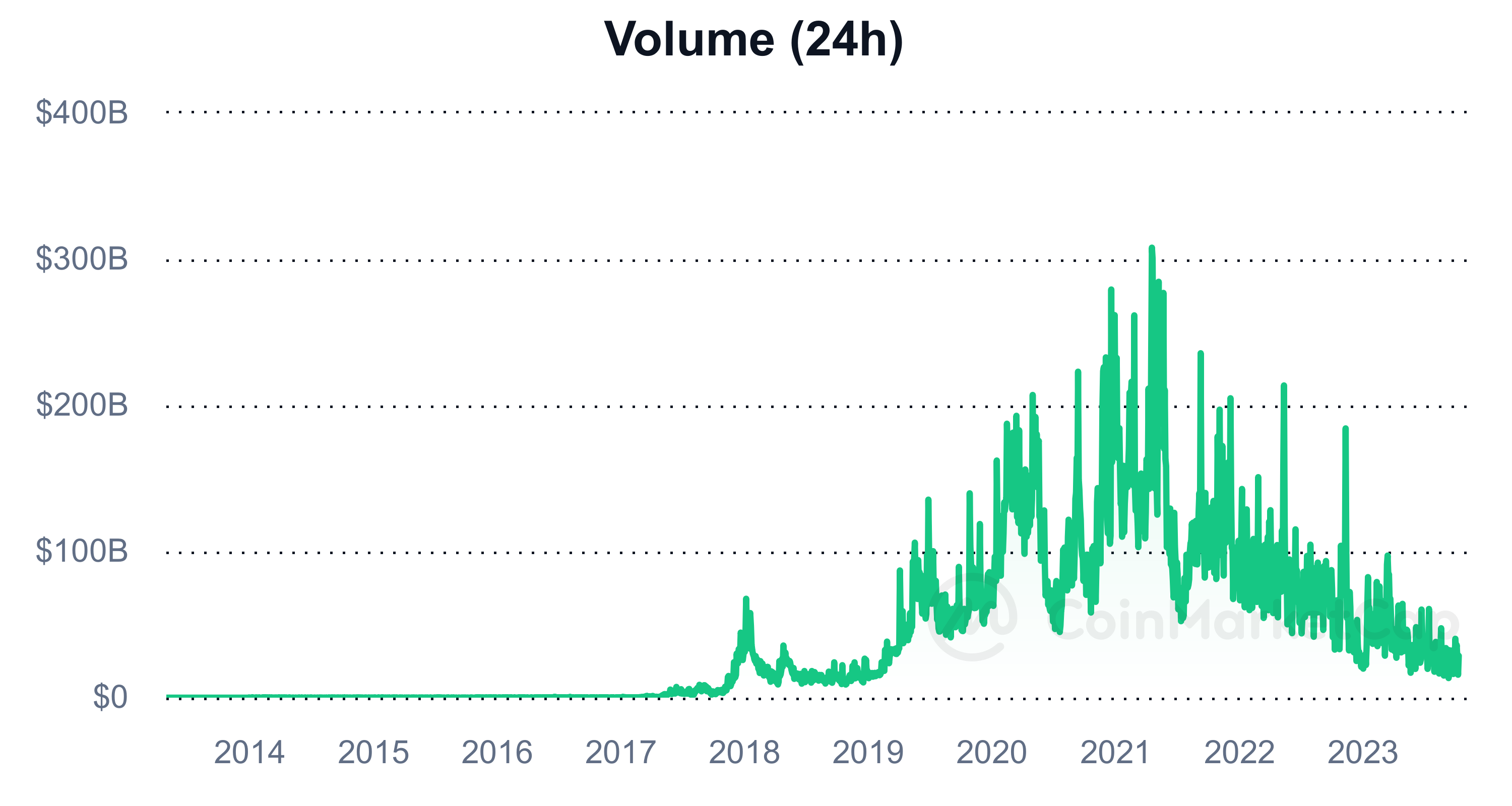 Global Crypto Market Cap Chart
1. Solana (SOL)
Will Solana recover from its current phase? Solana has experienced a 6.82% decline over the past week. However, it experienced an upward tick last month, recording a 14.11% gain. 
The SOL token has displayed a 4.59% increase over the past three months but slipped by 4.25% in the last six months. Despite these fluctuations, Solana has shown significant growth, with a year-to-date surge of 123.38%.
In contrast to the relatively modest start of Ethereum ETFs, Solana (SOL) has attracted substantial investments, recording its most significant weekly inflow of $23.9 million since March 2022. This reflects Solana's increasing popularity as a preferred altcoin in the industry. 
Furthermore, Solana's total value locked in the DeFi space has reached an all-time high for the year, surpassing $338 million. This increase has further solidified its position in the decentralized finance sector.
gm! The Solana Hyperdrive Hackathon submission portal is live 💫

Team leaders need to create an account & complete project submission questions in the portal at https://t.co/0HfrxRWgbd.

Project submissions are also editable until the October 15th deadline.

Good luck!

— Solana (@solana) October 9, 2023
From a technical standpoint, Solana's relative strength index (RSI) has fallen to 56 and appears to be moving toward neutrality. This may prompt investors to closely monitor the daily time frame chart for potential directional changes.
For investors, Solana's price prediction suggests the possibility of a rebound from its current level to initiate a recovery phase. This possible upside places it as one to consider. However, Investors should approach the market with caution and closely monitor developments.
2. TRON (TRX)
TRON (TRX) has exhibited a significant uptrend, a noteworthy achievement considering the extreme volatility characterizing the cryptocurrency market this year. While numerous other altcoins have faced substantial declines, TRX has managed to breach new resistance levels, maintaining its upward trajectory.
The recent retest has been pivotal in TRON's success and is crucial in assessing its potential trajectory. Analysts suggest this positive trend could propel TRX beyond the $0.10 mark.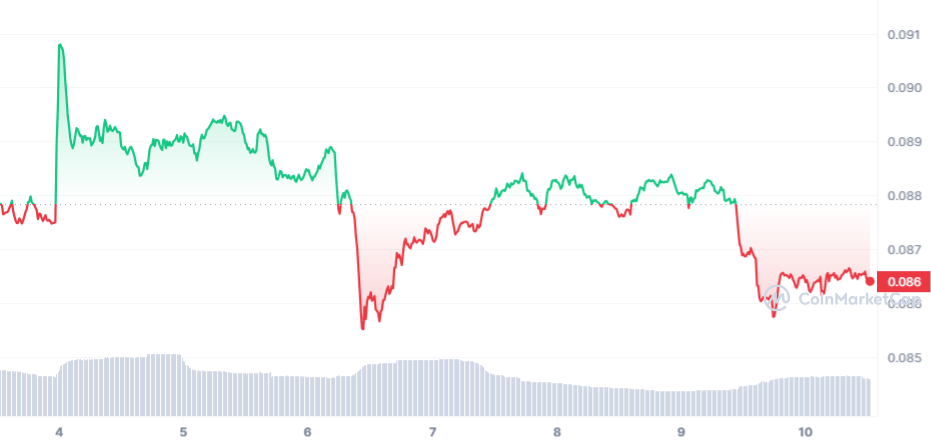 A double-bottom reversal pattern has emerged, marked by a bullish breakout at the $0.085 neckline, which previously served as a significant resistance level in 2023. This breakout has propelled TRX's price further upwards, resulting in a year-to-date growth of 62%. 
As of the latest data, TRON is trading at $0.086, with a slight intraday dip of 0.46%. Nonetheless, it remains above crucial support levels, maintaining its breakout rally.
Per technical indicators, the Relative Strength Index (RSI) briefly dipped from the oversold zone, indicating a minor loss in bullish momentum. Nevertheless, the overall uptrend remains intact, suggesting a positive outlook. 
Curious about the recent changes in the #TRONNetwork? 🧐

We've partnered with @googlecloud's BigQuery to offer deeper data insights. Explore transactions, dive into smart contracts, and delve deeper into the blockchain. 🌐

Check out the @FT article 👇https://t.co/nvbnDYKQY6 pic.twitter.com/x4MZNmew5x

— TRON DAO (@trondao) October 10, 2023
In addition, the 50-day and 200-day Exponential Moving Averages (EMAs) continue to support the daily chart's uptrend, reinforcing its upward trajectory. The Golden Cross, a bullish signal, has further validated the ongoing uptrend in TRON.
Considering TRON's price analysis for October, it indicates favorable conditions for cryptocurrency buyers. Over the past two days, the price has predominantly followed a bullish trend, with only minor bearish fluctuations observed within the last 24 hours.
3. OKB (OKB)
OKB is a cryptocurrency introduced by the OK Blockchain Foundation in partnership with OKEx, a Maltese cryptocurrency exchange. OKEx is widely recognized as one of the world's largest exchanges, ranking third in liquidity and fourth in trading volume. With a current price of $43.18 and a total supply of 60,000,000 coins, OKB offers a diverse selection of trading pairs.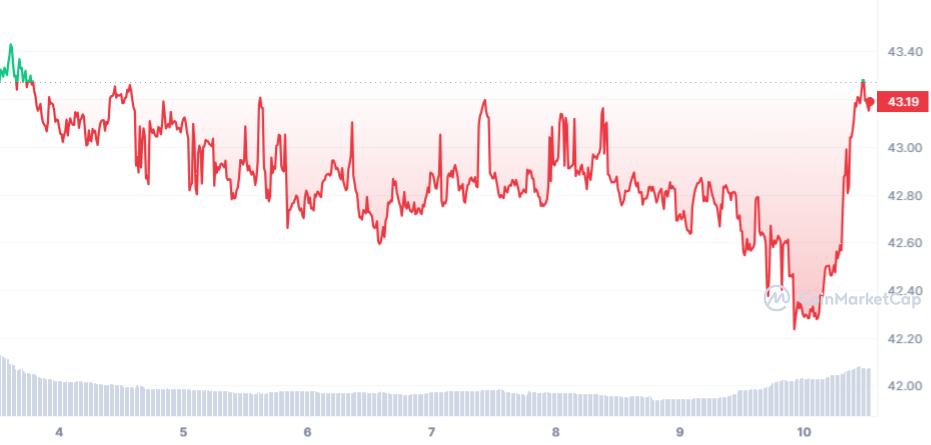 The OKB token is crucial to the OKEx ecosystem, granting users transaction fee discounts of up to 40% based on the number of tokens held. Moreover, these tokens generate passive income for members through integration into OKEx Earn, a project designed to help users earn from their assets. 
OKB serves as the native asset of OKExChain, the proprietary blockchain of OKEx. This token facilitates spot trading derivatives trading and supports the development of scalable applications. The layered architecture enhances consensus times, scalability, and security.
Welcome to @playbigtime, the exhilarating multiplayer action RPG game 🎮

Now listed on #OKX, $BIGTIME can be used for in-game cosmetics and accessing portals/dungeons!

▶ Deposits: OPEN 🟢
📈 $BIGTIME/USDT Spot Trading: 2:00 am Oct 11 (UTC)

Learn more: https://t.co/ivYUt4iEac pic.twitter.com/QXSfESFjZl

— OKX (@okx) October 10, 2023
To enhance OKB's value and attractiveness to holders, OKEx allocates 30% commission fee income to token burns every three months. In addition, new users are given a welcome bonus.
Regarding market performance, OKB has experienced relatively minor losses compared to Bitcoin and Ethereum during market declines. While it is well-regarded for its blockchain technology, OKB's potential gains are a topic of interest. Future price predictions indicate optimism, with mass adoption driving demand for OKB as a cost-effective and convenient investment option.
3. Launchpad XYZ (LPX)
Launchpad XYZ, a blockchain startup, aspires to play a pivotal role in the Web 3.0 investment arena. The primary objective of Launchpad XYZ is to provide valuable information to crypto investors, empowering them to make well-informed decisions. 
This objective applies not only to beginners but also to experienced traders. Furthermore, Launchpad XYZ's proprietary token is LPX, which serves a dual purpose as a utility and investment token.
One way of capitalizing on the potential of a bullish market is participating in early presales of projects that may gain traction in the future. Launchpad XYZ acknowledges this by offering investors a 14% bonus on LPX tokens during its ongoing presale. 
Our community is bustling with passionate enthusiasts eager to share, learn, and grow together! 🚀🌟

Join our community today and be part of something special ⤵️https://t.co/ZUZaIKgy84#LaunchpadXYZ #CryptoCommunity pic.twitter.com/235S6CS0Hk

— Launchpad.xyz (@launchpadlpx) October 9, 2023
The presale not only grants access to the Launchpad XYZ platform but also bestows additional benefits upon users. These benefits include priority access to trading signals, expert guides, newsletters, and more.
Visit LaunchpadXYZ presale
4. Avalanche (AVAX)
Avalanche's monthly price prediction leans towards a bullish outlook, indicating that AVAX crypto may maintain support at the $9.00 mark. Recent data, however, shows a 15% recovery from a recent low, suggesting signs of a bullish trend reversal.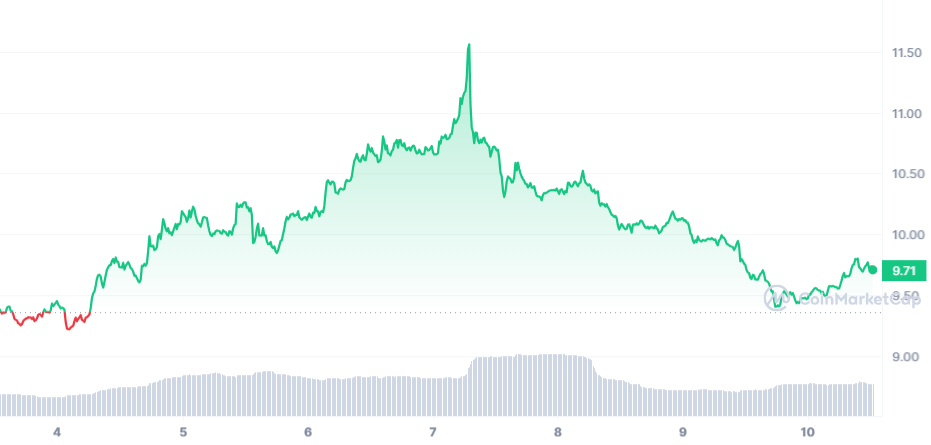 Nonetheless, the current strengthening of Bitcoin's price has positive implications for AVAX investors. In addition, the launch of Stars Arena at the end of September has led to improvements in Avalanche's on-chain metrics and increased demand for the cryptocurrency. 
Everyone is talking about the potential of off-chain assets being tokenized on-chain, but what's driving interest on the buy-side?

Money Moves hosted a Spaces last month to discuss the key challenges, lessons learned, and practices to consider from 3 notable participants in this… pic.twitter.com/mTaQOr28jI

— Avalanche 🔺 (@avax) October 9, 2023
Avalanche currently stands at $9.74, with a 24-hour trading volume of $159,308,819. It's worth noting that Avalanche has seen a slight decrease of 0.22% in the last 24 hours. Furthermore, the circulating supply is pegged at 354,525,384 AVAX coins, with a maximum supply of 720,000,000.
Read More
New Crypto Mining Platform – Bitcoin Minetrix
Audited By Coinsult
Decentralized, Secure Cloud Mining
Earn Free Bitcoin Daily
Native Token On Presale Now – BTCMTX
Staking Rewards – Over 1,000% APY
Join Our Telegram channel to stay up to date on breaking news coverage