Join Our Telegram channel to stay up to date on breaking news coverage
Real Smurf Cat lurks in the shadows as the next big NFT sensation in the cryptocurrency market.
Despite facing the struggle between the sellers and buyers over the control of price, шайлушай has maintained a steady price action, offering the buyers the opportunity to enter the market.
At the time of writing (3:14 p.m. EST), шайлушай is trading at $0.00003829, indicating a 19% drop in price over the past 24 hours. 
Despite this, investor interest is still valid, as indicated by the 88% increase in trading volume for the day to stand at $1.1 million.
Шайлушай Offers Better Opportunities at $0.00002048 Support Zone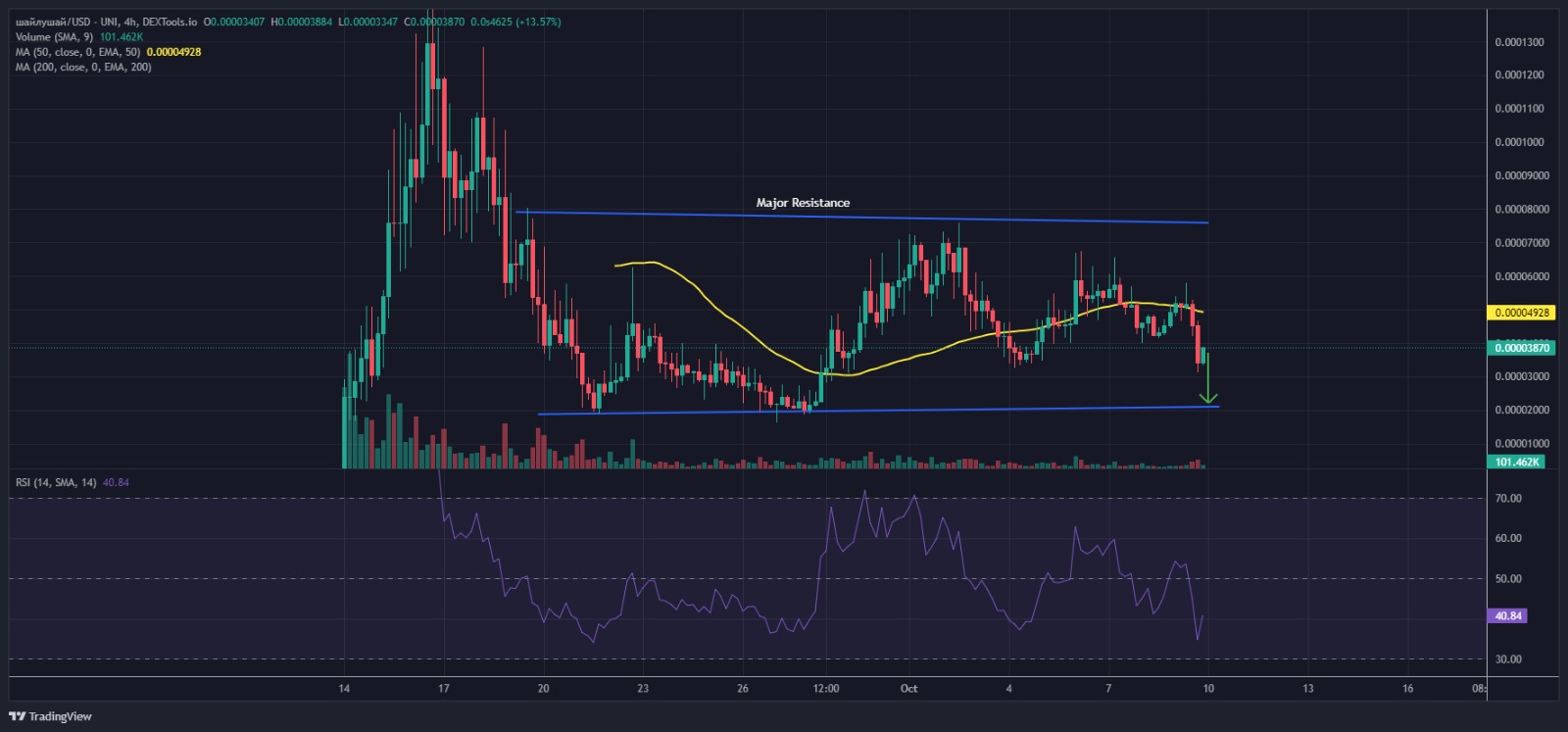 According to the chart, the price of шайлушай experienced a downturn after it encountered resistance at the $0.00007777 level. Bears took control and forced a correction down to the $0.000080 support following a resistance point at $0.0001416, hindering the new meme coin's upward movement.
Although this correction was brief, it saw the шайлушай bears pushing the price below the support, prompting the bulls to retreat to the $0.00002037 support zone. A double-bottom pattern formed on this support, allowing the bulls to recover their losses. 
However, the bulls have been unable to sustain this momentum, as the bears seem to be in control, pushing the price down to the lower trendline and the $0.00002037 support.
The bears are pushing the price lower after encountering resistance at $0.00007777. The 50 simple moving average is acting as immediate resistance for the token, indicating significant bearish pressure, potentially leading to a 15% decrease from the current price.
The Relative Strength Index (RSI) is currently at 37, heading towards the oversold region of 30, signaling buyers are in control.
Real Smurf Cat maintains a bearish bias, supported by the RSI and the 50 simple moving average. This support could drive the price towards the major support level at $0.00002048. Breaking this level could potentially result in Real Smurf Cat entering a bearish trend, with its value declining to $0.00002037 over several days.
However, if the bulls seize the opportunity, they may surpass the upper resistance level by breaking above the 50 SMA. Key resistance points to monitor are $0.00005796 and $0.00007138, respectively.
In the meantime, if you have ever dreamt of mining Bitcoin but found it too complex or costly, a new player, Bitcoin Minetric, offers you an excellent opportunity to invest and reap rewards from the project.
Bitcoin Minetrix (BTCMTX): Over $800,000 Raised and Counting, Just 6 Days Left Before the Price Jumps
Bitcoin Minetrix is a fresh, decentralized cloud mining project that's all about simplifying Bitcoin mining for everyone. 
Built on the reliable ERC network, Bitcoin Minetric promises a transparent and safer way to mine Bitcoin. Say goodbye to the old-fashioned, pricey equipment and hello to a modern approach.
The best part? With Bitcoin Minetric, you won't need expensive hardware or technical expertise and will enjoy zero noise and heat while mining Bitcoin.
Bitcoin Minetrix has impressively raised over $800,000 and is speedily reaching its stage one target, which wraps up in a mere six days. Note that once this presale stage ends, the price of BTCMTX tokens will climb from its current $0.011.
Marking a remarkable milestone for #BitcoinMinetrix!🔥

Going over $800,000 raised! pic.twitter.com/uaZlEgk27L

— Bitcoinminetrix (@bitcoinminetrix) October 9, 2023
Want to Earn While You Sleep? Enjoy 711% APY
Bitcoin Minetrix offers a stake-to-earn feature. Stake your tokens and earn passive income just like that. BTCMTX is offering a lucrative estimated APY of 711%, with a whopping 58,596,827 tokens already staked.
The $BTCMTX #Token, when staked in an Ethereum-powered smart contract, acts as the access card to Bitcoin cloud mining. 🔐

Users can simply purchase and stake BTCMTX tokens to gain cloud mining credits, which can be redeemed in exchange for hash power. pic.twitter.com/HEz34GrEf0

— Bitcoinminetrix (@bitcoinminetrix) October 8, 2023
 If you stake your BTCMTX on Ethereum, you'll get non-tradable ERC-20 cloud mining credits, which can be traded for hash power. Right now, the rate is 158.5 per ETH block.
Did we mention the media buzz? Popular platforms like Bitcoin Magazine, Cryptonews, and CoinTelegraph are chatting about it. Leading crypto analysts are also chipping in. For instance, Jacob Crypto Bury, a renowned crypto reviewer, gave a big thumbs up to BTCMTX to 22K+ YouTube subscribers, tagging it as a top buy now.

With a minimum of only $10 set for buying BTCMTX tokens and no upward limit, getting your hands on BTCMTX tokens is simple. Visit Bitcoin Minetrix's official site, link up your digital wallet, and swap your ETH or USDT for BTCMTX on the Ethereum network. BNB fans, you can get tokens on the BSC network, too, but remember, that means no staking rewards.
Related News
New Crypto Mining Platform – Bitcoin Minetrix
Audited By Coinsult
Decentralized, Secure Cloud Mining
Earn Free Bitcoin Daily
Native Token On Presale Now – BTCMTX
Staking Rewards – Over 1,000% APY
Join Our Telegram channel to stay up to date on breaking news coverage