Join Our Telegram channel to stay up to date on breaking news coverage
0x Protocol (ZRX) price exploded 45% on October 8, before correcting to close the day at $0.2166. In the last 24 hours, the price has climbed almost 6% to auction at $0.1979 at press time. Data from CoinMarketCap shows that investors in the ZRX market are overly active, recording a 24-hour trading volume increase of 2,186%.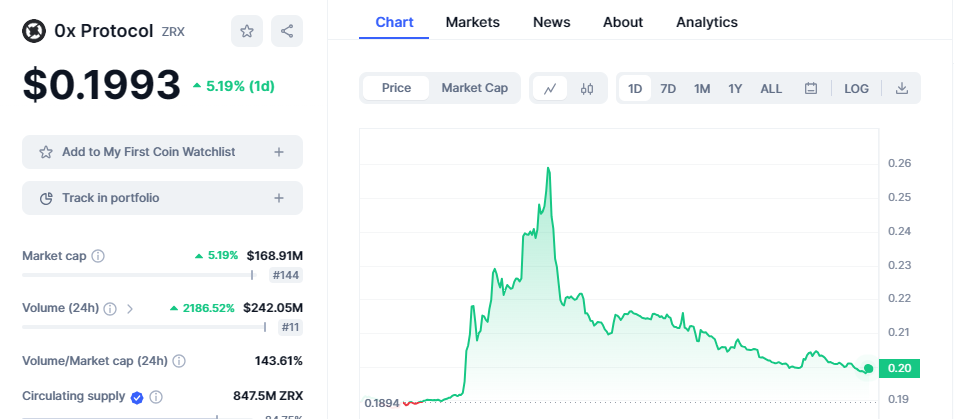 Featuring among CoinGape's trending list, 0x Protocol token is dominating the market today.
📊 Crypto Today: 👀 The Coins Dominating the Market Right Now

🚀 Get latest #CryptoUpate, follow @CoinGapeMedia. 🔔#BTC #BNT #APM #BTG #AVAX #AXS #LINK #XAUT #ETH #NEAR #ZRX #PEPE #XTZ #Crypto pic.twitter.com/oibEqrQGG5

— Crypto News (CoinGape) (@CoinGapeMedia) October 9, 2023
The newly found optimism for ZRX token comes as the 0x Protocol price has already bottomed out, steered by increasing volume. With this, it has filled a climaxed descending parallel channel with experts now anticipating a breakout.
Finally Breaking Out With Massive Volume Send it Towards 1$📈#Crypto #Zrx #Zrxusdt https://t.co/IRa9mogy5y pic.twitter.com/6nm5nwbLjb

— World Of Charts (@WorldOfCharts1) October 8, 2023
The surge saw the altcoin fill out the limit orders of the active investors, leaving the eyes of sidelined ones peeled for fresh entry points.
$zrx #zrx, filled my limit order, didn't get time to share. Feeling sorry for that. pic.twitter.com/AixFAwEkkC

— Zee Madan (@academy_www) October 8, 2023
One case is interesting, with the trader looking to open a position once the price is over $0.2098.
$ZRX #ZRX #Bitcoin reclaim this green line we go long scalp 🚀 pic.twitter.com/InQGOZjRPw

— RiskiDude ⚔️ (@RiskiDude_01) October 8, 2023
Price Outlook for 0x Protocol With History in Mind
The 0x Protocol price outlook shows it faced a rejection from the primary supply zone between $0.2166 and $0.2270. This is marked with an orange order block in the chart below. From a technical standpoint, its ZRX appears to be setting the stage for potential moves.
Previously 0x Protocol price bounced from the $0.1587 support flow to chart an upward trajectory. This was before a rejection from the $0.27 psychological level on October 8. With ZRX holding above the demand zone's mean threshold at $0.1951, two scenarios are present.
First, 0x Protocol price could retest the supply zone, steered by aggressive buying from this order block (green). A break and close above the midline of the supply zone at $0.2218 would confirm the move north. This could catapult ZRX to collect buy-side liquidity that continues to reside north. In a highly bullish case, the gains could extend, sending the altcoin to reclaim the range highs above the $0.2600 psychological level or higher to breach the $0.2800 range high.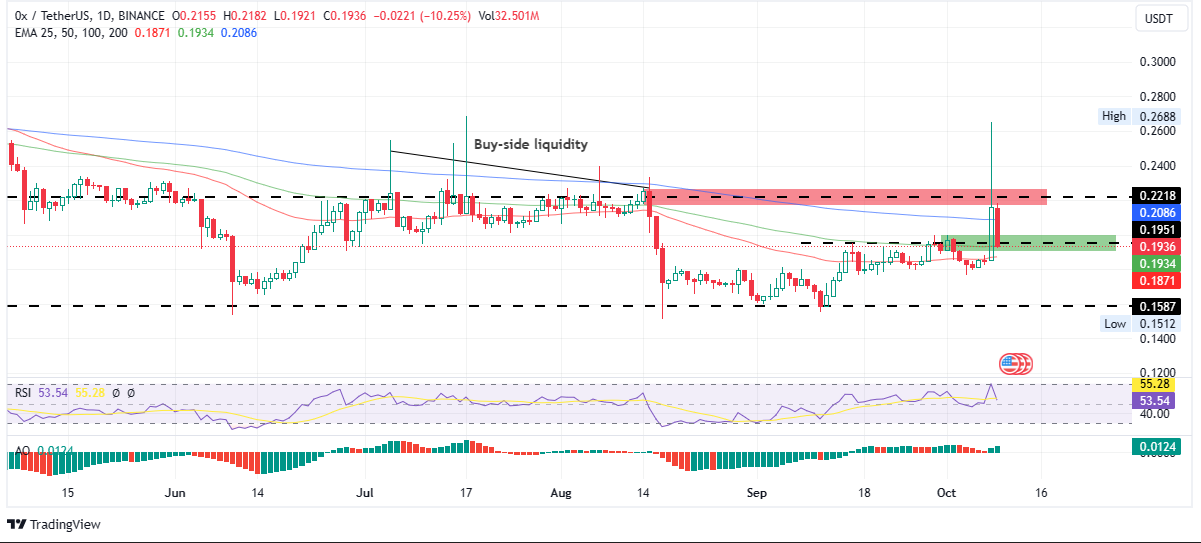 On the flip side, if the 0x Protocol price breaks below the midline of the demand zone at $0.11951 and closes below this level, it could kickstart a structural breakdown. This could send ZRX to the $0.1587 critical support floor.
With the Relative Strength Index (RSI) still above 50 and the Awesome Oscillator (AO) histogram bars still in the positive territory, ZRX still has a chance. With this, investors should monitor 0x Protocol price as it fights to sustain above $0.1951. A decisive daily candlestick close below it would favor shorts, but a close above this level would mean open season for traders looking to open long positions.
Besides 0x Protocol, investors are also looking at BTCMTX, a new project in the presale stage that has caught investors' interest. Analysts are also very bullish about it, anticipating unprecedented growth potential.
0x Protocol Alternative
Bitcoin Minetrix is a new stake-to-mine project offering investors a chance to mine Bitcoin (BTC) in a decentralized way. It has tokenized the entire process of cloud mining so that safety and transparency abound. The token is the access card to Bitcoin cloud mining when you stake it in an Ethereum-powered smart contract. Buy and stake your BTCMTX tokens to earn credits you can redeem for Bitcoin mining hash power thereafter.
The $BTCMTX #Token, when staked in an Ethereum-powered smart contract, acts as the access card to Bitcoin cloud mining. 🔐

Users can simply purchase and stake BTCMTX tokens to gain cloud mining credits, which can be redeemed in exchange for hash power. pic.twitter.com/HEz34GrEf0

— Bitcoinminetrix (@bitcoinminetrix) October 8, 2023
Bitcoin Minetrix brings multiple benefits to the end user, including but not limited to eliminating hardware costs. You also do not require any technological expertise to operate, and a bonus- no heat or noise. Mine without owning or maintaining the mining equipment on Bitcoin Minetrix's cloud mining platform.
Benefits for #BitcoinMinetrix End Users!

🔹 Zero technical know-how required
💲 No initial hardware costs
🤫 Enjoy a noise-free, heat-free experience#CryptoCommunity pic.twitter.com/tSfDUvpE98

— Bitcoinminetrix (@bitcoinminetrix) October 8, 2023
It presents a unique concept in the crypto market, meeting users where cloud mining and token staking intersect. At the helm of BTCMTC's utility list is tokenization, intended to increase ease of access while at the same time eliminating the need for purchasing cash contracts from mining firms.
#BitcoinMinetrix champions a brand new Stake-to-Mine methodology, converging the worlds of cloud mining and token staking. 🌐⛏️

This key utility of tokenization aims to increase ease of access and eliminate the need for purchasing cash contracts from mining companies. pic.twitter.com/ffoX3qzBI5

— Bitcoinminetrix (@bitcoinminetrix) October 8, 2023
More importantly, the project protects you from cloud mining swindles, achieved through tokenization. What's more, you get access to a wide range of good counsel by joining the BTCMTX community, as this earns you entrance into the telegram group. Aside from expert insights, you also get timely updates and a network of investors like you.
Join the #BitcoinMinetrix #Telegram! 🚀

1️⃣ Get expert insights: Learn from seasoned miners.

2️⃣ Stay updated: Receive real-time market news and developments.

3️⃣ Network and share: Connect with like-minded #Crypto enthusiasts. pic.twitter.com/VPIw0bmsjL

— Bitcoinminetrix (@bitcoinminetrix) October 7, 2023
The project is underway with the presale, boasting an outstanding $809,213 in presale sale collections so far. This is almost one-third of the project's soft cap set at $3.080 million. Investors looking to buy BTCMTX can do so on the website, with each token costing just $0.011. Diversify your portfolio with BTCMTX before the presale ends.
Visit Bitcoin Minetrix here
Also Read:
New Crypto Mining Platform – Bitcoin Minetrix
Audited By Coinsult
Decentralized, Secure Cloud Mining
Earn Free Bitcoin Daily
Native Token On Presale Now – BTCMTX
Staking Rewards – Over 1,000% APY
Join Our Telegram channel to stay up to date on breaking news coverage