Join Our Telegram channel to stay up to date on breaking news coverage
In yet another flash of a bearish display, the crypto market capitalization dropped points on Friday. It shed off 0.56% of its Thursday gains in the last 24 hours to settle at $1.08 trillion at this time. Despite this minor decline, the digital asset market continues to exhibit robust trading activity with the potential of birthing the next cryptocurrency to explode.
The crypto market's total trading volume surged to $25.51 billion in the last 24 hours. It marked a significant 4.87% increase. Decentralized finance accounted for $2.53 billion of the total 24-hour volume, marking 9.91% of the trade.
Stablecoins have a total volume of $23.66 billion, constituting a substantial 92.73% of the entire 24-hour trading volume. This underlines the crucial role stablecoins play in facilitating cryptocurrency transactions and providing price stability.
Bitcoin maintains its dominant position at a rate of 49.65%. However, this represents a minute decrease of 0.01% over the day.
The sharp rise in US government bond yields has caused an interest rate increase globally. It is further introducing new concerns for economic policymakers who are fighting hard against inflation while trying not to trigger a significant crisis.
Next Cryptocurrency to Explode
Global financial leaders will convene in Morocco next week for the annual meetings of the IMF and World Bank. The policymakers may find themselves at odds regarding the precise factors behind the current global bond market turbulence. It now goes beyond mere speculation about how aggressively central banks intend to hike interest rates.
While the root causes, whether they stem from mounting government deficits, China's suddenly robust economy, or political gridlock in the US Congress, may be of interest, their implications for the world's financial system take precedence. It seemed that the global financial system was on course for a "soft landing" after the post-pandemic surge in inflation.
1. Toncoin (TON)
Toncoin's current price action shows that the TON token is on an upward trajectory following its bullish breakout. Note that the price has risen above key Exponential Moving Averages on the daily time frame. It should be noted further that trading volumes have risen in the last 24 hours to show increased activity on the network. The trading volume is up by 71.21% to $24,299,16 in the previous 24 hours.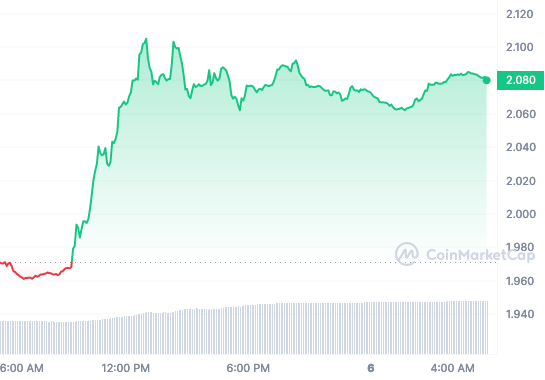 Should the current price level receive continued support from buyers, there is potential for a surge toward the $2.61 mark from its current $2.11. Conversely, the immediate support level for TON is situated around $1.60. In comparison to other major cryptocurrencies, TON's price movement has exhibited more excellent stability.
Buyers stand a reasonable chance of achieving the anticipated target if they can maintain the price above the 50 EMA, favoring bullish outcomes. At the ongoing rate, its status as the next cryptocurrency to explode is indisputable.
Want to win $TON and some other amazing prizes by Changelly and @tonkeeper?

Prizes:
– 1-year Telegram Premium subscriptions
– .ton domains
– $20 worth of $TON

The giveaway starts tomorrow! Join our Telegram channel so you don't miss it ➡️ https://t.co/zLUsYo18ID pic.twitter.com/DuyxnFcFgP

— TON Community News (@Toncoin_Army) October 5, 2023
Over the past few months, Toncoin's price has been on an upward trajectory, finding consistent support from bullish forces along a trendline. Historical price action suggests that the 200 EMA level serves as a pivotal demand zone for the cryptocurrency.
2. Quant (QNT)
Today, Quant (QNT) holders have sufficient reasons to celebrate as the asset breaks out of a bearish phase. The QNT price is currently $87.26, followed by a 24-hour trading volume of $12.49 million. This makes up a 1.48% price increase within the past 24 hours despite a 3.19% decline over the last week. If the current price trajectory continues, it will offer enough confidence that QNT will be the next cryptocurrency to explode.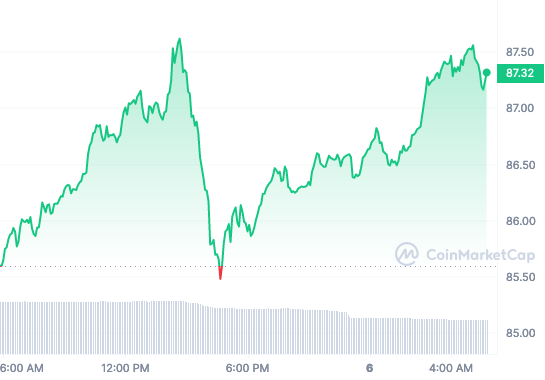 With a circulating supply of 15 million QNT tokens, the asset's market capitalization amounts to an impressive $1.27 million. Quant's trading volume hit $12.61 million in the past 24 hours, although it is a 36.00% decrease compared to the previous day. 
Quant's all-time high reached $427.42 on September 11, 2021, approximately two years ago. In comparison, the current price is 79.63% lower than this peak value. Conversely, the all-time low for Quant was a mere $0.215773, recorded on August 23, 2018, about five years ago. 
Finance is being transformed by #tokenisation but one of the challenges is interoperability.

Download our new paper to learn about the importance of asset portability, and how enterprises can achieve it in a simple, trusted, future-proof way.https://t.co/FCKc2hR71t

— Quant (@quant_network) October 4, 2023
Furthermore, the fully diluted valuation (FDV) of Quant (QNT) stands at $1,274,033,594. This metric represents the maximum market capitalization possible, assuming all 15 million QNT tokens are currently circulating. Depending on the design of the token emission schedule, it may take several years before the FDV is realized.
Notably, the market sentiment for Quant today is predominantly bullish, with over 80% of users expressing optimism about the prospects of Quant (QNT).
3. Meme Kombat (MK)
Despite being new to the crypto market, Meme Kombat has rapidly gained substantial recognition not only within the gaming community but also in the broader cryptocurrency sphere. It is so prominent that investors are confident that MK is the next cryptocurrency to explode.
Once it has you, it's hard to escape. #MemeKombat pic.twitter.com/UOKeHiteVp

— Meme Kombat (@Meme_Kombat) October 5, 2023
This project distinguishes itself through a range of unique features, particularly its enticing options for users to place bets and engage in token staking for lucrative rewards. In this discussion, we will explore the presale event, which has become a focal point of interest for many.
Meme Kombat is in the process of constructing an innovative platform tailored specifically for gaming enthusiasts. This platform boasts an array of features, including active betting and passive staking, offering multiple avenues for users to reap rewards from their gaming interests. 
During the ongoing presale, the staking feature stands out with an impressive Annual Percentage Yield of 112%. This allows participants to earn rewards without having to wait for the release of the battles feature. 
The battleground is the memes realm, which is at the core of the project's name, Meme Kombat. The inaugural season will see 11 different memes competing for the prestigious title of top meme. Future seasons are set to introduce an array of new features and opportunities for earning rewards, ensuring long-term engagement and continued excitement.
The massive number of investors participating in the presale have already demonstrated the project's appeal. This number is expected to rise further as the word spreads about this exciting new platform.
Meme Kombat is undeniably evolving into a distinctive gaming platform that promises enduring benefits for its users. With its potential for long-term impact and the possibility of substantial innovation in the gaming sector, it has captured the attention of those interested in this niche. Its MK token drives the ecosystem and is undeniably the next cryptocurrency to explode.
Visit Meme Kombat.
4. Maker (MKR)
While some crypto projects struggle with financial challenges, Maker joins the few who are resilient. DAI, a decentralized stablecoin firmly anchored to the Ethereum blockchain, is at the core of Maker's recent success. Maker recently made headlines by announcing a surge in the DAI Savings Rate (DSR), which is now 8%. This development has propelled the Total Value Locked (TVL) for Savings DAI, a variant designed for generating yields beyond the $1 billion mark. The TVL for DSR has risen to $1.64 billion, showing an enticing 5.00% Annual Percentage Yield, attracting even more DAI investors.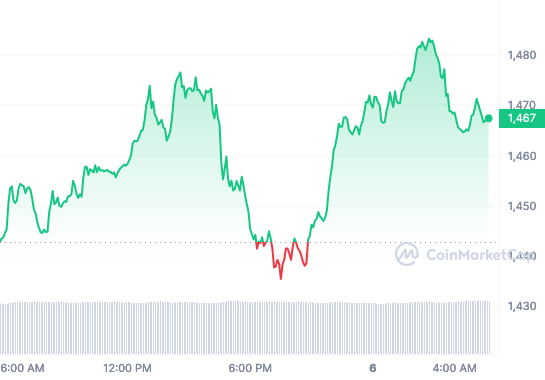 Over the past month, Maker has experienced an influx of $10.7 million in revenue, according to data from Token Terminal. Extrapolating this figure annually amounts to a substantial $137 million, positioning MakerDAO as the seventh-largest revenue-generating protocol in the cryptocurrency space and its primary native token, MKR, as the next cryptocurrency to explode.
Unlike Ethereum, which relies heavily on gas fees for revenue, Maker's income primarily stems from the interest paid by its borrowing community. This surge in revenue indicates a significant increase in borrowing activities on the platform. Additionally, Maker's treasury has swelled to an impressive $171.61 million, with its native MKR token accounting for 52.12% and DAI contributing 29.62%.
Hacking is back with @ETHGlobal's #ETHOnline, and @sparkdotfi is proud to sponsor this largest online Ethereum hackathon.

Builders who develop winner projects for the Spark SubDAO will have access to a prize pool of 20,000 DAI.

Dive into the details with @tadeongmi in his… pic.twitter.com/39uwijT6YS

— Maker (@MakerDAO) October 5, 2023
Beyond the spotlight on DAI, MKR, the native token of MakerDAO, deserves recognition for its remarkable 71.21% annual growth. MKR's market value isn't driven solely by speculation; its underlying tokenomics serve dual purposes: governance and recapitalization. As a governance token, MKR empowers any user to propose modifications to the protocol, though voting rights remain limited. In scenarios where the system's debt surpasses its surplus, MKR supply may expand through a debt auction, illustrating its role in the platform's robust financial ecosystem.
Read More
New Crypto Mining Platform – Bitcoin Minetrix
Audited By Coinsult
Decentralized, Secure Cloud Mining
Earn Free Bitcoin Daily
Native Token On Presale Now – BTCMTX
Staking Rewards – Over 1,000% APY
Join Our Telegram channel to stay up to date on breaking news coverage