Join Our Telegram channel to stay up to date on breaking news coverage
The crypto market is currently experiencing a period of relative calm, with a 0.31% gain in the last 24 hours. Several global economic factors led to the current crypto market situation, part of them being inflation. In response to rising inflation rates, national economies have been on a long path of adjusting their interest rates at regular intervals.
As economies grapple with the issue of inflation, the performance of cryptocurrencies trending on DEXTools reflects the spending preferences of investors. While many new cryptocurrencies are attracting investors seeking diversification, their percentage gains have also been moderated. Meanwhile, some well-established cryptocurrencies are holding relatively steady as they retain their positions as top trending coins.
Stock markets in Europe opened with gains on Thursday as they benefited from oil price slashes and softer US jobs report that led to a retreat in the US Treasury yields from their 16-year height.
Asian shares equally recovered from their 11-month lows overnight, following positive developments on Wall Street. Meanwhile, China's mainland markets are closed due to holidays.
The recent weeks brought along with them increased US yields as investors reassess the likelihood of the US Federal Reserve retaining higher interest rates for a long time. The reassessment is necessary, particularly if inflation remains above the target and the economy continues to show resilience. The 10-year US yields reached a 16-year peak at 4.884%.
Top Trending Crypto Coins on DEXTools
Furthermore, the bond market sell-off paused a US private payrolls report that was cooler than expected and a 5% decline in oil prices. Whereas, in Europe, government bond yields exhibited mixed movements, with the benchmark 10-year German yield rising by 2.0 bps to 2.961%. The German yield curve also showed its least inverted shape since March.
1. Bitcoin BSC (BTCBSC)
Bitcoin BSC had an impressive launch as it debuted on the PancakeSwap decentralized exchange. The token's price soared by 50% to reach $1.48 and secured a market capitalization of $17.37 million so far. BTCBSC has been a top trending cryptocurrency since then.
Since its launch on the Binance-supported blockchain, the coin has quickly become one of the most actively traded tokens. Its 24-hour trading volume is currently $1.32 million, with locked liquidity amounting to $372,180 for the BTCBSC/WBNB trading pair.
This strong performance follows a successful presale that raised $6 million. As early investors from the presale secure their profits, the token's price may experience fluctuations while maintaining an overall bullish trajectory.
According to data from DEXTools, within an hour of trading, there were already 2,310 holders of the $BTCBSC token, indicating the potential for a substantial price trend. Most trending cryptocurrencies have that attribute in their early days, and it guarantees their sustainability.
Similar to Bitcoin, the BTCBSC token has a limited supply of only 21 million units. It was initially priced at $0.99, which was the equivalent of Bitcoin's price back in April 2011. Now, holders of BTCBSC tokens have the opportunity to achieve substantial gains, mirroring the early Bitcoin adopters' success.
With a DEXTScore of 99 out of 99 and a thoroughly audited smart contract, investors can have confidence in trading this token, free from concerns about rug pulls or similar risks. Moreover, despite its early stage, the token has already earned a 100% community trust score.
Adding to the appeal of Bitcoin BSC is its staking feature, offering the potential for an annual percentage yield (APY) of 73% to those who purchase and stake the token today.
2. Lybra (LBR)
Today, Lybra (LBR) has seen a notable increase in its price, currently standing at $0.949387. Over the past 24 hours, Lybra has seen a trading volume of $1.34 million, marking a 4.37% price surge during this period. However, over the last seven days, there has been a 6.75% price decrease.
With a circulating supply of 17 million LBR tokens, the asset boasts a market capitalization of $15.79 million. Its daily trading volume is $1.34 million, reflecting a slight decrease of 0.10% compared to the previous day, indicating a recent dip in market activity.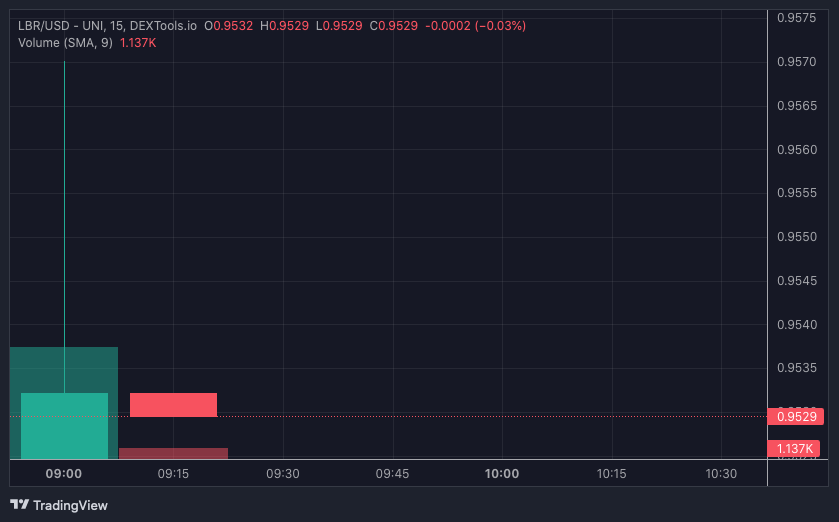 Lybra's all-time high price reached $4.48, recorded on May 29, 2023, roughly four months ago. In contrast, the current price represents a 78.80% decrease from this peak.
Conversely, the all-time low for Lybra (LBR) was recorded at $0.124032 on May 08, 2023, approximately five months ago. The current price is significantly higher, standing at 666.36% above the all-time low.
The Lybra DAO has now launched! 🚀

For instructions on how to submit/vote on future governance proposals, please visit:https://t.co/bOp70lKbc1

The Lybra "Governance" Discord channel is now open to discuss future proposals.https://t.co/e1wkaUYC0O

Let the Lybra Wars begin ⚔️ pic.twitter.com/qy7SCqnGdN

— Lybra Finance ⚖️ (@LybraFinance) October 1, 2023
In terms of fully diluted valuation (FDV), Lybra (LBR) has an FDV of $95.39 million. This represents a statistical projection of the maximum market capitalization, assuming that the total supply of 100 million LBR tokens is in circulation. The realization of FDV may take several years, depending on the token's emission schedule.
As for market sentiment, the community appears bullish, with more than 100% of users expressing positive opinions about Lybra (LBR) today.
3. Mog Coin (MOG)
The price of Mog Coin (MOG) has seen a notable increase today, currently valued at $0.000000024928. Over the past 24 hours, MOG has demonstrated a significant 5.80% price surge, and in the last seven days, it has exhibited an 8.25% price upswing.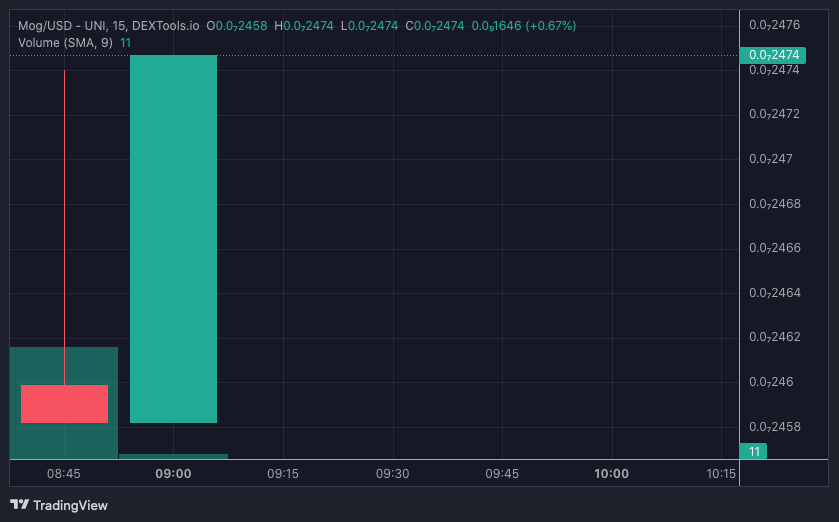 With a circulating supply of 390 trillion MOG tokens, Mog Coin currently holds a market capitalization of $9,71 million.
Mog Coin (MOG) saw a noteworthy increase in its 24-hour trading volume as it hit $545,015 in the past 24 hours. This indicates a notable 9.90% surge compared to the previous day, signifying a recent uptick in market activity.
When examining the historical performance of MOG, its all-time high price reached $0.000000109150 on August 18, 2023, approximately two months ago. In contrast, the current price reflects a 77.22% decrease from this peak.
On the flip side, the all-time low for Mog Coin (MOG) was registered at $0.000000004526 on July 24, 2023, also two months ago. Presently, the price stands at 449.44% higher than this historical low.
Wake up. Mog isn't a charity. Mog is a cult. Elites of the elite. Mog is revolutionary. Mog has built the foundation necessary to effortlessly dominate the #dopameme wars. Mog has already won. pic.twitter.com/JmZ4esP6r0

— the ticker is MOG (@MogCoinEth) October 4, 2023
Comparing the price performance of Mog Coin (MOG) against its peers, over the last seven days, it has outperformed the global cryptocurrency market, which saw a 1.40% increase. Nevertheless, it has trailed behind similar Ethereum Ecosystem cryptocurrencies, which experienced a more substantial 12.70% surge.
As for market sentiment, the community appears overwhelmingly bullish, with more than 80% of users expressing positive opinions about Mog Coin (MOG) today.
What Might Be The Next Top Trending Crypto?
BTC's price currently hovers around the $27,700 mark, and investors are optimistic about its potential to surge past the $30,000 resistance zone. However, the spotlight is on Bitcoin Minetrix (BTCMTX), a trending crypto presale project that has already raised over $533,000. This decentralized cloud mining platform aims to democratize crypto mining by introducing a unique concept known as "Stake-to-Mine." The entire idea of the project is a sign that it will become a top trending cryptocurrency soon.
#Bitcoin miners had faced a challenge as network difficulty reached a new high.

The difficulty had increased by 0.35% and will remain elevated for the next two weeks. 🗓️

Despite the rise, hashrate remains strong, showing the resilience of the $BTC Mining community.

Read more…

— Bitcoinminetrix (@bitcoinminetrix) October 5, 2023
Under this innovative mechanism, BTCMTX token holders can stake their tokens to earn mining credits, which are subsequently utilized to access cloud mining power. This ingenious model not only offers users the opportunity to generate substantial yields on their holdings, currently at an impressive 2,399% annually, but it also boasts over 17.3 million BTCMTX tokens staked.
The allure of earning Bitcoin through the Stake-to-Mine mechanism, combined with the attractive annual yields, explains why the Bitcoin Minetrix presale has garnered substantial attention. During this presale phase, interested investors can acquire BTCMTX tokens at a price of $0.011, a strategy that has propelled developers to raise over $533,000 in a short time.
As the presale progresses and is already more than 10% toward its soft cap goal, potential investors are urged to act promptly to secure BTCMTX tokens at the current offering price. Many within the crypto community speculate that getting in early at such an advantageous price is a wise long-term investment.
With surging presale demand and a recovering crypto market, all signs point to BTCMTX potentially emerging as a significant player as we approach the final months of 2023.
Visit Bitcoin Minetrix.
Read More
New Crypto Mining Platform – Bitcoin Minetrix
Audited By Coinsult
Decentralized, Secure Cloud Mining
Earn Free Bitcoin Daily
Native Token On Presale Now – BTCMTX
Staking Rewards – Over 1,000% APY
Join Our Telegram channel to stay up to date on breaking news coverage