Join Our Telegram channel to stay up to date on breaking news coverage
The crypto market capitalization rose by a marginal 0.54% to $1.09 trillion in the last 24 hours ahead of Wednesday's report. This growth shows the market's resilience and ongoing interest in crypto assets. The next cryptocurrency to explode will be easy to emerge.
However, the market's trading volume declined by 31.64% to $24.25 billion over the same period. The decentralized finance (DeFi) sector contributes $2.57 billion to this volume, comprising approximately 10.61% of the market's 24-hour trading activity.
Meanwhile, stablecoins had a trading volume of $22.59 billion in circulation, making up an impressive 93.18% of the 24-hour trading activity. 
Bitcoin's market dominance remains firm at 49.65%, marking a slight daily increase of 0.18%.
In stocks, Asian shares recovered from their lowest levels in 11 months early on Thursday. This recovery was driven by the latest drop in oil prices and softer US jobs report, which helped ease Treasury yields from their 16-year high level. However, the fate of this rebound hinges on the expected US payrolls report.
The momentum is expected to spread into European markets. EUROSTOXX 50 Futures surged by 0.5%, and FTSE Futures increased by 0.4%. On the other hand, S&P 500 futures and Nasdaq futures remained unchanged.
Next Cryptocurrency to Explode
In Asia, reports show that consumer inflation in South Korea surged for the second consecutive month in September. The Philippines also saw its consumer inflation rate rise to its highest level in four months. The Philippines central bank warned that it might consider tightening policies in response.
1. Trust Wallet Token (TWT)
Trust Wallet Token (TWT) secured impressive gains to become the market leader on Thursday. It has a current trading price of $0.91, up by more than 15% in the last 24 hours. The asset's price has risen by 7.4% over the previous seven days, indicating growing interest among investors. After a while away from the spotlight, TXT is back to being the next cryptocurrency to explode.
One of the key catalysts behind today's surge is the recent release of the Trust Wallet Extension update designed for Google Chrome users.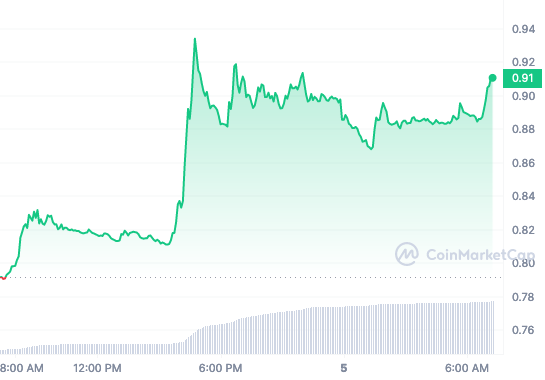 Trust Wallet's announcement highlighted the latest wallet extension as a significant upgrade boasting exciting features. The new browser extension now facilitates EVM swaps, enabling users to conduct in-app exchanges seamlessly.
Additionally, this update introduces enhancements like staking upgrades, featuring a novel auto-indexing token balances capability that allows users to monitor their investments effortlessly.
The Trust Wallet Browser Extension is a secure and reliable multi-chain crypto wallet that offers access to a plethora of apps. Moreover, it supports an extensive range of over 9 million tokens, encompassing Ethereum, Solana, and other EVM-compatible chains.
Users can securely store and receive cryptocurrencies from various addresses or exchange accounts. It also enables Web3 access by connecting a Ledger hardware wallet while keeping private keys offline.
Ledger Live hardware wallet support and NFT integration are part of the extension's upcoming features. TWT has displayed substantial gains following this update, forming a significant green candlestick on the daily chart, indicating heightened buying pressure.
The new #TrustWalletExtension update is out in the Chrome Store! (V 1.9.1): https://t.co/ffuwQXlqOp

Enjoy native #EVM swaps, #crypto purchases, Ledger hardware support & more!

Plus, you can now choose skippable backup to jump right in. Here's how easy it is to get started👇 pic.twitter.com/7WlFi13Esw

— Trust Wallet (@TrustWallet) October 3, 2023
TWT is recovering from Wednesday's selling pressure and has formed a bullish engulfing pattern on the daily chart after finding crucial support at $0.79. The upper wick of its candle has breached the $0.82 resistance level.
TWT will likely ascend into the overbought territory if the candle concludes above this level. Furthermore, TWT is approaching the upper band of the Donchian Channel (DC), confirming the increasing buying pressure.
The Relative Strength Index (RSI) is 56.5, indicating a rising buying pressure and nearing the overbought zone. This setup presents a potential entry point for additional buy trades, propelling TWT to surpass the $0.82 resistance level in the forthcoming days.
2. TG.Casino (TGC)
The TG.Casino project is causing a significant stir in the crypto community as its ongoing presale secures over $400,000. This innovative project aims to revolutionize the landscape of crypto casinos. Not only that, but it also promises to be the next cryptocurrency to explode.
This year, the explosive growth of user adoption in crypto casinos is attributed to the enhanced security, transparency, and anonymity offered by blockchain-based Web3 applications compared to their centralized Web2 counterparts.
According to reports from Dune Analytics, the number of unique users of Ethereum-based GambleFi platforms rose to nearly 50,000 in mid-September, a substantial increase from the approximately 5,000 users at the beginning of the year.
Love our community mods. Always celebrating your win and not ever jealous at all, nope, not ever. pic.twitter.com/Cq7OKwjmve

— TG Casino (@TGCasino_) October 4, 2023
However, the initial generation of crypto casinos faces a significant challenge. Many users who are not well-versed in the intricacies of Web3 technology, including managing crypto wallets and exchanges, still prefer traditional gambling platforms.
This is where TG.Casino introduces its unique innovation. Built on the world's fastest-growing private messaging app, Telegram, TG.Casino prioritizes user-friendliness and accessibility, making it an ideal choice for beginners.
Similar to how Unibot simplified complex crypto trading strategies for Telegram's 700 million monthly users, TG.Casino is streamlining and expanding access to crypto gambling.
Since its recent launch, TG.Casino's presale has garnered considerable interest from the crypto investment community.
Potential investors should act swiftly to participate in one of the hottest presales of 2023. This urgency arises from the fact that TG.Casino is likely to reach its fundraising target of $5 million soon, and early presale investors have the opportunity to earn a substantial annual percentage yield (APY), which, until recently, exceeded 1,150%, as stated on the official TG.Casino website.
Visit TG.Casino.
3. Aave (AAVE)
Aave has been on a bullish trajectory for a few weeks now. After the bullish breakout, the AAVE token has consistently found support from bullish trends along a critical trendline. The 200-day Exponential Moving Average (EMA) has served as a crucial demand zone.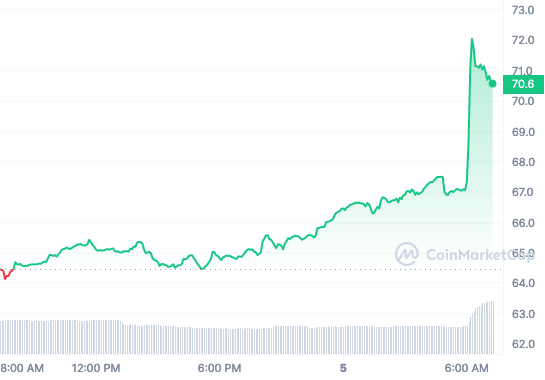 Aave's price outlook indicates that the cryptocurrency is currently on an upward trend after breaking through significant EMAs. On the daily timeframe, the price is trading above these critical EMAs. There's also a modest increase in trading volume, signifying heightened buying and selling activity.
If the current support level holds with the backing of bulls, Aave could experience significant gains in the coming weeks. The immediate support is at $60. It's worth noting that Aave's price movements have been comparatively more stable compared to other major cryptocurrencies.
Congratulations to the 8️⃣ new Aave Grants awarded during August!

These teams are building a range of unique projects that are all centered around @AaveAave or accelerating @GHOAave adoption in some way.

Let's dive into a thread and learn more about them: 👇🤿🧵 pic.twitter.com/4mN2MttLwv

— AaveGrants.lens (@AaveGrants) October 4, 2023
For the bulls to achieve their target, they must maintain the price above the 200 EMA, which would favor the expected outcomes.
At the time of writing, AAVE is valued at $69.92, with a market capitalization of approximately $1.02 billion. This stellar performance guarantees AAVE's ranking as the next cryptocurrency to explode.
4. Avalanche (AVAX)
The decentralized social media (DeSo) app, Stars Arena, has caused the Avalanche network to have a significant level of activity. This increased network activity has corresponded with a notable increase in the price of the network's native AVAX token, which has risen by over 8% in the past 24 hours.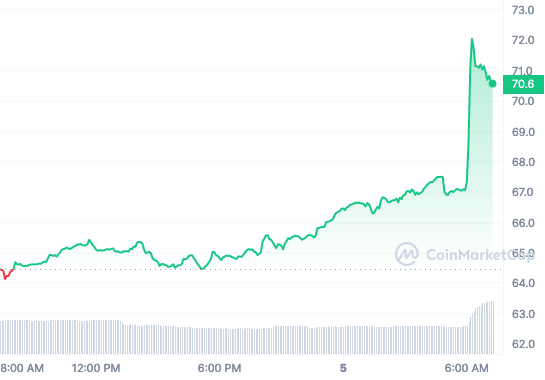 Stars Arena, inspired by Friend.tech and launched in late September, has rapidly gained traction. The total daily transactions on Avalanche's C-Chain, designed explicitly for executing smart contracts on the Avalanche blockchain, have surged by an impressive 186% over the last two days.
Stream the Oct. 4th Avalanche Developer Community Call, featuring a deep-dive on Firewood, updates on Cortina 11, and audience Q&A! https://t.co/yCn3fl7hfG

— Avalanche 🔺 (@avax) October 4, 2023
Furthermore, the Stars Arena application itself has witnessed substantial growth, attracting over 10,000 unique active wallets on its platform. In just the past two days, the platform has facilitated more than $3.26 million in total trading volume and conducted slightly over 462,000 transactions, as reported by DappRadar.
Read More
New Crypto Mining Platform – Bitcoin Minetrix
Audited By Coinsult
Decentralized, Secure Cloud Mining
Earn Free Bitcoin Daily
Native Token On Presale Now – BTCMTX
Staking Rewards – Over 1,000% APY
Join Our Telegram channel to stay up to date on breaking news coverage