Join Our Telegram channel to stay up to date on breaking news coverage
Pepe has experienced a significant decline of around 70% from its all-time high, raising questions about potential price manipulation by whales.
In a wider view, this decline aligns with the overall trend of losses seen in the cryptocurrency market, where altcoins and meme coins have faced downturns ranging from 40% to a staggering 90%.
Pepe price analysis and price prediction
Pepe made a strong comeback recently, recovering all its earlier losses by the end of September. The coin's value surged by 38%, rising from $0.0000006 to $0.00000083, creating a buzz in the crypto community and on social media.
However, now Pepe is facing a significant drop in its price, which has surprised and concerned many investors. Despite data suggesting a potential crash, it is crucial to highlight that the decline is noteworthy but not as extreme as seen in some other volatile assets.
The price of $PEPE sharply declined on October 2nd after hitting a key resistance level, signaling the possible end of the upward trend and the beginning of a downward trend. Currently, $PEPE is trading at $0.00000071, reflecting a 3% decrease with a likelihood of further decline.
Pepe, once a highly popular meme coin, is now struggling to regain investor favor and encountering challenges in its recovery journey. Despite this, some large investors (whales) continue to use Pepe to make quick profits. While regular traders can participate in these rallies, caution is essential to avoid losses.
Pepe recently had a brief resurgence but is now showing signs of weakness. Key indicators, like the relative strength index and the 30-day moving average, suggest a potential downturn, with a projected dip to around $0.00000060.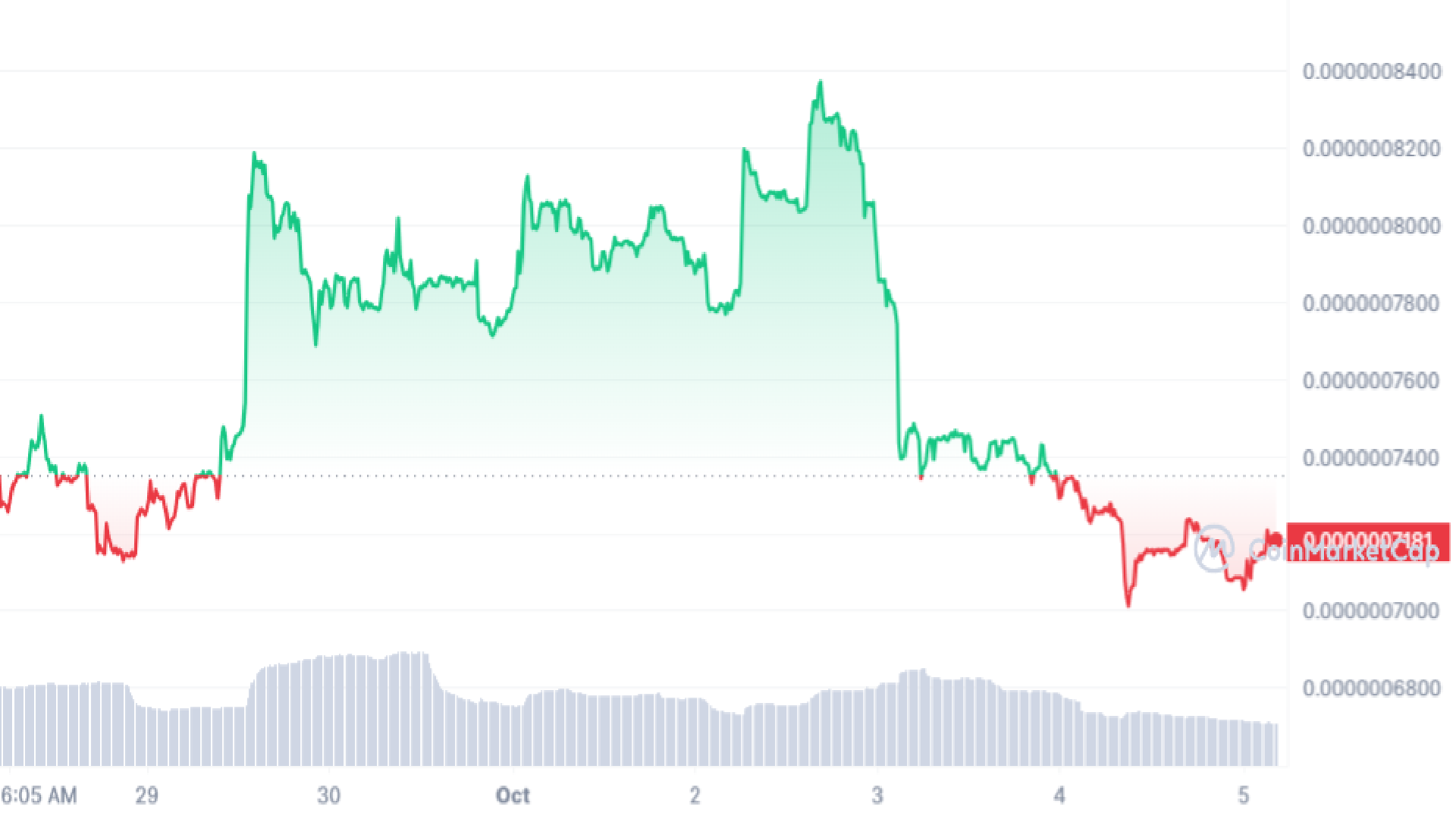 The consistent decline in $PEPE's value since its peak in early May indicates that recent losses may persist in the coming days. Although there was evidence of large investors accumulating Pepe on September 30, caution is advised for regular traders, as these investors might sell their holdings during an expected rebound, leading to another decline.
This recurring pattern aligns with $PEPE's short existence as a meme token without real utility. There's a possibility of a short-term rebound to $0.00000080, followed by another decline.
For those in search of a fresh and reliable investment, there's a token in presale that's worth checking out. Additionally, if you're exploring other investment opportunities, be sure to review our list of the top crypto ICO's to consider.
High-profitability alternative investment
The Bitcoin Minetrix (BTCMTX) presale effort is garnering backing from investors and crypto whales. Users have the option to stake BTCMTX, the native ERC-20 token of Bitcoin Minetrix, and receive credits for cloud mining power.
This newly introduced platform provides a unique method for earning BTC mining rewards through a staking strategy called Stake-to-Mine. Users retain control within this framework, mitigating the disadvantages associated with traditional cloud mining services, including elevated costs and fraudulent activities.
#BitcoinMinetrix has yet again reached an important milestone!🪙

Raising over $400,000. pic.twitter.com/by85uMTqKE

— Bitcoinminetrix (@bitcoinminetrix) October 4, 2023
Furthermore, owners of BTCMTX have the option to stake their tokens for additional incentives, currently yielding 1,332%. The presale of Bitcoin Minetrix has amassed over $490,000 in just a few weeks, propelled by the initial buzz surrounding its distinctive features.
Throughout the presale period, prospective buyers have the opportunity to acquire BTCMTX tokens for $0.011 using ETH, USDT, or a credit or debit card before their availability on the broader market. If you're looking for alternative investment options, explore our concise guide to the top altcoins for 2023.
Related
New Crypto Mining Platform – Bitcoin Minetrix
Audited By Coinsult
Decentralized, Secure Cloud Mining
Earn Free Bitcoin Daily
Native Token On Presale Now – BTCMTX
Staking Rewards – Over 1,000% APY
Join Our Telegram channel to stay up to date on breaking news coverage