Join Our Telegram channel to stay up to date on breaking news coverage
The cryptocurrency market has seen considerably high activities and revenue increases. The crypto fear and greed index is neutral at 47. It reflects the buoyant market sentiment over the downturn from last week. DEXTools reveals that the market is performing better than in the last 24 hours. The platform's top trending coins keep attracting investors and drawing more funding.
The global cryptocurrency market capitalization is now up 3.21% to $1.12 trillion. The market's sentiment hints at a positive trajectory for cryptocurrencies.
Bitcoin has been considerably stable for a while. Its market dominance is evidence that it will eventually lead the market.
Meanwhile, increasing tensions between Western countries and China are taking their toll. The conflict encompasses trade disputes, technological competition, and allegations of espionage.
These tensions hold considerable implications for international trade, as both Washington and Beijing are committed to reducing their reliance on each other, thereby straining well-established supply chains.
Top Trending Crypto Coins on DEXTools
This shift, no doubt, contributes to the persistence of elevated inflation and interest rates. At the same time, it also presents opportunities for emerging economies and technology giants aligned with the prevailing power dynamics.
1. Yearn.finance (YFI)
The Yearn.finance (YFI) token currently sells at $5,443.99. It shows a 1.46% increase over the last 24 hours and an impressive 5.09% rise in the previous seven days. With a circulating supply of 33,000 YFI tokens, Yearn.finance carries a market capitalization of $180.43 million. This recent achievement places YFI as a top trending cryptocurrency.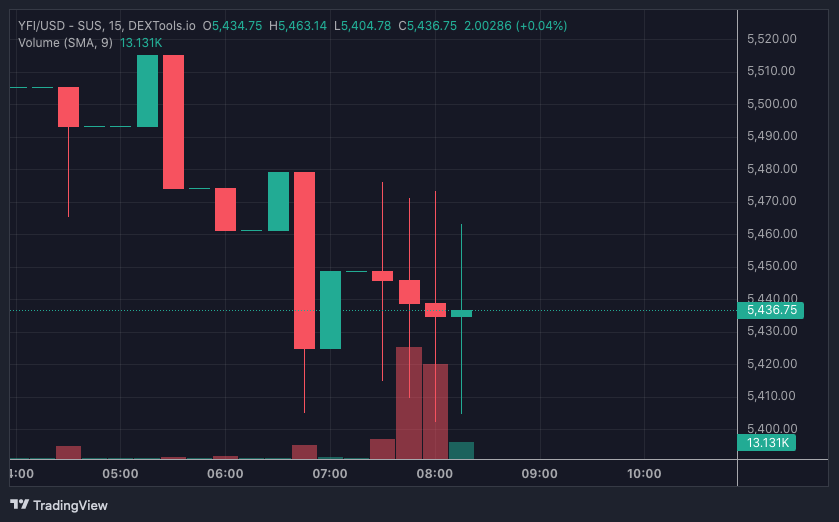 Yearn.finance is a decentralized finance platform built on the Ethereum blockchain. It offers lending aggregation, yield generation, and insurance services. The platform runs with a decentralized team of developers and YFI token holders in its governance.
Andre Cronje developed the project to automate capital allocation across lending platforms. The ultimate goal of this venture is to maximize yields for investors. To optimize yield generation, Yearn Finance manages funds across various DeFi protocols, like dYdX, AAVE, and Compound.
Users deposit their crypto assets into Yearn.finance and receive yield-bearing tokens, such as yDAI, in exchanges. The platform later introduced yUSD, a yield-bearing USD tokens pool in collaboration with Curve Finance.
Yearn. finance's vault feature, launched after its token release, pioneered automated yield farming. Vaults streamline yield generation, rebalancing, and capital allocation while sharing gas costs among users. This approach simplifies DeFi for end-users, resembling a passive investment strategy similar to a crypto hedge fund.
People always ask 'wen' veYFI but never 'how' veYFI.

Great thread by @0x7d54 https://t.co/OmWBAnI87E

— yearn (@yearnfi) October 1, 2023
Regarding price performance, Yearn.finance (YFI) has recorded a 5.09% increase in the last seven days. Its performance was just under that of the broader cryptocurrency market's gain. However, it outperforms other Polygon Ecosystem cryptocurrencies, which have remained relatively stable.
The market sentiment for Yearn.finance (YFI) is predominantly bullish, with over 90% of the community expressing positive sentiment today.
2. DEXTools (DEXT)
DexTools (DEXT) is selling at $0.553739 as of this report. It shows a 0.85% increase in the last 24 hours and a 5.27% rise over the past seven days. The DexTools native token has a circulating supply of 94 million. It leads it to have a market capitalization of $52.30 million. DEXT has returned after quite a time to become one of the most trending cryptocurrencies.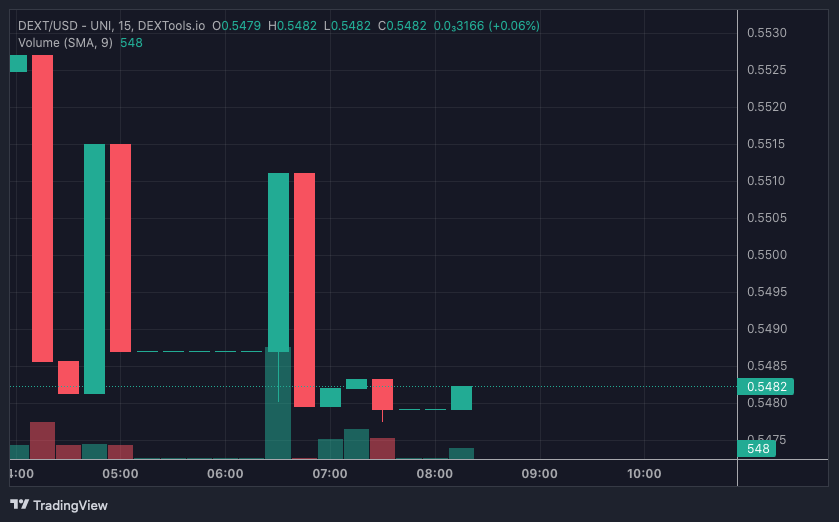 The DEXT tokens can be bought on decentralized and centralized exchanges like Uniswap V2 (Ethereum). Uniswap V2 (Ethereum) has the most active trading pair, DEXT/WETH, boasting a 24-hour trading volume of $111,233. Other options are PancakeSwap (v2) and Coinbase Exchange.
The daily trading volume for DexTools (DEXT) currently stands at $169,257, marking a significant 52.30% increase from the previous day, indicating recent heightened market activity.
DexTools (DEXT) reached its all-time high price of $0.940315 on March 09, 2021, over two years ago. The current price represents a 41.16% decrease from this peak. On the flip side, the all-time low for DEXT was $0.00001117, recorded on June 19, 2020, over three years ago. The current price is significantly higher, at 4,954,732.33% above the all-time low.
Don't miss our @DEXTForceFest!
Amazing web3 congress and music event in Barcelona for 10-11th of November!

🔥50% OFF applied!🎟️
Discount Code: DEXTFORCE50.
Offer Ends: SEP 30 Saturday 17H PM

⬇️https://t.co/Dg4Cl8ojss

— DEXTools (@DEXToolsApp) September 28, 2023
The fully diluted valuation (FDV) of DexTools (DEXT) stands at $75,664,078, representing the maximum market cap assuming 140 million DEXT tokens are in circulation. The realization of this FDV may take several years, depending on the token's emission schedule.
Regarding price performance, DexTools (DEXT) has seen a 5.30% increase in the last seven days. While it underperforms the global cryptocurrency market, which has risen by 6.70%, it also lags behind similar Ethereum Ecosystem cryptocurrencies, which have gained 12.70%.
DexTools (DEXT) has yet to be voted on today regarding market sentiment. Be the first to vote and share your perspective with the community.
3. Wall Street Memes (WSM)
The Wall Street Memes project and token have grown exponentially since launching on crypto exchanges. It is using the power of its over 1.1 million-strong social community to establish itself higher. Knowing how to leverage the resources at its disposal, Wall Street Memes comes with a mission to democratize finance and take on Wall Street. This power and mission have spurred WSM to become a trending cryptocurrency.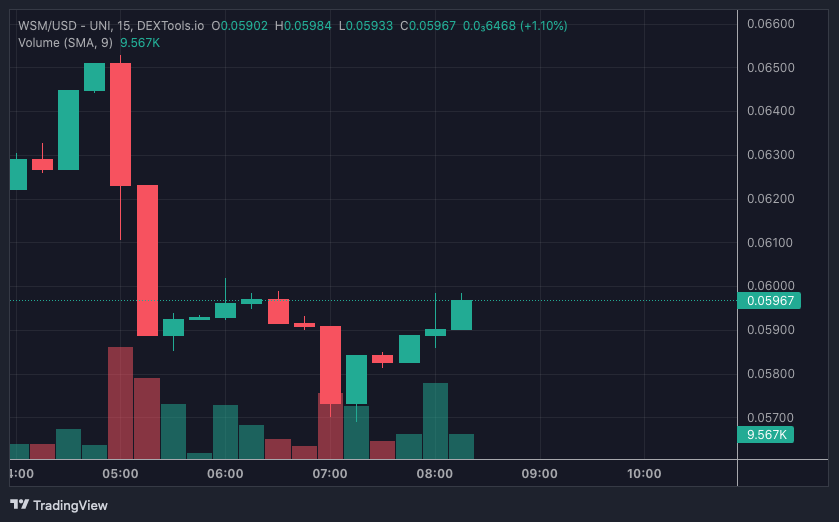 Also, the project is being helped because Elon Musk has interacted with its Twitter account. Rumors have spread that Musk may be one of the whales who have invested heavily in WSM.
Stay tuned for updates this month 🚀 $WSM pic.twitter.com/BGdqhKmIFz

— Wall Street Memes (@wallstmemes) October 1, 2023
Buying interest is further incentivized by the news that the team will launch at least one primary feature this month and undertake a burn program. Although the rumors concerning feature launches date back to the presale phase, it is now official.
Products linked to the WSM token would boost its utility, potentially boosting demand. At the same time, a buyback program would decrease the WSM token supply over time, increasing its scarcity and the value of remaining tokens.
What Might Be The Next Top Trending Crypto?
Time is essential in the crypto space, especially when it concerns presales. The Meme Kombat team has a good understanding of this. One of the exciting features of Meme Kombat is that each time investors buy MK tokens, these tokens will automatically be staked. The annual percentage yield generated through this staking process will be immediately visible on the staking page, which is set to go live in a few weeks.
Users can choose the number of tokens they wish to stake and the amount they want to allocate for betting. Notably, 30% of the Meme Kombat token supply will be dedicated to rewarding investors, making it a significant allocation. The impressive features of this token so far give investors the confidence that it will become a top trending cryptocurrency.
The interest for staked tokens will accrue gradually over time, incentivizing and rewarding the loyalty of community members. This staking mechanism is poised to enhance the overall stability of the Meme Kombat ecosystem, assuring investors that their investments will yield substantial returns.
Its getting real… The stakes are rising.. #MemeKombat pic.twitter.com/BQdIK0Pa9l

— Meme Kombat (@Meme_Kombat) October 2, 2023
Following the conclusion of the presale, users will have another opportunity to stake their tokens and subsequently claim their rewards. The total token supply amounts to twelve million tickets, with a hard cap of $10 million. Given the expected rapid fundraising pace, investors must secure their shares promptly.
Visit Meme Kombat.
Read More
New Crypto Mining Platform – Bitcoin Minetrix
Audited By Coinsult
Decentralized, Secure Cloud Mining
Earn Free Bitcoin Daily
Native Token On Presale Now – BTCMTX
Staking Rewards – Over 10,000% APY
Join Our Telegram channel to stay up to date on breaking news coverage