Join Our Telegram channel to stay up to date on breaking news coverage
THORchain (RUNE) broke out in a splendid show of bullish muscle in August and September from support at $0.7824 to highs of $2. However, instances of profit-booking slowed down the progress due to a significant trend correction to $1.37. Renewed interest in cryptos from last week supplied RUNE with the necessary momentum to reclaim support at $2 and achieve a new 2023 high at $2.26.
Is THORchain Price Ready To Retake $5 Level?
The massive breakout over the last two months followed the formation of a falling wedge pattern. As a reversal signal, this pattern forms toward the end of a downtrend, suggesting that bears are close to exhausting the downtrend while bulls prepare to take control.
Movement above all three key moving averages, including the 50-day Exponential Moving Average (EMA) (red), 100-day EMA (blue), and $200-day (purple), steadied the uptrend, allowing bulls to stay in control.
Although not currently overbought according to the position of the Relative Strength Index (RSI), THORchain may need a catalyst to keep the uptrend intact. Holding the $2 support intact might encourage investors not to sell for short-term profiteering but focus on the potential gains targeting $5 and $10, respectively.
Traders interested in holding long positions in RUNE and possibly desire to seek more exposure to the token may do so assured that the golden cross pattern on the four-hour is a bullish gesture.
A golden cross comes into the picture when a short-term moving average (100-day EMA) crosses above a long-term moving average (200-day EMA).
How THORchain price reacts to support/resistance at $2 will likely determine the direction it takes in the short term. As a springboard, this support would allow bulls to build momentum as more traders buy into RUNE, thus creating a suitable environment for a breakout.
Such a breakout, although targeting key levels at $5 and $10, will encounter other seller congestion zones at $2.4, $3, and $4, respectively.
On the other side of the fence, the Moving Average Convergence Divergence (MACD) introduces a new bearish outlook on the four-hour chart. A sell signal manifested when the blue MACD line flipped below the red signal line, revealing that declines should be expected before the THORchain price rebounds above $2.2.
This impending correction could gain momentum if the MACD continues to drop toward the neutral zone (0.00) and later into the negative region.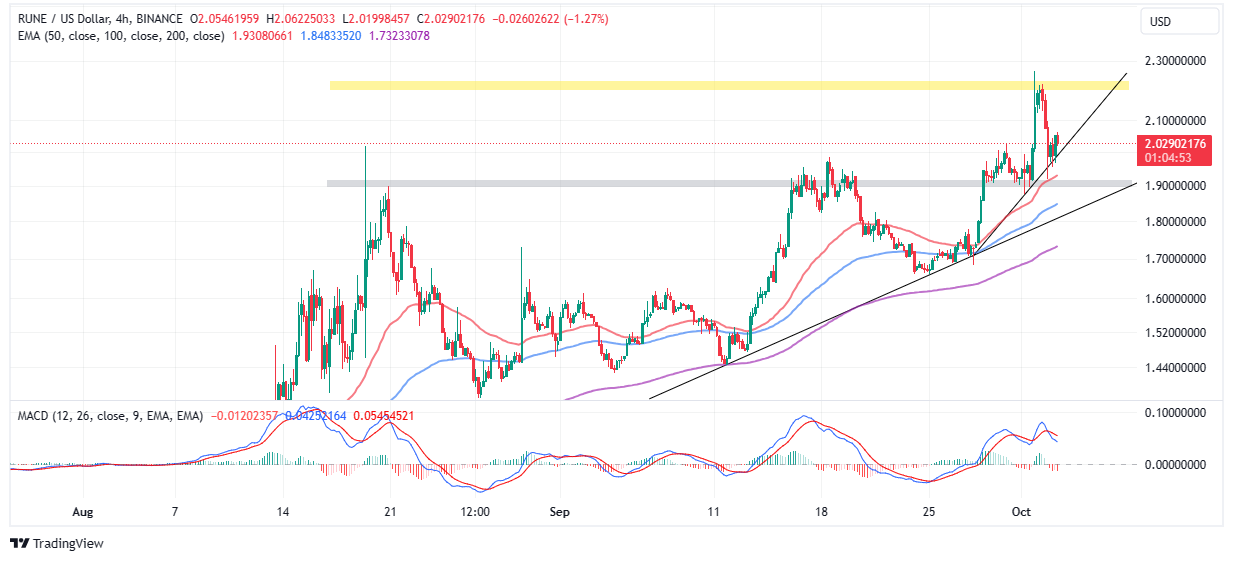 However, all is not lost as long as RUNE holds above $2. Similarly, the upper, accelerated trendline is in line to absorb the potential selling pressure to prevent dips to all three moving averages: The 50 EMA, the 100 EMA, and the 200 EMA.
Claims Of Illicit On-chain Activity Cloud THORchain Price Rally
An analysis by X (formerly Twitter) analyst Tayvano claims that THORchain's decentralized exchange (DEX) is a den for attackers and hackers. In the expose´, Tayvano argues that over 50% of all transfers involving Bitcoin (BTC) and Ethereum (ETH) on the ecosystem's DEX, ThorSwap Router, were facilitated by stolen funds.
"Welp, the hackers and money launderers—both the Russian/CIS region ones and North Korean ones—are loooooving @ThorChain lately."
Here's the hacks / stolen funds I identified so you can check my work:

1. FTX Accounts Drainer (Not DPRK)
Total: 19,944 ETH (~$32m)

7,499 ETH in 4 Txn – 0x6e0e8dac46c3ebffd67887097dfda10d11dcbab6

4,749 ETH in 3 Txn – 0x68cc13a43da1e1ba7de3002df8a07665ea8b5f5f

3,999 ETH in 3…

— Tay 💖 (@tayvano_) October 1, 2023
Tayvano narrowed down to the exact number of stolen funds – 34,583 ETH worth around $57 million at the current exchange rate of $1,657 per Ether swapped for BTC on ThorSwap's Deposit w/ Expiry feature from a total of 53,183 ETH, roughly $88 million converted from Ethereum to Bitcoin over the last four months.
I've found ~34,583 ETH (~$57m) of *clearly* stolen funds going to BTC via ThorSwap. Specifically via the `Deposit w/ Expiry` call.

That's out of a total ~53,183 ETH (~$88m) that went ETH -> BTC over the same time period.

That would be…um…~65% of the volume.

😬😬😬😬😬😬😬

— Tay 💖 (@tayvano_) October 1, 2023
Transfers from these stolen funds accounted for 65% of the total volume. Tayvano warned that more illegal activities could occur on the DEX, with approximately 3,300 ETH being laundered. Other claims even identified addresses linked to the FTX drain hack with transfers totaling 19,944 ETH worth around $32 million.
Here's the hacks / stolen funds I identified so you can check my work:

1. FTX Accounts Drainer (Not DPRK)
Total: 19,944 ETH (~$32m)

7,499 ETH in 4 Txn – 0x6e0e8dac46c3ebffd67887097dfda10d11dcbab6

4,749 ETH in 3 Txn – 0x68cc13a43da1e1ba7de3002df8a07665ea8b5f5f

3,999 ETH in 3…

— Tay 💖 (@tayvano_) October 1, 2023
Promising THORchain Alternative – Meme Kombat
The crypto market doldrums may be over, but the road forward is unlikely to be smooth. Market fluctuations threaten accrued gains, not to mention the illicit claims casting a shadow on THORchain.
Investors may want to consider a new meme coin project – Meme Kombat as they make decisions regarding their crypto portfolios.
Meme Kombat is a crypto presale that innovatively combines the power of memes and the completive thrill of Web3 games.
The platform features multiple ways users can wager bets, ranging from player-vs-player to sophisticated player-vs-computer modes that use traditional betting mechanics to provide realistic and fair betting outcomes.
Initially, Meme Kombat will launch season 1, comprising 11 popular meme characters where users can bet on who they fancy to win in battles. Season 2 will follow shortly after with new characters and gameplay, and future development and game modes are also in the pipeline.
New presale i am bring some awareness too .. Legends at @Meme_Kombat who are an innovative new gaming platform designed for hardcore gamers.

– Doxxed team ✅
– $100,000 raised already ✅
– Passive staking ✅
– AD / NFA / DYOR ✅

– Presale link : https://t.co/TWAEnq5WG0
– TG :… pic.twitter.com/r6xtdbBmeX

— Crypto Tony (@CryptoTony__) September 28, 2023
Investors are moving fast, with more than $232k already channeled through the presale out of the expected $1 million. You can buy $MK via the presale on the Ethereum blockchain or BNB Smart chain by following a few steps as detailed on the official project's website.
Related Articles
Join Our Telegram channel to stay up to date on breaking news coverage