Join Our Telegram channel to stay up to date on breaking news coverage
 Crypto traders are always searching for the best cryptocurrencies to buy on any given day – we list some high-potential coins in this post. You will find more tokens in our previous lists. 
The competitive dynamics of the crypto market mean the charts, trends, and analytics are constantly changing. Investors, enthusiasts, and traders must evaluate their positions, portfolios, and watchlists daily. 
Our list highlights the best digital assets in the market right now. The coins in this list have proven themselves in the market with a sturdy project, and we suggest they take a place on your watchlist. 
Best Crypto to Buy Now
Bitcoin ended the last quarter with an unimpressive outing. The fact that the giant crypto began at a current high in October, thereby ushering in a new quarter with a slight bull run, emphasises the unpredictability of cryptocurrencies.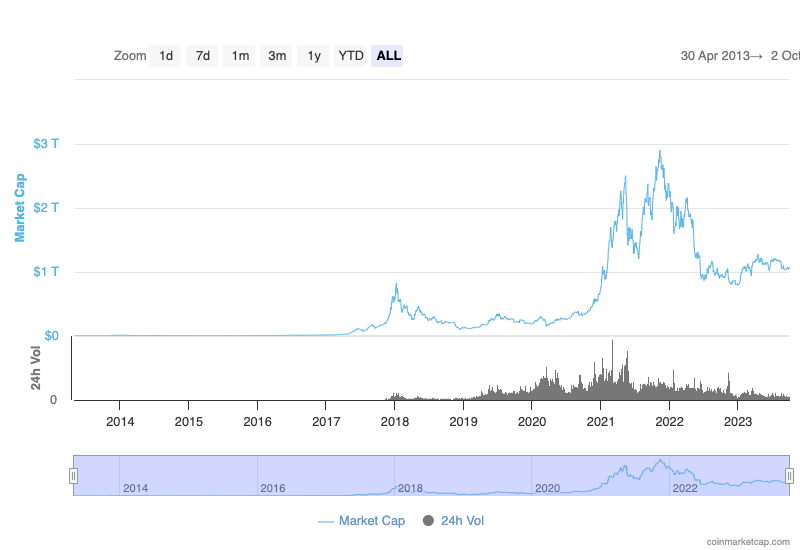 Global Crypto Market Cap Chart
However, as the king of cryptos continues shuffling its feet to find a stable footing, some altcoins promise investors high returns. These altcoins are on our list of the best cryptos to buy now. 
1. Verasity (VRA)
Verasity joins our list of the best cryptocurrencies to buy today as it colours the charts green. It is also trending, and we suggest you look at it. Nevertheless, the token has a desirable project.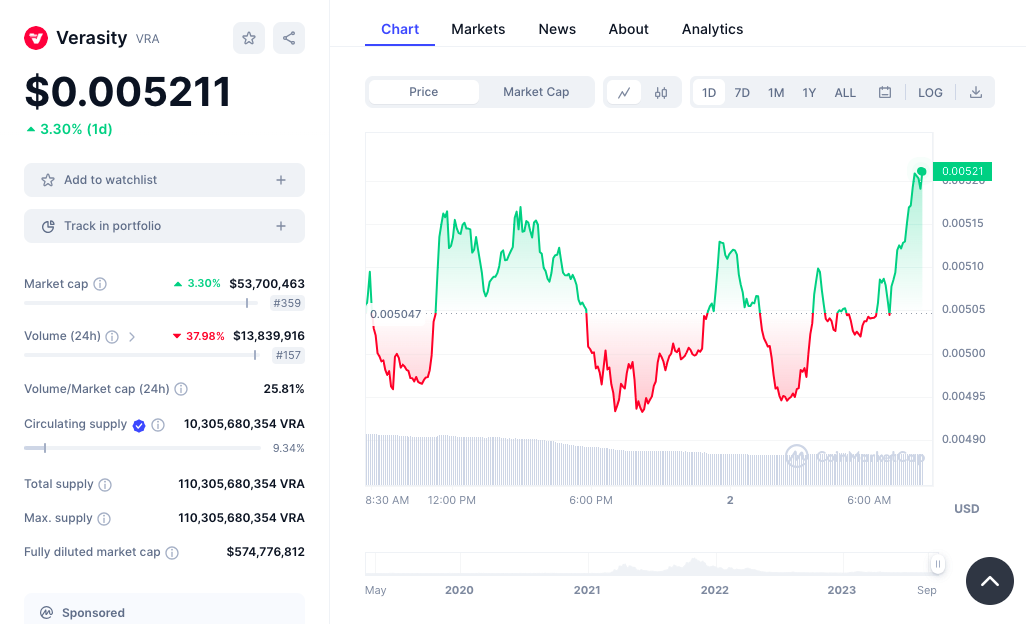 Verasity is an open-ledger ecosystem designed to combat advertising fraud, offer open infrastructure access for publishers and advertisers, and incentivise users to watch video content. The platform also provides payment solutions and a rewarding staking system with guaranteed 15% yields until April 2024.
Verasity $VRA is top trending on @coingecko behind $BTC! 🤯

Let's go #Verasians!!! #Crypto #BTC #Verasity pic.twitter.com/JstY6lvB8z

— Verasity (@verasitytech) October 2, 2023
Verasity leverages a combination of artificial intelligence (AI), machine learning (ML), and advanced blockchain technologies to create what it claims to be the most robust advertising ecosystem globally. It does this through VeraViews, which develops the ecosystem's advertising aspect; VeraWallet, the VeraCard, and VeraPay, which form an open-access payments platform; and its patented Rewarded Video module, which enhances the attention economy.
2. Solana (SOL)
Solana ranks as one of the major cryptocurrencies in the market. The token has been consistently trending and had impressive market runs. It is one of our suggested best cryptos to buy now.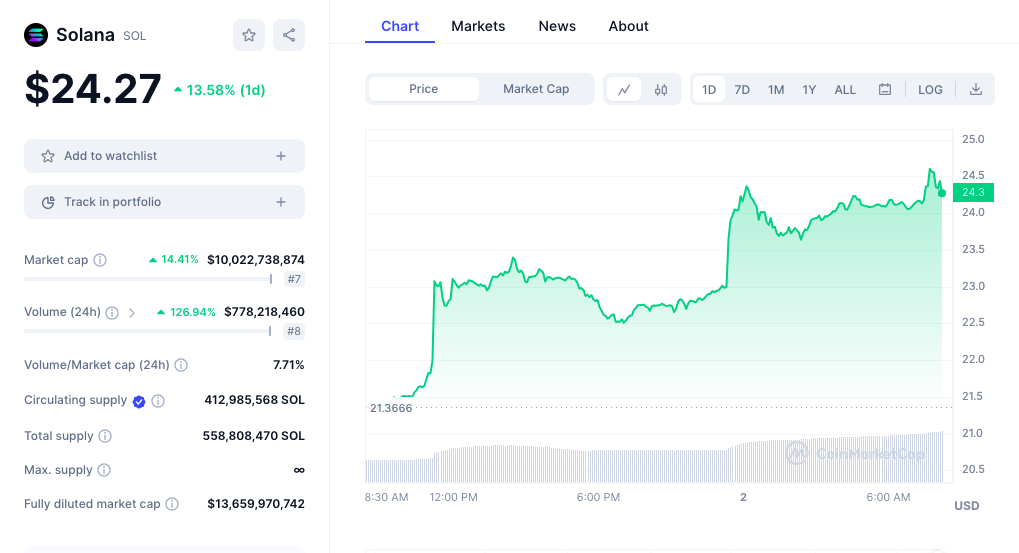 Solana is an open source blockchain project that harnesses the permissionless nature of blockchain technology to provide decentralised finance (DeFi) solutions. Although the idea and initial work on the project began in 2017, Solana was officially launched in March 2020 under the Solana Foundation, headquartered in Geneva, Switzerland.
The Solana protocol's primary objective is to facilitate the creation of decentralised applications (DApps). It aims to enhance scalability by implementing a hybrid consensus mechanism combining proof-of-history (PoH) and proof-of-stake (PoS) consensus mechanisms.
📣 Last call for Solana #Breakpoint2023 discounted ticket applications! Applications close tomorrow, October 1.

Tickets are $250 for:
💻Developers
📝Content creators
🎨Artists
🏛️Nonprofit & policymakers

Tickets are $210 for:
🎓Students

🔗Apply now: https://t.co/51G659H1Km pic.twitter.com/HsgNmTPW3k

— Solana (@solana) September 30, 2023
Solana's innovative hybrid consensus model has garnered attention from individual and institutional traders. The Solana Foundation is firmly committed to democratising access to decentralised finance (DeFi) on a larger scale.
3. Launchpad XYZ (LPX)
Launchpad XYZ is a considerable contribution to DeFi. The presale token is looking to hit milestones and reward early-bird investors. The outstanding project is becoming more desirable as it races to wind up.
Tired of juggling multiple platforms for cross-chain trades? 😪

Simplify your whole experience with one click at #LaunchpadXYZ

Learn more at https://t.co/ZUZaIKgy84
#Web3 #Crypto #Blockchain #Ethereum pic.twitter.com/xKEKmc16X7

— Launchpad.xyz (@launchpadlpx) August 16, 2023
Launchpad XYZ is gaining substantial traction in cryptocurrency, with its presale approaching an impressive milestone of $1 million. This achievement underscores the platform's significant growth potential and investors' confidence in its prospects. Launchpad XYZ is currently available for $0.0445 during its presale phase, and it continues attracting investors eager to participate before it becomes available on exchanges.
The rapidly increasing interest and demand for Launchpad XYZ's distinctive features have driven its presale toward a rapid sellout. Investors who recognise the platform's potential can join the community and take advantage of its unique offerings. This project could become a significant cryptocurrency poised for substantial growth.
Launchpad XYZ strongly emphasises a user-centric philosophy, with a commitment to providing traders with essential information to make well-informed decisions about their cryptocurrency investments. The platform offers real-time data and insights into market sentiment for various assets, serving as a valuable resource for traders in the fast-paced world of cryptocurrency. This focus on user empowerment and data-driven decision-making is crucial to Launchpad XYZ's mission.
4. Origin Protocol (OGN)
Origin Protocol is at the forefront of developing web3 technologies to make non-fungible tokens (NFTs) and decentralised finance (DeFi) accessible to a broad audience. The protocol employs innovative tools and strategic partnerships to realise these objectives. Origin Protocol's key offerings include Origin Story, governed by OGN, and Origin Dollar, governed by OGV.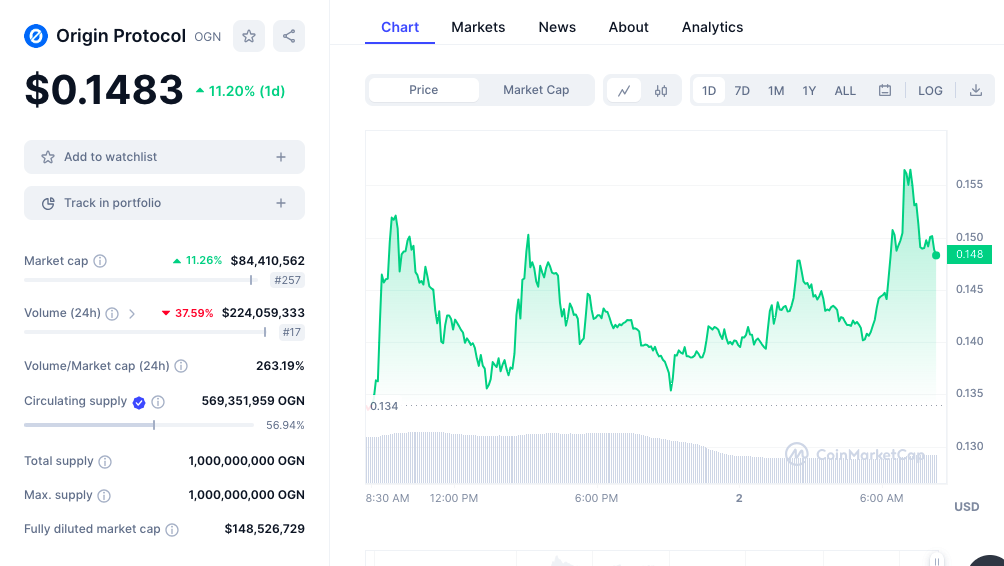 Origin Story is a white-label NFT marketplace solution, collaborating with disruptors across various sectors to harness the potential of non-fungible tokens. This platform hosts NFT marketplaces and tooling across real estate, profile pictures, music, art, and entertainment industries.
New month, new token holder update! 🌟

Check out Origin's August investor update to learn about the state of @OriginStoryNFT and @OriginDeFi

➡️ Origin Story's Redeemable NFT Platform
➡️ OUSD improvements via MakerDAO DSR
➡️ OGV DAO Growth & Analysis

Get the full alpha 👇…

— Origin Protocol (@OriginProtocol) September 5, 2023
Origin Story has formed partnerships with diverse entities, including Roofstock onChain, Pudgy Penguins, Sappy Seals, Paris Hilton, 3LAU, BT, Inspiration4, and The Doge Pound. These marketplaces within Origin Story aim to impact a wide array of industries influenced by NFTs rather than focusing solely on one sector. Investors may view OGN as a strategic investment in the NFT space, akin to the 'picks and shovels' approach during the gold rush.
5. LeverFi (LEVER)
LeverFi, formerly RAMP DEFI, is a decentralised leverage trading platform. In March 2022, the team behind RAMP DEFI decided to rebrand their project to address the challenges within the rapidly evolving DeFi market. The rebranding effort addresses sustainable total value locked (TVL) and utility issues.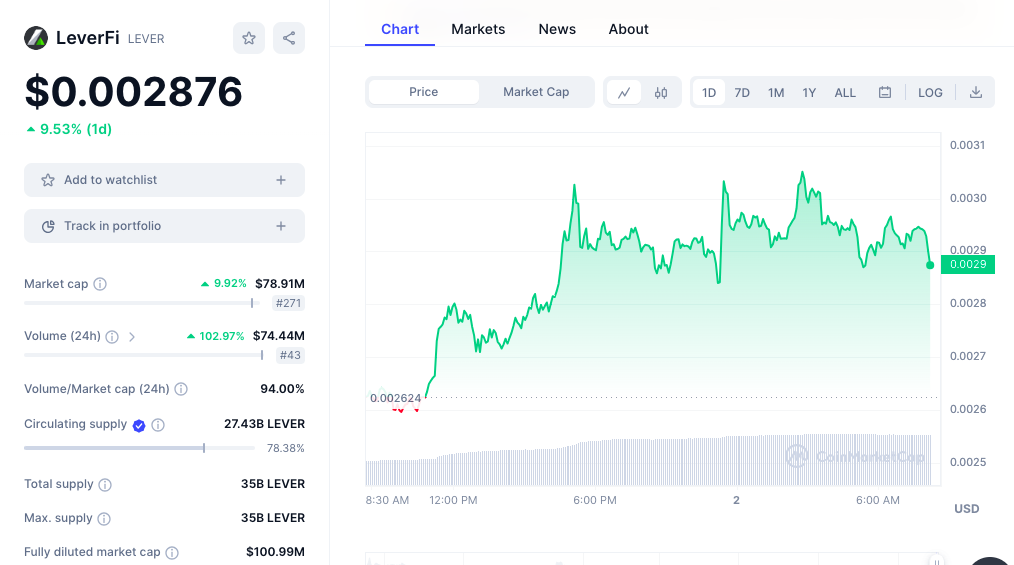 The LeverFi team is focused on creating a product that adds value by enabling users to engage in trading and yield farming simultaneously. Lenders deposit their funds into lending pools and earn interest from traders who borrow to leverage trade, with leverage of up to 10X. Any idle liquidity from lenders is allocated to other DeFi protocols to generate additional yield.
2/ 🪙 As Bitcoin's halving event approaches, miners may choose to liquidate their BTC to strengthen their capital reserves due to hash rates & peak mining difficulty.

That's it for the #CryptoNews roundup!

Trade $BTC & $ETH permissionlessly at https://t.co/zKPtUzMzjz 💻

— LeverFi 杠杆金融 (@LeverFi) September 29, 2023
LeverFi also has broader aspirations, aiming to act as a bridge between Ethereum and EVM-compatible chains, including BNB Chain, Avalanche, Polygon, Arbitrum, Optimism, and more. This interoperability can enhance the platform's reach and utility across multiple blockchain ecosystems.
6. Livepeer (LPT)
Livepeer, launched in 2017, represents a pioneering effort in live video streaming by offering a fully decentralised network protocol. Its objective is to provide a cost-effective and decentralised alternative to centralised broadcasting solutions, catering to established and emerging broadcaster companies.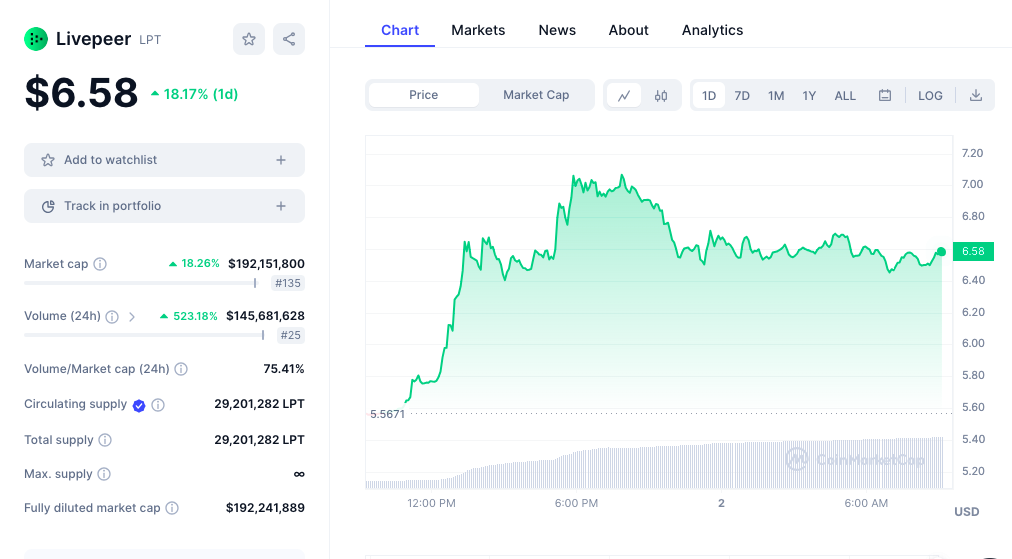 As highlighted in Livepeer's official whitepaper, the live video streaming and broadcasting industry is experiencing significant growth, and Livepeer aims to leverage this momentum by introducing decentralisation into the ecosystem. The platform simplifies the broadcasting process by enabling producers to submit their content to the platform, which handles reformatting and distributing the content to users and various streaming platforms. This approach aligns with the broader decentralisation trend in media and content delivery.
Starting Soon!

Join @petkanics and @victorge73s as we kick off the next phase of the Livepeer Delta LIP process!https://t.co/KdhWTvcOOM https://t.co/6QN6Wz80yI

— Livepeer (@Livepeer) September 28, 2023
Read More
New Crypto Mining Platform – Bitcoin Minetrix
Audited By Coinsult
Decentralized, Secure Cloud Mining
Earn Free Bitcoin Daily
Native Token On Presale Now – BTCMTX
Staking Rewards – Over 10,000% APY
Join Our Telegram channel to stay up to date on breaking news coverage