Join Our Telegram channel to stay up to date on breaking news coverage
In the world of cryptocurrency, there are countless opportunities waiting to be seized. There's a wide variety of coins to choose from, making it challenging to decide where to begin your investment journey. However, a strategy that's proven successful for many investors involves focusing on cryptocurrencies that are currently trending. 
These digital currencies have garnered substantial attention from users and established strong communities, and their prices often reflect this growing interest over time. Additionally, these coins often showcase innovative uses that set them apart from their competitors.
This article explores the top trending cryptocurrencies on DEXTools that are worth considering for investment. We'll delve into why these cryptocurrencies hold value and where investors can acquire them.
Top Trending Crypto Coins on DEXTools
Here's a list of the top cryptocurrencies on DEXTools that are currently trending and worth considering for investment. We'll delve into each of them to provide you with a better understanding of why they stand out as excellent coins to buy.
1. Sybulls (SYBL) 
Sybulls, a unique token operating on the 1 chain, has certainly made waves in the cryptocurrency world. As of today, its value stands at $0.661900, showcasing an astounding 264.98% surge in just the last 24 hours. 
Over the course of the past week, Sybulls has also experienced substantial growth, with its price increasing by an impressive 145.74%. However, it's important to keep in mind that despite these significant price movements, we don't have access to data regarding the market cap of Sybulls. This is due to the fact that the circulating supply of SYBL tokens remains unreported at the moment.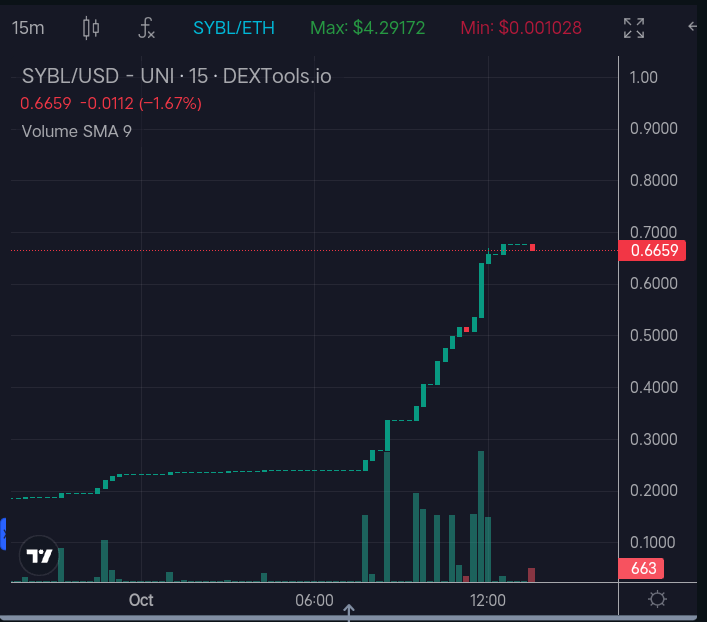 Sybulls isn't just any token; it's a groundbreaking automated airdrop farming toolkit. This means that it offers users a distinctive opportunity to consistently receive airdrops from some of the most prominent DeFi projects in the cryptocurrency space. In a world where innovation is key, Sybulls stands out by simplifying the process of earning rewards from airdrops.
When you hold $SYBL tokens, you enjoy a 30% share of revenue generated by the protocol. Free users, in exchange for their participation, receive 20% of the airdrops they collect. This 20% is distributed among all token holders, with half of these airdrop returns allocated directly to holders. It's worth noting that snapshots for airdrop returns are captured at the time of distribution.
GM $SYBL Fam: A few weeks back we initiated a rewrite to add in multi wallet support, fix bugs etc. You can see the difference between the original bot and the current form.

— Sybulls (@sybulls) September 30, 2023
Sybulls commenced its journey in October 2023 at a value of $1.850 and is anticipated to conclude the month at approximately $0.20626249128861. Throughout October, the forecasted range for SYBL's price varies, with a maximum projected value of $0.27681460610452 and a minimum of $0.18823393215107.
2. Pepe (PEPE) 
The memecoin's experienced a significant surge in popularity from late April to early May 2023, leading to a remarkable increase in its market capitalization, surpassing $1.6 billion.
❌❌ $PEPE Announcement❌❌

The old telegram for $PEPE is hacked and no longer in our control. The "lordkeklol" account has been compromised. Whoever has gained access to this account is using it to push scams and deceive people and launch other coins. This person is lying and… pic.twitter.com/jxlYwoSP1Q

— Pepe (@pepecoineth) September 9, 2023
This impressive growth attracted early investors who reaped substantial profits, drawing the attention of speculators within the cryptocurrency community. This success even sparked discussions about a "memecoin season," as similar projects emerged and rapidly gained traction.
Pepe The Frog's meme was a strategic choice, as it symbolizes a community that has embraced this meme for many years. Additionally, Pepe employs a unique token redistribution system, encouraging long-term staking and incentivizing holders to retain their coins.
Furthermore, PEPE incorporates a distinctive burning mechanism to maintain token scarcity, a crucial factor for sustaining and potentially increasing the token's value.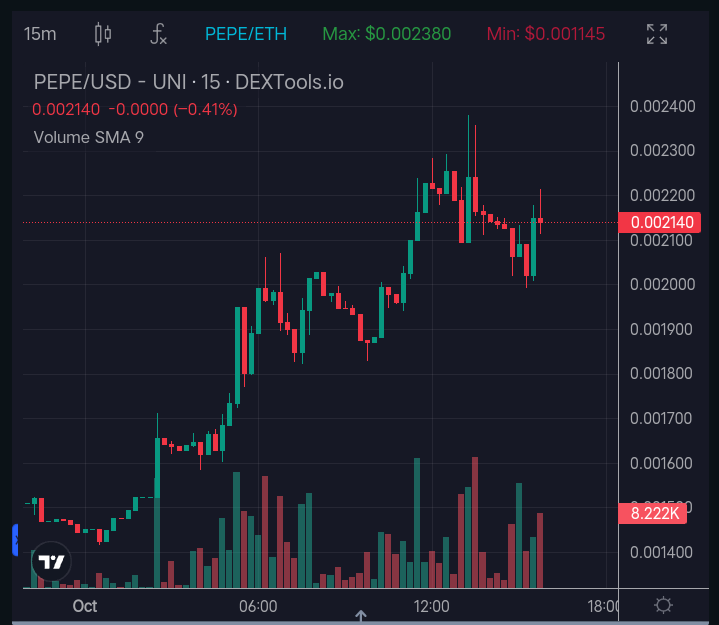 Lastly, the absence of transaction fees sets PEPE apart from other comparable cryptocurrencies, making it more appealing to a broader audience and facilitating user base expansion.
As of today, the Pepe (PEPE) cryptocurrency is trading at a price of $0.000000796541, and its trading volume over the last 24 hours has reached $56,812,568.57. This shows a recent uptick in price by 2.99% within the day and a notable increase of 17.30% over the past week. Considering that there are 420 Trillion PEPE tokens in circulation, the market capitalization of Pepe stands at $335,188,628.
3. Chirpley Token (CHRP) 
Presently, the Chirpley token, or CHRP, is valued at $0.0029 in real-time, and it has seen quite a buzz. Over the last 24 hours, a substantial trading volume of $331,663 has been clocked, reflecting considerable interest in this digital asset. 
What's truly eye-catching is the impressive price growth of CHRP, with a remarkable 36.55% surge in value over the past day and a substantial 30.71% increase in the last 7 days. Investors and enthusiasts are certainly keeping a close watch on this dynamic cryptocurrency.
In terms of its financial standing, Chirpley boasts a current market capitalization of $84,746, highlighting its presence in the crypto market. It's worth noting that the total supply of CHRP coins is capped at 1,000,000,000, ensuring a degree of scarcity.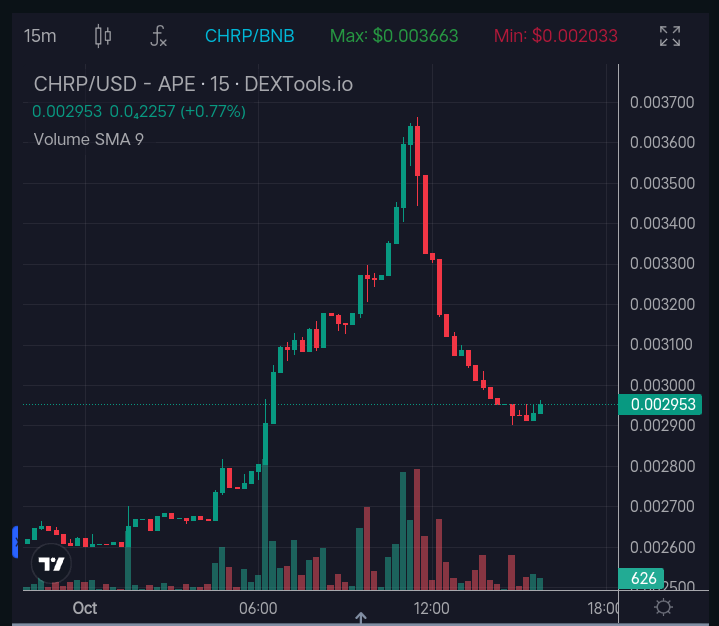 Out of this supply, 28,824,558 CHRP coins are currently in circulation, adding a layer of scarcity that often influences cryptocurrency prices. In the grand scheme of things, Chirpley's rank in the market is currently perched at #1798, which is a noteworthy position given the multitude of cryptocurrencies available today.
Beyond the numbers, CHRP serves a dual purpose. Firstly, it serves as an incentive mechanism for influencers who actively promote the Chirpley platform and its native token. These influencers have the option to lock their CHRP coins, essentially staking them for a period, creating a passive source of income and further strengthening their commitment to the Chirpley community. 
Secondly, CHRP coin holders have the exciting opportunity to partake in shaping the platform's future through participation in the Decentralized Autonomous Organization (DAO). This engagement mechanism not only empowers the community but also fosters a sense of ownership and collaboration among CHRP holders.
What Might Be The Next Top Trending Crypto?
Currently, traders are showing keen interest in an emerging cryptocurrency known as Bitcoin Minetrix. It has quickly gained attention due to its low price of just $0.11 per BTCMTX token, managing to raise over $100,000 shortly after its launch. Traders are praising its remarkable features. However, a pressing question lingers: Can Bitcoin Minetrix replicate Bitcoin's journey to reach $30,000? 
$BTCMTX is not like regular cloud mining services in a few important ways. 🌐

Firstly, by utilizing ERC-20 tokens.

Secondly by allowing users to decide how much #Bitcoin mining power they have.

Thirdly, including the smart contract capabilities of the #Ethereum #Blockchain. pic.twitter.com/E25swOZZys

— Bitcoinminetrix (@bitcoinminetrix) October 1, 2023
Much like other successful tokens, Bitcoin Minetrix addresses a significant issue – the high costs associated with Bitcoin mining and the prevalence of mining scams in the crypto industry. These challenges have deterred many potential miners from participating in the Bitcoin network.
To tackle these persistent problems, Bitcoin Minetrix introduces a dependable cloud mining platform, enabling users to acquire BTC mining power without the need for expensive hardware. This approach is fully decentralized, mitigating the risks associated with third-party cloud mining scams, and granting token holders control. Consequently, this project becomes accessible to anyone interested in earning passive income through cryptocurrency.
It's evident that Bitcoin Minetrix possesses the potential to disrupt the conventional mining sector with its innovative features. By democratizing access to BTC mining and ensuring secure and transparent operations, Bitcoin Minetrix emerges as a promising asset in the crypto realm.
With its presale currently underway, there's no doubt that Bitcoin Minetrix holds the potential for substantial returns for its investors in the near future. Targeting a price of at least $1, investors could potentially see a 10X price increase upon exchange listings in the coming months. Therefore, consider acquiring some BTCMTX tokens today and embark on your path to financial freedom.
Visit Bitcoin Minetrix
Read More
New Crypto Mining Platform – Bitcoin Minetrix
Audited By Coinsult
Decentralized, Secure Cloud Mining
Earn Free Bitcoin Daily
Native Token On Presale Now – BTCMTX
Staking Rewards – Over 10,000% APY
Join Our Telegram channel to stay up to date on breaking news coverage