Join Our Telegram channel to stay up to date on breaking news coverage
Next Cryptocurrency to Explode? This is a question that many people are asking themselves, as the cryptocurrency market continues to grow and evolve. There are over 17,000 different cryptocurrencies in existence today, and it can be difficult to know which ones have the potential to explode in value.
One way to identify potential winners is to look at cryptocurrencies that are solving real-world problems. For example, Ethereum is a cryptocurrency that is used to power decentralized applications (dApps). These applications have the potential to revolutionize many industries, including finance, healthcare, and supply chain management.
Next Cryptocurrency to Explode
Based on what's happening on the crypto world, here are a few of the cryptocurrencies that could potentially explode in the near future.
1. Solana (SOL)
Solana stands out for its impressive speed in handling transactions and its remarkably lower transaction fees compared to competing blockchains such as Ethereum.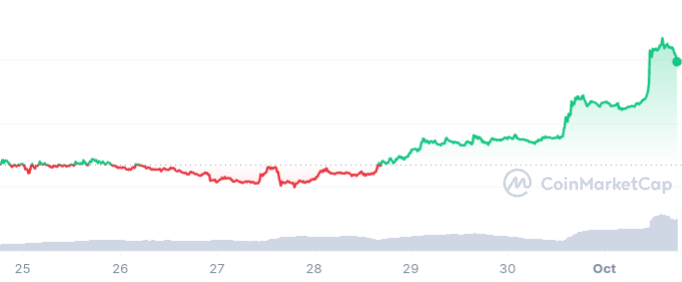 In 2021, the cryptocurrency called Solana (SOLUSD), denoted by the ticker symbol SOL, experienced an astounding surge of nearly 12,000%. At its peak, it boasted a market capitalization exceeding $66 billion, securing its position as the fifth-largest cryptocurrency by this metric during that period.
Solana's architecture is designed to showcase a set of software algorithms that effectively remove software-related performance limitations when integrated with a blockchain. This integration empowers transaction processing to expand in tandem with network bandwidth.
This architectural approach of Solana accomplishes the three crucial characteristics expected of a blockchain: scalability, security, and decentralization. In its design, it outlines a theoretical upper limit of 710,000 transactions per second (TPS) on a standard gigabit network and a staggering 28.4 million TPS on a 40-gigabit network.
📣 Last call for Solana #Breakpoint2023 discounted ticket applications! Applications close tomorrow, October 1.

Tickets are $250 for:
💻Developers
📝Content creators
🎨Artists
🏛️Nonprofit & policymakers

Tickets are $210 for:
🎓Students

🔗Apply now: https://t.co/51G659H1Km pic.twitter.com/HsgNmTPW3k

— Solana (@solana) September 30, 2023
Solana's blockchain operates using both a proof-of-history (PoH) and proof-of-stake (PoS) consensus model. PoS allows validators, responsible for validating transactions on the blockchain ledger, to do so based on the number of coins or tokens they possess, while PoH enables swift timestamping and verification of these transactions.
2. Stacks (STX) 
As of today, the current price of Stacks (STX) stands at $0.500800, and there has been a notable 4.90% uptick in its price over the last 24 hours, along with a 5.71% increase over the past week. This cryptocurrency boasts a 24-hour trading volume of $28,384,287.57, and with a total supply of 1.4 billion STX tokens, its market capitalization is now valued at $708,004,513.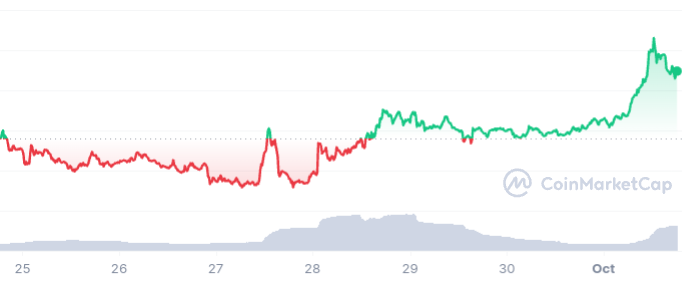 Stacks is a cryptocurrency initiative aiming to unlock the full potential of the Bitcoin blockchain by introducing smart contracts and decentralized applications to the Bitcoin ecosystem. Originally named Blockstack but rebranded as Stacks in 2020, this project was conceived as a layer-1 solution that utilizes Bitcoin as its foundational layer. It operates thanks to the Stacks (STX) token, which powers smart contract execution, transaction processing, and the registration of new digital assets.
The core philosophy of Stacks emerges from concerns about the internet's lack of decentralization and the excessive influence wielded by major players like Google and Facebook over regular users. This influence even prompted Google to adopt the unofficial motto, "don't be evil," which it later abandoned in 2018. Stacks' vision is to craft an online infrastructure where companies "can't be evil" – a slogan embraced by its developers, prominently displayed on a billboard near Google's California headquarters.
Stacks: Scaling the Bitcoin economy while maintaining Bitcoin's security ethos 🧡

⭐ @veradittakit on Bitcoin Layer 2 solution Stacks.

Read the full article down below 👇 pic.twitter.com/xPFwHmTCIm

— stacks.btc (@Stacks) October 1, 2023
Since Stacks operates as a layer-1 ecosystem linked to Bitcoin, the smart contracts it introduces to Bitcoin do not alter any of Bitcoin's fundamental characteristics, including its renowned security and stability.
3. Polygon (MATIC)
Today, Polygon (MATIC) is trading at $0.558306, boasting a 24-hour trading volume of $258,077,243.65. Over the last day, its price surged by 4.60%, and in the past week, it saw a 6.99% increase. With a circulating supply of 9.3 billion MATIC tokens, the market cap for Polygon stands at $5,183,842,475.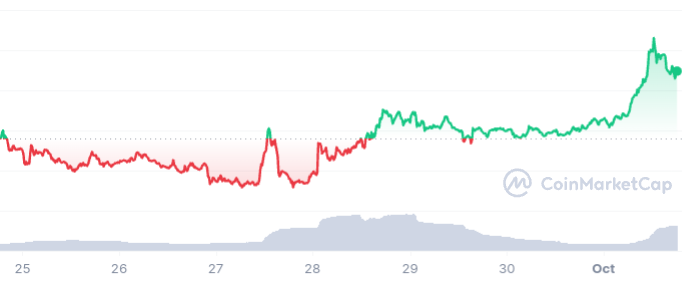 Polygon serves as an accessible and well-organized platform designed to enhance Ethereum's scalability and infrastructure development. At its core, Polygon offers the Polygon SDK, a versatile framework that supports the creation of various types of applications.
Polygon aims to provide a platform that empowers developers to create their dedicated blockchain networks by combining the strengths of independent blockchains, such as flexibility, autonomy, and scalability, with Ethereum's advantages in terms of security, developer experience, and interoperability.
The primary goal of Polygon is to establish a framework that allows these blockchain networks to seamlessly connect and collaborate, rather than operating in isolation. Polygon has some exciting innovations in the pipeline, including ZK roll-ups, which consolidate numerous off-chain transfers into single transactions, and Optimistic roll-ups, running on top of Ethereum to achieve nearly instantaneous transactions. These features offer unique solutions to the challenges of scaling Ethereum and addressing network congestion and high transaction fees.
Polygon Miden is the novel ZK rollup designed to extend the EVM's feature-set.

On Miden, users can generate their own state transitions, giving the network privacy and throughput upgrades not achievable by rollups designed for EVM compatibility.

For an update on progress to… pic.twitter.com/RxmriVWNsc

— Polygon (@0xPolygon) September 29, 2023
Polygon faces competition from notable rivals like Polkadot and Cosmos, but it stands out by embracing compatibility with the Ethereum Virtual Machine (EVM). This compatibility makes it especially appealing to developers who are already proficient in Solidity, Ethereum's native programming language.
In essence, Polygon offers remarkable flexibility and scalability, which are becoming increasingly important as many blockchain projects explore Ethereum-compatible solutions to overcome the limitations of the Ethereum network.
4. yPredict (YPRED)
The global algorithmic trading market is expected to reach a value of $3.56 billion by 2030. In response to this growing industry, yPredict is actively developing a new generation of trading tools infused with artificial intelligence, empowering traders with data-driven insights.
The yPredict analytics platform offers a diverse set of features, encompassing pattern recognition tools, technical indicators, and sentiment and transaction analysis. Their pricing model adopts a freemium approach with three membership tiers available.
One distinctive aspect of yPredict is its marketplace, which serves as a bridge between AI/ML developers and cryptocurrency traders. In simpler terms, data scientists can offer their predictive models and signals as a subscription service, allowing AI developers to leverage their expertise without directly participating in trading activities.
Traders have the flexibility to select from a wide array of predictive models and subscribe to those that align with their preferences. Payments for subscriptions are made using YPRED tokens on a monthly basis, a strategy yPredict dubs 'Results as a Service.'
While yPredict isn't the pioneering platform to integrate AI into the crypto markets, it boasts several unique features that set it apart. Notably, yPredict doesn't rely on trust-based models commonly found in traditional signal providers. Many of these providers lack verifiable track records and may resort to fabricating results or utilizing fake testimonials to attract users.
We #yPredict are thrilled to be a first AI ecosystem using AI for crypto analytics. With our successful $3.88M presale, we're building models combining ARIMA & LSTM to make accurate Bitcoin & Ethereum price forecasts.

Our subscription marketplace will connect quant analysts &… pic.twitter.com/73zjPdrhRb

— yPredict.ai (@yPredict_ai) September 19, 2023
Additionally, yPredict employs a distinct approach. Every new prediction model listed on its marketplace undergoes verification by its DAO members. This trial-based system acts as a safeguard against the sale of subpar models.
Furthermore, yPredict introduces multiple reward systems. In addition to compensating data scientists for their contributions to the platform, yPredict incentivizes traders to complete educational courses and quizzes. Traders can also partake in a play-to-earn model, making directional bets and earning a portion of the YPRED reward pool. In essence, the platform not only offers opportunities for passive income but also supports both traders and data scientists in their respective endeavours.
Visit yPredict Now
Read More
New Crypto Mining Platform – Bitcoin Minetrix
Audited By Coinsult
Decentralized, Secure Cloud Mining
Earn Free Bitcoin Daily
Native Token On Presale Now – BTCMTX
Staking Rewards – Over 10,000% APY
Join Our Telegram channel to stay up to date on breaking news coverage