Join Our Telegram channel to stay up to date on breaking news coverage
The crypto market leaped further Monday morning by gaining 3.02%. The market capitalization is now at 1.11 trillion in a build-up to previous gains. The market's capacity to throw up more assets as the "next cryptocurrency to explode" increases by the day. 
Also, in the last 24 hours, the crypto market saw increased trading activities. There was a total volume of $34.51 billion, representing an 11.07% rise. The decentralized finance sector had a trading volume of $2.85 billion, making up 8.25% of the market's volume. Furthermore, stablecoins had a $32 billion trading volume, accounting for 92.72% of the total trading activity.
Bitcoin's dominance in the market is 49.22%. It reflects a 0.37% increase over the last 24 hours.
In the stock market, Japanese stocks rose exponentially on Monday. The Nikkei 225 share index benefited from the Yen's weakness to its lowest level in almost one year. This boost came up because the U.S. avoided a government shutdown. 
Next Cryptocurrency to Explode
Other equity markets in the region were, however, mixed. Oil and resource shares in Australia faced pressure after last week's crude price decline. 
Additionally, U.S. stock futures displayed a 0.6% rise, indicating a possible recovery after Friday's 0.3% drop in the S&P 500.
1. Bitcoin SV (BSV)
The crypto community experienced a shock wave after Christen Ager-Hanssen resigned as the CEO of nChain. nChain is the platform behind the Bitcoin S.V. (BSV) token. Ager-Hanssen's resignation was followed up with allegations from him against Craig Wright, who claimed to have created Bitcoin. The allegations bothered fraud on Bitcoin BSV stakeholders.
As of this report, the nature of the allegation has yet to be fully discovered, but the Bitcoin Sv and crypto community at large is watchful. 
However, the Bitcoin S.V. market is not reacting negatively to this news. The BSV token had a great outing over the weekend, extending its gains until Monday. The token gained 13% in the last 24 hours, trading at $35.90. Its 24-hour trading volume is also up 341.69% to $63.53 million.
💡 Happy #ChangeALightDay! Just as the #BSV blockchain shines with its scalability, low fees, utility, & minimal carbon emissions.

Check out the CO2 footprint of network protocols live on @mintBlue_com's blockchain sustainability index here: https://t.co/VPs77n2hCu pic.twitter.com/X48LlaLBzf

— BSV Blockchain (@BSVBlockchain) October 1, 2023
As much as the network proves to be secure and capable of yielding good returns on investment, it is not likely that any damning revelation would have much effect. Bulls in charge of the market have proven they can make BSV the next cryptocurrency to explode.
2. THORChain (RUNE)
THORChain's cryptocurrency, RUNE, exhibited a 12.76% increase in the last 24 hours. Its 24-hour trading volume also surged by 124.99% to $224.26 million, according to data from Coinmarketcap. Its market capitalization is $720.80 million, with a total circulating supply of 335,969,596 RUNE tokens.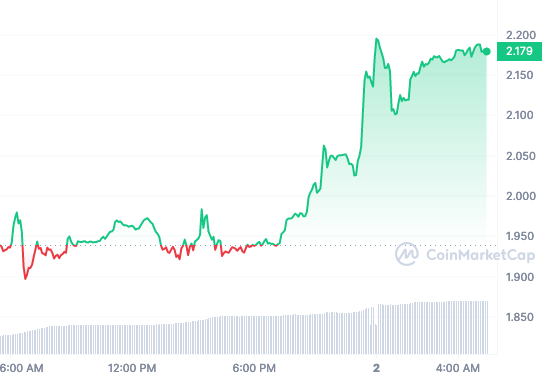 According to Coinglass, THORChain's open interest is $65.53 million, indicating a 19.44% increase from the previous session. Also, the asset's long-to-short ratio in the last 24 hours is 0.9794, with short positions adding up to $405.08K, compared to long positions totaling $3.48K.
Looking at its performance over the month, THORChain (RUNE) has risen by up to 20.68% in one month. It has seen a substantial rise of 32.52% in the last six months, showcasing its strong performance.
🧵 @THORChain Weekly #70 $RUNE

Topics
– Streaming Swaps
– @EdgeWallet https://t.co/pu4yyJDzrt pic.twitter.com/zDy3iNNqxe

— rekt0x (@rekt0x) September 30, 2023
If bulls continue to push at this rate, the price of RUNE may encounter resistance levels at $2.5 and $2.9. If the current level fails to hold, on the other hand, a downtrend could see the price approaching support levels at $1.7 and $1.6. The token currently sells at 2.18 as it heads to be the next cryptocurrency to explode.
3. TG.Casino (TGC)
The TG.Casino is performing well as predicted. It has raised over 343,000 in its ongoing presale. One of the main drivers behind the impressive early success is that TG.Casino offers an attractive staking rewards system. However, the team has taken a thoughtful approach to designing this staking mechanism, ensuring that rewards are not solely dependent on staking emissions.
That feeling!!! pic.twitter.com/TVxGK5KQGR

— TG Casino (@TGCasino_) October 1, 2023
In contrast, TG.Casino has introduced a buyback mechanism that uses a portion of the platform's revenue to repurchase TGC tokens from the market. These tokens are then distributed to investors as staking rewards, while another part is permanently removed from circulation through token burning.
This unique approach means that as TG.Casino gains popularity and generates more revenue, the buyback mechanism will progressively offer investors higher staking rewards and reduce the token supply through burning. This strategy could increase the intrinsic value of TGC tokens.
The community is anticipating how these staking and buyback mechanisms will influence the supply and demand dynamics of TGC, making it a focal point for expert analysts. Popular YouTuber Cilinix Crypto recently featured the project, highlighting its substantial staking rewards as a critical advantage.
Presale participants can earn an impressive Annual Percentage Yield (APY) of 1,500% on their TGC tokens. Moreover, early investors in the presale will receive exclusive rewards when the platform officially launches on Telegram, adding further incentives to participate.
Visit TG.Casino.
4. Render (RNDR)
Render (RNDR), the native token of The Render Network, is set to become the next cryptocurrency to explode. The Render Network is an innovative provider of decentralized rendering solutions powered by GPUs. The token rose by 12.32% in the last 24 hours to sell at $1.76. 
Operating as an ERC-20 token, RNDR is the primary currency for rendering animation, motion graphics, and VFX on the Render Network. The platform harnesses the decentralized computational power of GPUs, delivering swifter rendering speeds and cost-efficiency. Creators can tap into this network to bring their visual creations to life, while node operators can capitalize on their available GPU resources.
Despite experiencing a recent price dip to $1.48, Render (RNDR) has displayed remarkable resilience, surging by more than 13.94% in just seven days. With a market capitalization of $658.14 million, RNDR is establishing a notable presence in the cryptocurrency arena. Furthermore, the recent launch of the Render Foundation's website has created a centralized hub for Render Network and RNDR-related information, fostering enhanced community engagement.
This week's #Renderdigest theme is "mass adoption of spatial web" and covers the latest historical news paving pathways towards the future of AI, GPU compute, web3, and virtual assets!

Let's get into it: ⬇️

— The Render Network (@rendernetwork) September 28, 2023
From a technical analysis perspective, there are indications of potential bullish momentum. If RNDR maintains its upward trajectory, it may attain a price point of $3. However, should the bullish trend encounter headwinds, a retracement to $1.50 could be in the cards.
Read More
New Crypto Mining Platform – Bitcoin Minetrix
Audited By Coinsult
Decentralized, Secure Cloud Mining
Earn Free Bitcoin Daily
Native Token On Presale Now – BTCMTX
Staking Rewards – Over 10,000% APY
Join Our Telegram channel to stay up to date on breaking news coverage