Join Our Telegram channel to stay up to date on breaking news coverage
Polygonum Online (POG), commonly called Pog Coin, has seen short-term solid volatility throughout the year.
In late 2022, the token's price dropped to the $0.005-$0.007 range, and ever since, POG price has remained within these two levels, rarely going beyond them.
As such, its behavior on a 1-year chart appears perfectly flat.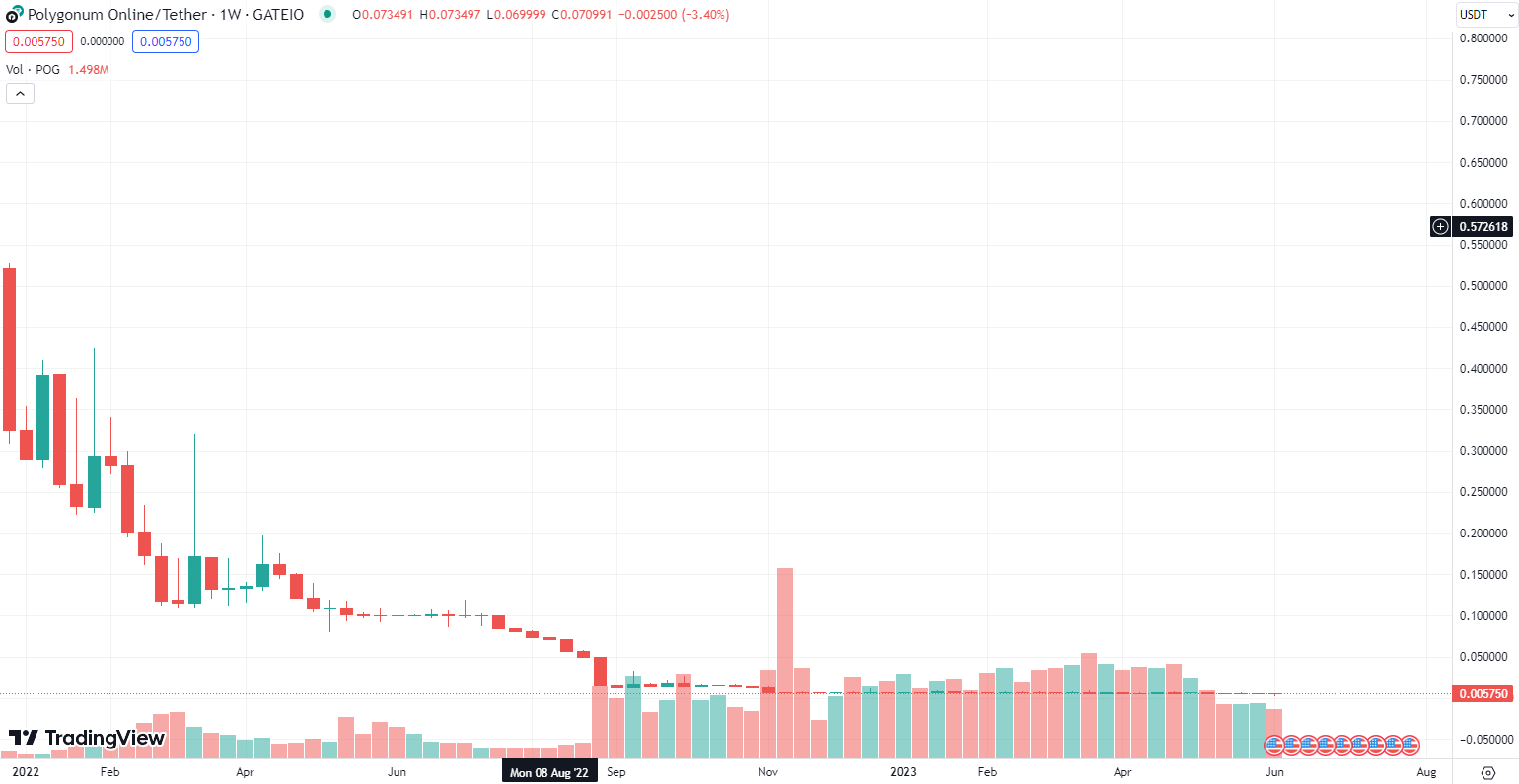 In the short term, however, the price has been seeing intense volatility, taking it up and down to make it a dream cryptocurrency for scalpers and day traders.
However, on a YTD chart, it becomes pretty clear that the token's volatility has been dropping firmly throughout the summer.
Notably, in mid-June, the price dropped to $0.0057, which seems to be flat again.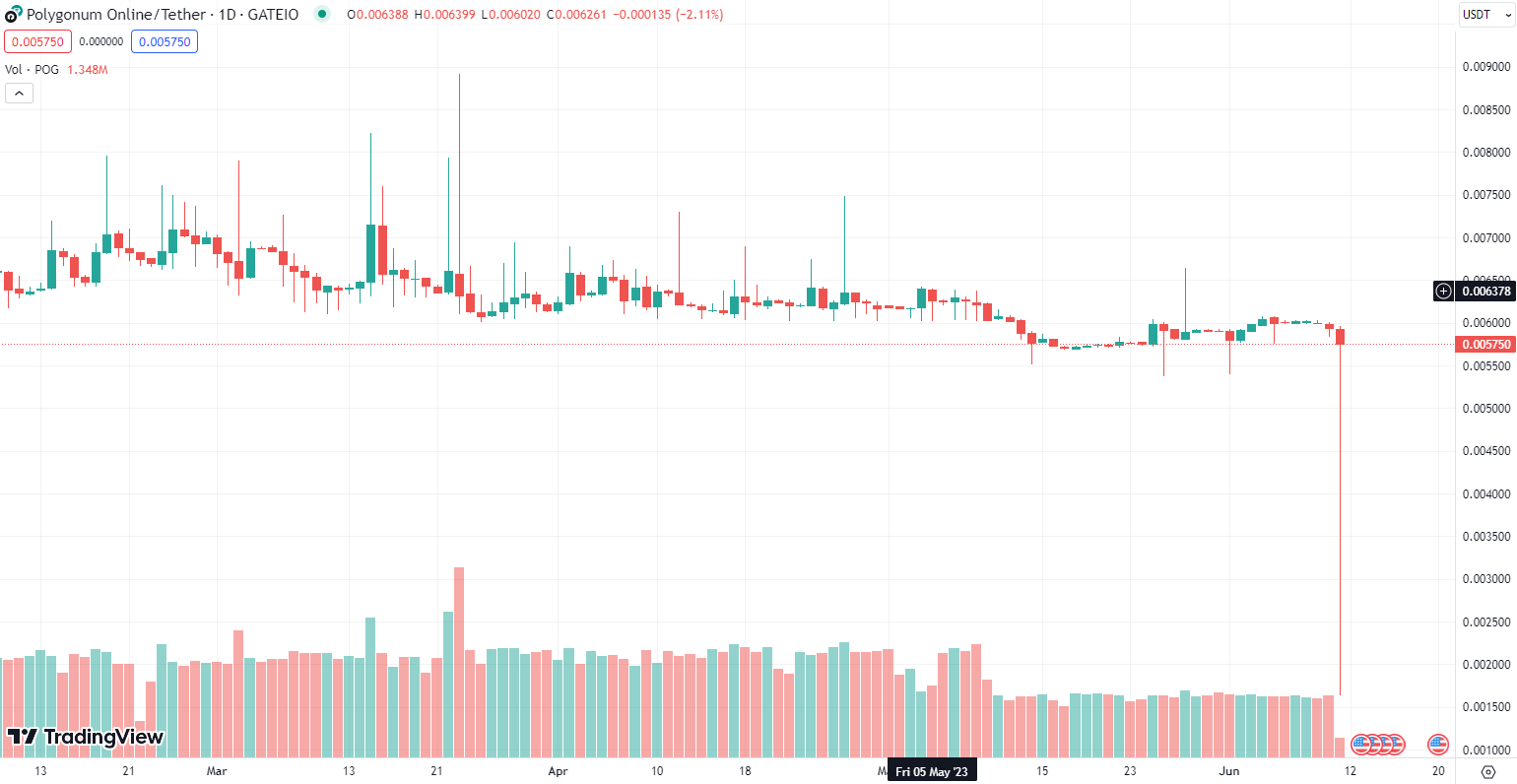 Of course, a closer inspection still shows that there was quite a bit of movement, only on a smaller scale, mostly between $0.0057 and $0.0058. But, as time passed, the token's fluctuations have been getting smaller and smaller continuously.
In the past month, it only fluctuated between $0.005743 and $0.005755. This also led to some unusual movements at exciting periods. In the last month, for example, the token saw a surge right around the time when the rest of the market crashed.
This was around August 17, when Bitcoin dipped to $26k, even below it. Meanwhile, POG prices surged from $0.005743 to $0.005755. It corrected after that, getting stuck between $0.005745 and $0.005750.
This behavior was briefly interrupted on August 29, when POG price surged from $0.005747 to $0.005755 before dropping back to the previously mentioned price range.
At the time of writing, Polygonum Online's price is $0.005748. Every week, the token is up by 0.04%, while daily, it is down by 0.03%.
Its price is also 0.1% higher than last month. But, its actual losses are only visible on a 1-year chart, where it recorded a 63.5% dip.
Polygonum's Price Stability
While the token still has minor fluctuations, its price remained stable in 2023. This sluggish performance comes simultaneously with the drop in interest regarding NFTs.
After all, the project operates as a multiplayer survival simulation game where users buy in-game objects as NFTs.
They can create their regions, form communities, mine minerals, etc. Still, it all comes back to NFTs and metaverse gaming, which has been pushed to the side as the market awaits recovery from 2022 losses, especially as everyone keeps their eyes on Bitcoin and whether or not it will get an ETF in the US.
Meanwhile, the project continued to update its game and work further on improving it. It also decided not to be listed on Gate.io starting August 7 this year. It noted that the decision was made due to high CEX trading support expenses, which the token cannot cover now.
Because of high CEX trading support expenses, we decided not to be listed on https://t.co/LYc9KJ5Doq starting 07.08.23.

‼️Withdrawal period is limited till 07.09.23.

— Polygonum Online (@PolygonumOnline) August 10, 2023
Sonik Presale Enters Final Day
Sonik (SONIK) is about to see a listing shortly, as its presale is almost over. The token has entered its last day and has managed to raise over $1.3 million at a price of $0.000014.
However, it is still a top-rated meme coin inspired by the memes involving Sonic The Hedgehog.
The project stressed that it is not affiliated with Sonic The Hedgehog or Sega in any way, but it liked the memes and made a meme coin.
Right now, users can buy it with ETH and USDT, and soon, the project should enable staking on its platform, so anyone interested in a meme coin with an actual use case should keep an eye on its development.
Related
Wall Street Memes – Next Big Crypto
Early Access Presale Live Now
Established Community of Stocks & Crypto Traders
Featured on BeInCrypto, Bitcoinist, Yahoo Finance
Rated Best Crypto to Buy Now In Meme Coin Sector
Team Behind OpenSea NFT Collection – Wall St Bulls
Tweets Replied to by Elon Musk
Join Our Telegram channel to stay up to date on breaking news coverage