Join Our Telegram channel to stay up to date on breaking news coverage
Investing in cryptocurrencies offers exciting opportunities due to their potential for significant value growth. In 2021, we witnessed remarkable increases, like Solana (SOL -5.0%) gaining over 10,000% and the meme token Shiba Inu (SHIB -3.02%) soaring by more than 40,000,000%.
However, the crypto market has faced several challenges since then, entering a bearish phase that led to substantial price declines in most major coins. While the future of cryptocurrencies remains uncertain, it's worth noting that the market has shown resilience in the past.
According to Reuters, HashKey Capital, the investment branch of the prominent Hong Kong-based crypto firm HashKey Group, is gearing up to launch its first-ever secondary crypto market fund. The fund's strategy involves investing a significant portion of its assets in lesser-known cryptocurrencies, with the aim of achieving better returns than Bitcoin, as stated by its portfolio manager. 
Best Altcoins To Invest In Right Now
Predicting the next cryptocurrency to experience a surge is a difficult task. Nevertheless, we can identify potential contenders capitalizing on current trends, such as artificial intelligence (AI), decentralized applications (dApps), and digital payment solutions.
1. Fetch.ai
In a surprising twist today, Fetch.ai (FET) has taken the spotlight as one of the top-performing digital currencies, showing an impressive price jump of 6.31% to hit $0.2323. This data comes straight from CoinMarketCap. Despite quietly operating under the radar until now, Fetch.ai's unique technology is finally getting its time to shine.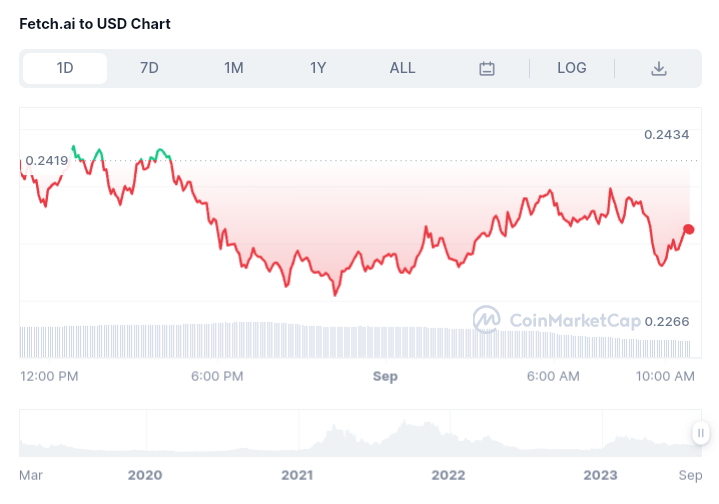 So, what's the deal with Fetch.ai? At its core, Fetch.ai serves as an artificial intelligence (AI) lab, focused on creating an open and decentralized machine learning network that operates alongside a cryptocurrency-based economy. The aim? To let folks like you and me access AI without any fuss. Imagine plugging into their system and tapping into datasets that smart AI can handle on its own.
What makes Fetch.ai even cooler is how it's bridging the gap between the AI world and this thing called Web 3.0. It's like a middleman but in a good way. This move is giving Fetch.ai a special spot in the digital scene.
The CTO of https://t.co/kJ9URVpOul @EFG_AI recently was on the @cosmos_voice to discuss distributed systems, #AI, Large Language Models and more! 🤖

Listen back below 👇 https://t.co/p33x44UmpI

— Fetch.ai (@Fetch_ai) August 31, 2023
Now, why's the price shooting up? First, it's caught up in the general market vibes. You know how sometimes everything's going up? Yeah, that's part of it. Second, the growing belief in AI's potential to significantly enhance productivity across various sectors contributes to the upward trajectory of Fetch.ai.
2. Sonik
Sonik Coin has set an ambitious goal – to become the fastest meme token to reach a $100 million market cap. It draws inspiration from the immensely popular SEGA video game franchise, valued in the billions. You can read more about our initial coverage of SONIK on our website.
🚨 The $SONIK presale is almost over!!! 🚨

Don't get left in da dustt
👉 https://t.co/s1fTdXDQCK#Presale #MemeCoin #Crypto #100x pic.twitter.com/Pu6PnYgaDj

— SONIK COIN (@Sonikcoin) August 31, 2023
If they manage to meet their hard cap, SONIK will make its debut on Uniswap in the coming week with a Fully Diluted Valuation (FDV) of slightly over $4 million. This is because 50% of the token supply is reserved for the presale.
There's a precedent for this in the meme coin world. A similar meme coin, HarryPotterObamaSonic10Inu (Bitcoin), which also embraces the lighthearted Sonic the Hedgehog theme, achieved an impressive $200 million market cap within just 100 days of its listing on Uniswap. At the time of writing, $BITCOIN has rebounded nicely after a correction and has returned to the $100 million market cap level.
Whether SONIK can replicate the success of meme coins like BITCOIN remains to be seen. However, it's worth noting that SONIK is steadily gaining traction on social media platforms like Twitter and Telegram, where it has garnered a following of several thousand meme token enthusiasts.
SONIK is an ERC-20 token, and you can purchase it using ETH or USDT, along with various crypto wallets like MetaMask and other WalletConnect options.
One unique feature distinguishing Sonik Coin from other meme coins is its staking rewards program. A substantial 40% of the total supply is allocated to staking rewards, with the remaining 10% dedicated to the locked liquidity pool.
For detailed information about SONIK, including its roadmap, tokenomics, and whitepaper, you can visit our official website at sonikcoin.com. SONIK is priced at $0.000014 during the presale in a single pricing round.
There are currently only three days remaining in the presale, so interested meme coin investors will need to act fast. $1 million has already been raised.
3. Dogecoin
Dogecoin (DOGE) has gained prominence as an alternative to traditional currencies like the USD and other digital assets such as Bitcoin. In December 2013, Dogecoin started as a lighthearted joke, drawing inspiration from the "Doge" meme featuring a Shiba Inu dog.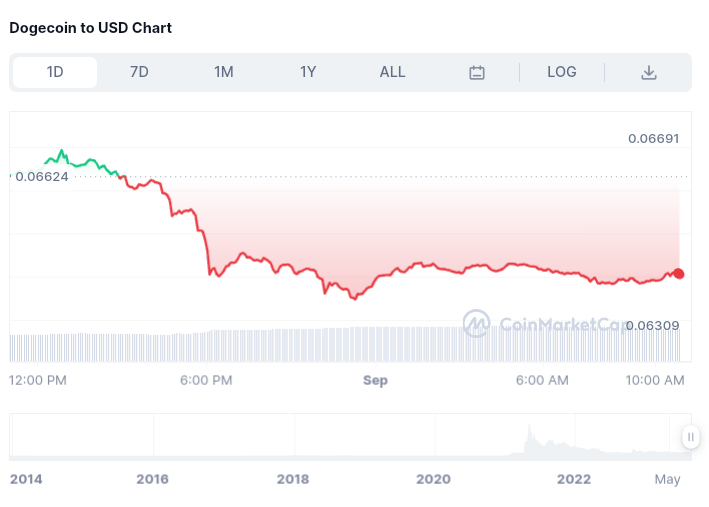 In an unexpected turn of events, Dogecoin's popularity surged due to the widespread appeal of the meme. The humorous digital currency quickly transitioned into a serious venture, fostering a vibrant community. This, in turn, led to its adoption as a genuine means of transferring value, fueled by its swift transaction speeds and economical fees. Consequently, it became a favored choice for moving funds between cryptocurrency exchanges.
Looking ahead, market experts express optimism about Dogecoin's potential trajectory. According to Wallet Investor, expectations are high, with projections indicating that Dogecoin could not only hit the $1 mark but potentially surpass it in due course. Over a span of five years, the forecast suggests a sustained value of $1.17 for DOGE. Another noteworthy prediction from Capital.com points to a longer-term outlook, foreseeing a price of $1.43 for Dogecoin by 2028, making it one of the lengthiest projections within the cryptocurrency market.
4. Maker
As August comes to a close, the altcoin market is witnessing a notable surge in the value of Maker (MKR), the governance token of the decentralized finance (DeFi) platform MakerDAO. In the midst of various price fluctuations across the global cryptocurrency market, Maker has stood out with a significant 8.35% increase, bringing its value to $1,147.63.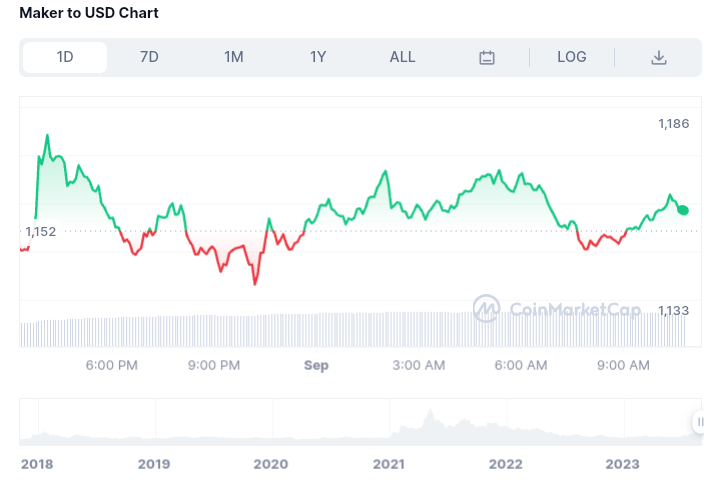 Interestingly, this surge is occurring while the market leader, Bitcoin, faces challenges and is experiencing a decline. Noteworthy is the fact that Maker's trading volume has experienced a remarkable 40.62% increase within just a single day. This surge in trading volume points to a heightened interest in the MKR token.
Over the past week, Maker has consistently shown its performance with a steady 6% rise in value. This performance showcases the growing significance of Maker in the altcoin market amidst the prevailing fluctuations in the broader cryptocurrency landscape.
Hello, Seoul 🇰🇷

The @phoenixlabsdev team has landed and is already at @ethconkr, excited to collaborate with all the hackers.

If you're hacking, this is your opportunity to discover the latest from Maker and Spark Protocol, and to explore the tools they offer for your projects.… pic.twitter.com/pZS08SIxBg

— Maker (@MakerDAO) September 1, 2023
5. yPredict
What makes yPredict unique is its approach of blending traditional statistical models with state-of-the-art AI to provide valuable trading insights. It combines the classic ARIMA model, which has been around since the 1970s, with more modern LSTM and SVM models.
🚀 Exciting Update! 🚀
🔥 yPredict Presale Alert 🔥

📈 20,000+ investors already on board for yPredict's presale Stage 7! The momentum is building, and visibility is off the charts with millions of impressions. 🌐📢

📣 Join the movement! Secure your YPRED tokens at just $0.1 –… pic.twitter.com/eiUc7gekV8

— yPredict.ai (@yPredict_ai) August 26, 2023
ARIMA (autoregressive integrated moving average) is a method that looks at historical data to find patterns for future predictions. It's particularly good at removing trends and seasonal fluctuations from the data, making it more useful. The autoregressive part of ARIMA uses past data for regression analysis, while the moving average part learns from past prediction errors. Its effectiveness in various fields like finance and meteorology demonstrates its versatility.
In Q3 of 2023, yPredict plans to list $YPRED on exchanges and introduce the beta version of the yPredict Repository and Marketplace. Towards the end of the year, users can expect beta releases of the Marketplace and Analytics products.
Moving into 2024, these products are expected to transition from beta versions to fully developed releases. yPredict has the potential to be a leader in shaping the role of AI in finance. Its systematic development and wide target audience position it for sustainable, long-term growth.
Take part in the presale at ypredict.ai.
Read More
Wall Street Memes – Next Big Crypto
Early Access Presale Live Now
Established Community of Stocks & Crypto Traders
Featured on BeInCrypto, Bitcoinist, Yahoo Finance
Rated Best Crypto to Buy Now In Meme Coin Sector
Team Behind OpenSea NFT Collection – Wall St Bulls
Tweets Replied to by Elon Musk
Join Our Telegram channel to stay up to date on breaking news coverage