Join Our Telegram channel to stay up to date on breaking news coverage
Non-fungible tokens entered mainstream consciousness in a big way in 2021. The same market that used to be the talk of the town in 2021 has seen a shocking downfall, which started in 2022. In this article, we have listed some of the NFT sectors that have suffered a brutal comedown since then.
In an August 29 blog post, Nansen, a popular blockchain data platform, shared an analytic report exploring the state of general non-fungible tokens right now compared to last year. The analytic firm has categorized the diverse NFT market in various sectors to evaluate each sector's performance.
Since January 2022, art NFTs have been the best-performing ETH NFT sector

They've done better than every other type of NFT, including Blue Chips and Metaverse NFTs, remember them?

But they're down against the dollar…

Let's take a look at how down each NFT sector is… pic.twitter.com/ZcZUI2EXDw

— Nansen 🧭 (@nansen_ai) August 29, 2023
The blockchain data platform has categorized the NFT market into Blue Chips, the Broader NFT market, Social, The Metaverse, Art, and Gaming. The NFT index will start with the worst-performing sector, working way up and assuming an investor invested $1,000 into each Index on January 1, 2022.
1. NFT Gaming
NFT gaming is a sector representing different gaming NFTs, like GameFi and Play-to-earn. This NFT sector has suffered a brutal comedown in the past several months, leaving many investors in massive losses. Out of all NFT sectors, this was the worst performing, with this index down a staggering 91%! If you had invested $1,000 in January 2022, that would now be worth $90.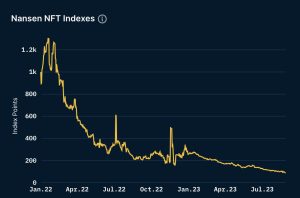 Source: Nansen.ai, NFT gaming
2. The Metaverse
The Metaverse is another non-fungible token-related sector that has suffered a massive downfall in the past several months, with even more pronounced due to its shortage of activities. The NFT sector covers gaming items and virtual avatars. If you had invested $1,000 in January 2022, your NFT investment would now be worth just $202.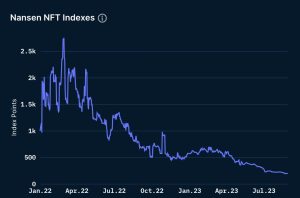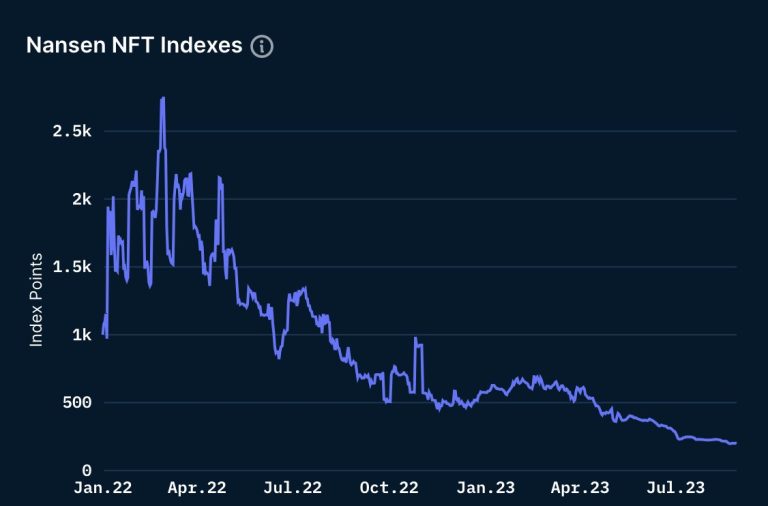 Source: Nansen.ai, Metaverse NFTs.
3. Social NFTs
Social NFTs are a sector that focuses on social connection; this may be gated access or certain privileges to holders only. Netflix is a perfect example that launched NFTs to gauge audience sentiment on each episode of Love, Death + Robots' third season by looking at the sales numbers. If you had invested $1,000 in this sector in January 2022, you would now have $362.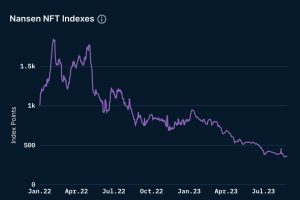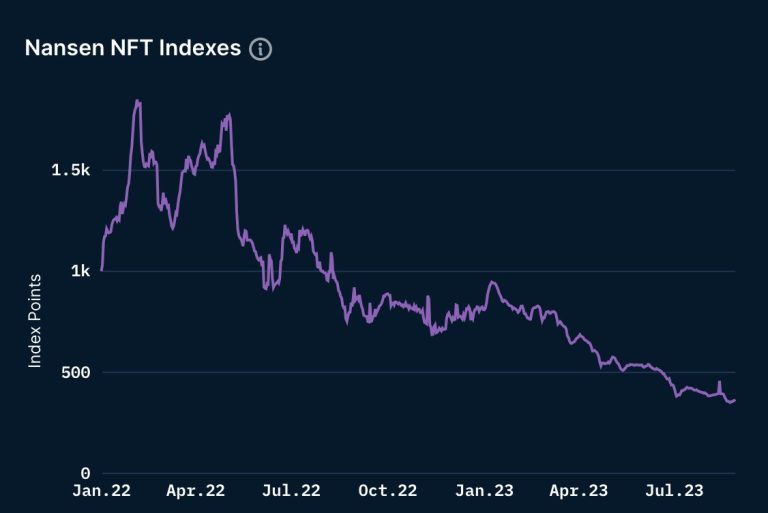 Source: Nansen.ai, Social NFTs
4. Blue Chip NFTs
Blue chip NFTs are non-fungible tokens expected to maintain a more sustainable long-term value due to historical trading activity and strong fundamentals. Some notable collections include Bored Ape Yacht Club, Mutant Ape Yacht Club, and Azuki NFTs. They may now be the leading NFTs, but even they're down in the current market. If you had invested $1,000 in January 2022, you would now have $405.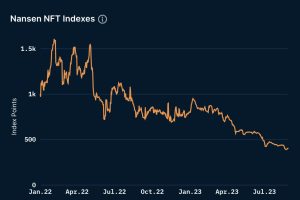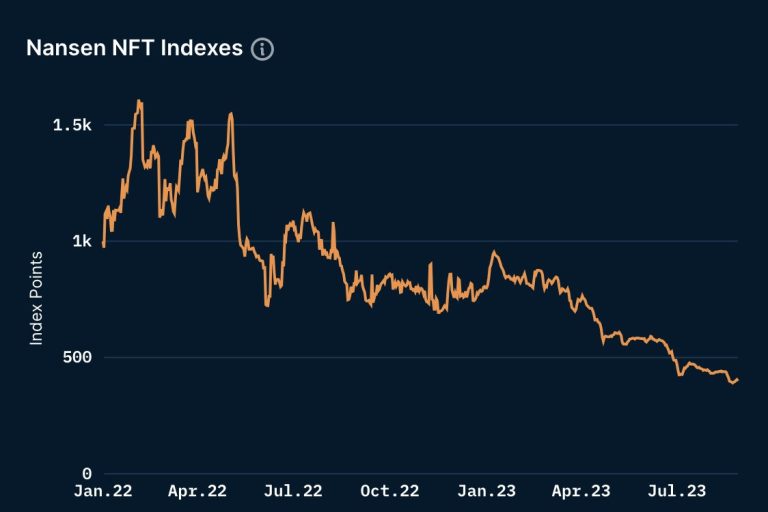 Source: Nansen.ai, Blue-chip NFTs
5. Art-themed NFTs
This NFT sector comprises the top spot in the top 20 art collections by market capitalization. This index attempts to capture the broad range of Art collections transacted on the market. If you had invested $1,000 in January 2022, you would now have $596. It's worth noting that Ethereum's price in USD was much higher in Jan 2022 than it is now. If you had invested $1,000, you would have around $432.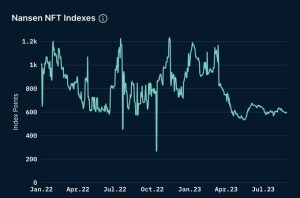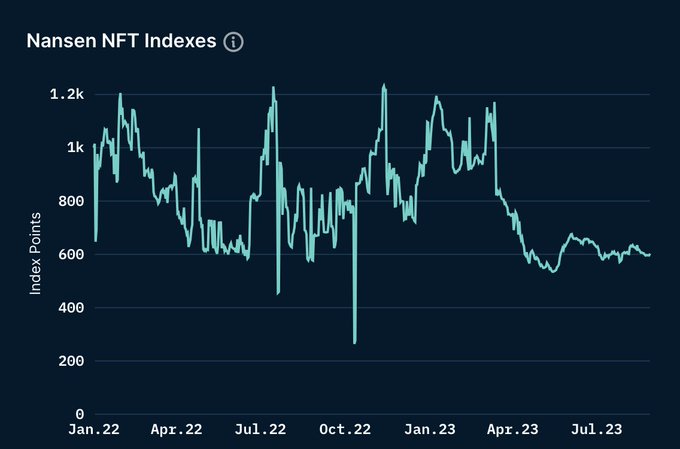 Source: Nansen.ai, Art NFTs
What Went Wrong?
The non-fungible token market crash of 2022 is one of the most heavily debated topics of the year. The puzzle remains: Why did the NFT market crash, and how will we recover from a crypto crash that shook the industry?
The NFT market possibly crashed in 2022 due to several factors, including market saturation, fraud, and scams, which attracted fear, doubt, and uncertainty in the market. Another factor that possibly triggered the downfall was the collapse of giant crypto firms.
In May 2022, the Terra crypto coins TerraUSD and LUNA collapsed. The two currencies lost almost 99% of their value, and investors lost more than $60 million. These two events and similar collapses have set the foundation for the NFT market crash. The NFT market crashed again in November after the fallout of the crypto exchange FTX, leaving floor prices shielding more than 30% of their value.
Related NFT News:
Wall Street Memes – Next Big Crypto
Early Access Presale Live Now
Established Community of Stocks & Crypto Traders
Featured on BeInCrypto, Bitcoinist, Yahoo Finance
Rated Best Crypto to Buy Now In Meme Coin Sector
Team Behind OpenSea NFT Collection – Wall St Bulls
Tweets Replied to by Elon Musk
Join Our Telegram channel to stay up to date on breaking news coverage