Join Our Telegram channel to stay up to date on breaking news coverage
SEI recorded a remarkable surge of over 300% in mid-August following its listing on the Binance exchange. 
However, its recent price performance suggests the bears have suppressed the rally as the coin has declined over 7% in the last 24 hours, trading at $0.1391 at 08:43 AM EST.
The downturn has snatched most of SEI's past gains, pushing it over 69% down from its all-time high price of $0.455, recorded on August 16, according to Coingecko data. 
These negative price moves obscure the token's reputation amongst investors, casting doubts about its longevity and future price trajectory.
Investor's Sentiments in Effect As SEI's Price Stumbles
Notably, since SEI's launch on exchanges, its price momentum has dwindled, falling to $0.17 after the rapid surge to even $0.14 yesterday, contrary to investors' expectations. Also, the token has declined by over 10% in the last seven days.
However, despite the notable price decline, SEI still holds over 1623% 30-day gains, according to CoinMarketCap data.
Collaborations Could Be SEI's Escape Route from Bearish Lines
However, the asset's fall today is speculated to be temporary and could be attributed to the bearish sentiment in the broader crypto community. SEI's trading volume has been dropping gradually for days now and even recorded a 34% decrease on August 24, suggesting a decline in trading activity in the SEI market.
Amid the rising sell pressure, some community members believe the asset follows a similar pattern to other newly listed currencies and that any potential ROI will be in long-term positions. 
In support of these speculations, SEI is establishing renowned collaborations. Besides the exchange listings, SEI has bigger plans in progress. 
First, the Binance $10,000 giveaway is claimable by investors who stake BNB, $TUSD, or $FDUSD in the $SEI launch pool. Also, the SEI raffle currently ongoing on CoinGecko is a partnership to invite more investors to the project and reward the community for the hype. 
Want to win your share of $10,000 in $SEI?

Here's how 👇 https://t.co/ANpnAVPJJz

— Binance (@binance) August 24, 2023
BSC News further drew the attention of potential investors to SEI, showing their speedy transactions and high success rates. According to the tweet, the network may even outshine giants like Ethereum and Solana. 
🚀 @SeiNetwork is redefining the digital asset space with lightning speeds and a high transaction success rate! Perhaps outshining giants like Ethereum and Solana! #SEI #SeiNetwork #Ethereum

Dive into the full story: https://t.co/WGPzk79iFI

— BSC News (@BSCNews) August 23, 2023
These events could expand SEI's market presence, facilitating more rallies for the token. Meanwhile, while waiting for potential price spikes, investors can look into other alternative coins, like $SONIK, for faster ROI.              
SEI Token Ranges – What Might Happen Next?
Following its significant price drop from a high of $0.2839, SEI found support at the $0.1393 price level. The downward trajectory can be attributed to profit-taking investors who sold off their holdings after SEI listed on crypto exchanges.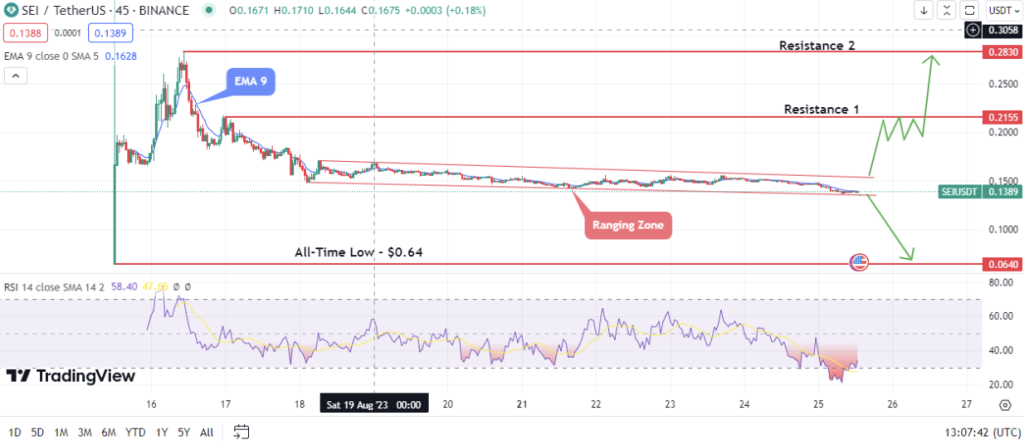 The SEI token has been in a trading range for the past seven days, showing relatively consistent highs and lows without a clear direction. 
This range-bound trading indicates a lack of decisive market sentiment, potentially hinting at uncertainty among traders and investors. However, the situation could soon change as the coin approaches a critical juncture. If SEI's price breaks below the fundamental level at $0.1388, it might signal a significant downward shift. 
Conversely, a breakout above the upper boundary of the range ($0.1582) could be a game-changer. Such a move might begin a bullish rally to the $0.2155 resistance level.
The coin might swing between $0.19 and $0.2155 based on historical price moves before breaking above the resistance point. Trading during such uncertain periods can be risky, so exercising caution and having a solid risk management strategy is essential.
Meanwhile, the Relative Strength Index (RSI) value of 32 suggests that the coin is slightly oversold. Traders might see this as an opportunity for a price rebound, as shallow RSI values often indicate an upward movement. 
However, further analysis, such as chart patterns and market trends, is vital to confirm potential bullishness or identify whether the current value reflects a more significant trend shift.
SEI Best Alternative – SONIK
Despite the uncertainties in the crypto market, a super-speed and captivating meme token, Sonik Coin ($SONIK), is attracting the eyes of investors with its remarkable presale performance.
The Sonik Coin presale is racing toward its hard cap, raising over $500,000 in less than two of its inception. The significant performance is similar to its predecessors like SPONGE, BTC20, and PEPE.
The Sonik Coin's development team has set a modest hard cap of only $2 million, aiming to establish its presence in the meme coin arena
 swiftly.
Over 15% of the allocated presale amount has already been sold in a week, hinting at a potentially short ICO duration due to growing project awareness and excitement.
A significant portion, 50%, of the total available supply of 299,792,458,000 tokens has been designated for the presale. The tokens are being offered at a fixed price of $0.000014 to ensure an equitable start for all participants.
Sonik's Stake-to-Earn Accumulate Over $11 Billion Tokens
Another significant aspect of $SONIK is its staking capability, enabling token owners to earn money by contributing their tokens to a staking pool.
This feature has gained substantial traction, with over 17.4 billion tokens in the staking pool. 
Around 8% of the presale allocation has been locked up within a week, demonstrating high interest. Staking allows passive earnings at 209% annualized yield, with 9,125 SONIK per Ethereum block.
 More staking may decrease rewards, but projects like BTC20 show staking's positive price influence. BTC20 saw a 6x price gain after launch due to significant staking, resulting in a market cap of over $25 million.
Sonik Coin's strong community interest suggests it could experience a price increase upon listing on exchanges. Investing early while momentum is growing might be wise, as indicated by Crypto ZEUS, potentially leading Sonik Coin to follow the path of becoming the next PEPE.
Furthermore, the project came to the limelight as popular YouTubers spoke positively. Notable crypto presale analysts such as Crypto Zeus, Crypto Alert, Jacob Crypto Bury, and Michael Wrubel have covered this project in their YouTube channels. Interested investors should visit the presale website to acquire the token.
Related
Wall Street Memes – Next Big Crypto
Early Access Presale Live Now
Established Community of Stocks & Crypto Traders
Featured on BeInCrypto, Bitcoinist, Yahoo Finance
Rated Best Crypto to Buy Now In Meme Coin Sector
Team Behind OpenSea NFT Collection – Wall St Bulls
Tweets Replied to by Elon Musk
Join Our Telegram channel to stay up to date on breaking news coverage