Join Our Telegram channel to stay up to date on breaking news coverage
PEPE, the memecoin that started the memecoin mania this year, increased by 4% recently before a slight bounce corrected the overall daily increase to 2.65%. What is the reason behind the lukewarm reaction to this memecoin?
PEPE Pumps 2.29%
In the last 24 hours, PEPE has increased by 2.29%, a minor and insignificant increase for a memecoin.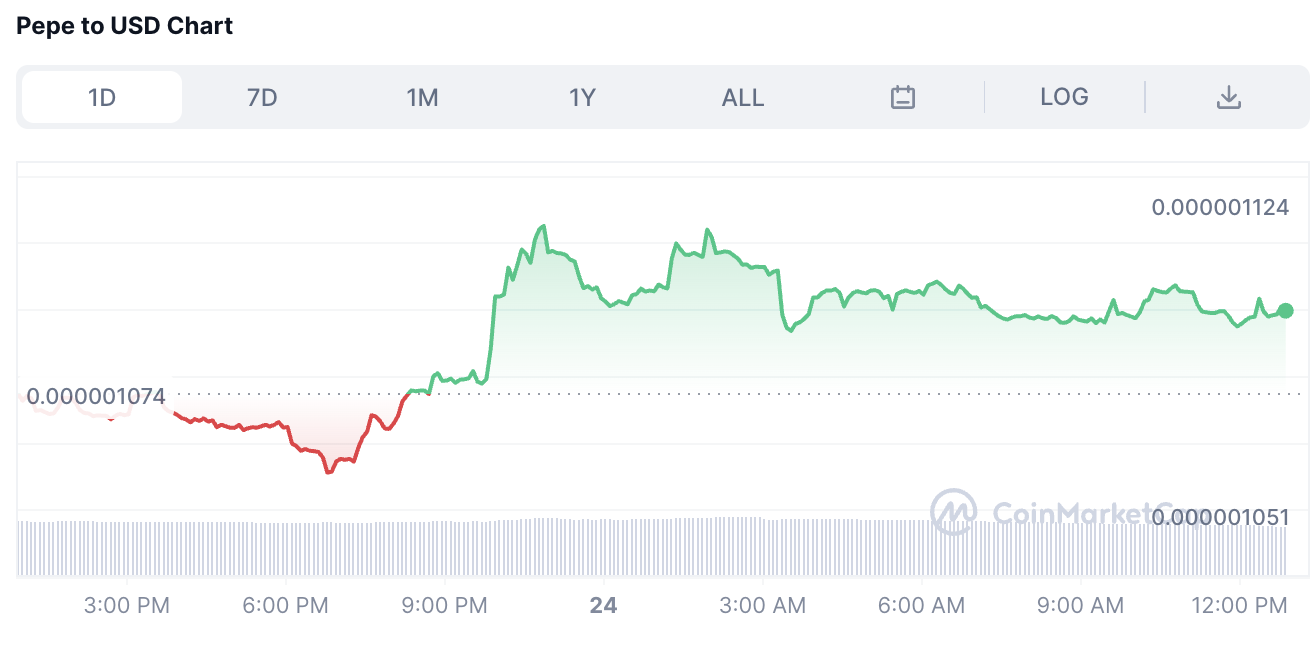 At 3:39 am EST, the token was trading around the $0.0000010 mark, with its market capitalization up by 2.65%, standing at $438 million, and its trading volume dropping by 9.48%, at $75.6 million.
PEPE Price History – Token That Changed Memecoins in 2023
If 2022 was a year for utility tokens, 2023 became a year for meme coins – all thanks to the arrival of PEPE.
Launched in the middle of April 2023, PEPE quickly leveraged its Pepe the Frog aesthetics to move up on the price charts by 83,000%, becoming the fastest token of 2023 to reach a $1 billion market capitalization – a feat that allowed it to go live on multiple cryptocurrency exchanges, including Binance.
However, the token's meme-attic aspects could not keep up the momentum, which led to a rapid retrace. Despite the downtrend, the PEPE price is still up 1833% since launch, meaning those who bought it early are still 18x in the green.
Other Memecoins Also Receiving Lukewarm Reception
PEPE is not the only meme coin that hasn't been performing as volatile as it did before. Heavyweights like Dogecoin and Shiba Inu also move on stably on the price charts.
DOGE has only increased by 1.2% in the last 24 hours, and Shiba Inu has also seen no more than a 1.05% pump.
The reason for this lukewarm reception could be two-fold. You can blame the current state of the market. Bitcoin has also experienced a measly 1.61%  increase in the last 24 hours.
The other reason could be that these projects, which are supposed to keep the community engaged on social media platforms, aren't doing enough. PEPE, for instance, hasn't made one significant post since August 12, which was about the token image.
The token image for $PEPE has been updated on @etherscan and @DEXToolsApp. Currently waiting on @CoinMarketCap to update, and would like to ask @kucoincom @lyu_johnny to update the logo to the green Pepe as well🐸 pic.twitter.com/2LCweFtwEM

— Pepe (@pepecoineth) August 11, 2023
Dogecoin's X page is also full of reposts. The lack of new comedic material or engaging ideas will likely push investors away.
PEPE Price Analysis
Since PEPE fell due to the emergence of triple-red candles – an attribute also seen in other crypto assets – it has started to consolidate around a comfortable price point.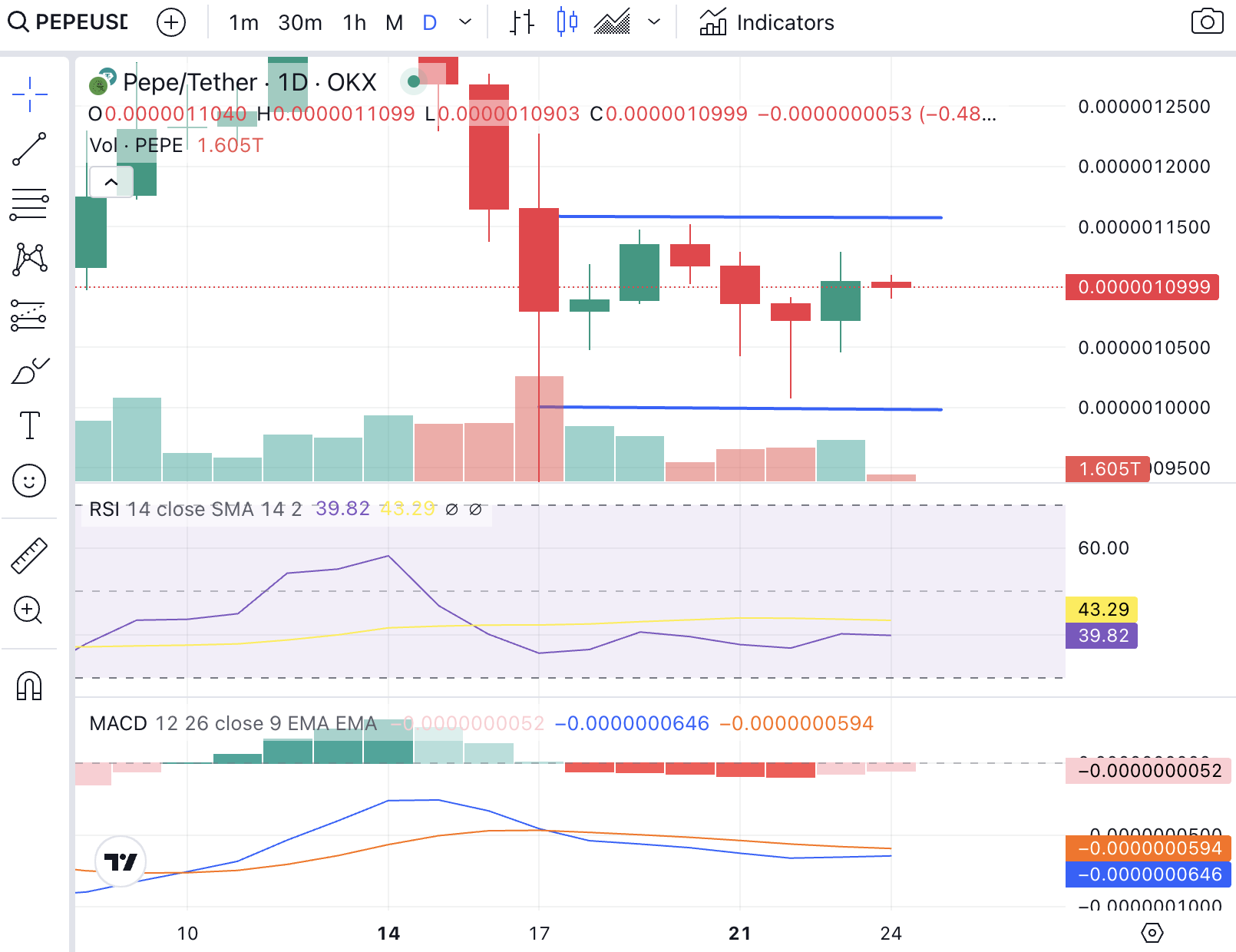 The price is rarely moving away from a straight trendline. We could see some uptrends if PEPE can break through the upper psychological resistance, which currently stands at $0.0000011.
But PEPE's price performance will fall into bearish zones if it collapses below the psychological resistance of $0.0000099.
Adding to these uninteresting performances are the closer-to-oversold RSI and negative MACD indicators. People aren't feeling optimistic about this token and may not be interested in hoisting bullish flags for it on CoinMarketCap.
PEPE Alternative – yPredict
The lack of interest in PEPE may indicate that people seek a beefy token with top-of-the-line utilities.
yPredict is an asset that leverages artificial intelligence to provide users with an all-in-one AI ecosystem complete with AI Signals, Sentiment Analysis, Technical Analysis, and Pattern Recognition.
yPredict also features a predictions marketplace where developers can sell their predictive models to quants, traders, and analysts.
🚀 The future of crypto predictions is here with yPredict! 🤖 This AI-powered platform has already raised an impressive $3.4M in its presale so far.

💰 With its cutting-edge technology, transparency through blockchain, and community-driven approach, yPredict is setting a new… pic.twitter.com/yPSvwOOAg0

— yPredict.ai (@yPredict_ai) August 14, 2023
The project has ventured into digital marketing with its Backlink Estimator and yPredict editor. The former lets marketers scan the website and determine the number of backlinks it has. The latter is modeled after ChatGPT, offering users a way to edit their articles through holistic quality assessment tools.
yPredict has raised more than $3.5 million since opening its presale. The current price of 1 YPRED is $0.1, which will increase by 11.11% to $0.12 after the conclusion of the current presale stage. Visit ypredict.ai to become an early mover.
Related
Wall Street Memes – Next Big Crypto
Early Access Presale Live Now
Established Community of Stocks & Crypto Traders
Featured on BeInCrypto, Bitcoinist, Yahoo Finance
Rated Best Crypto to Buy Now In Meme Coin Sector
Team Behind OpenSea NFT Collection – Wall St Bulls
Tweets Replied to by Elon Musk
Join Our Telegram channel to stay up to date on breaking news coverage