Join Our Telegram channel to stay up to date on breaking news coverage
The Price of Ethereum went down a tiny bit, just 0.4%, on the last day. It's now at $1,664, 10% lower than a week ago. Its 24-hour trading volume is up by more than 15%.
ETH went down by 12% in the last month. But for the year, it went up by 6%. However, these gains became smaller because the whole market lost value last week and in the past few weeks.
Ethereum's new testnet, Holesky, enables the system to test upcoming updates, such as Cancun-Deneb, more efficiently.
Such developments could help the ETH Price recover very soon since layer-two rollups will be cheaper and more efficient.
Ethereum's signs show that it might be near the lowest point of its recent drop. The RSI-14 indicator has stayed below 40 after dropping to 20 last week.
Also, Ethereum's average price over the past 50 days is about to go lower than its average price over the past 200 days. This can often mean more losses are coming.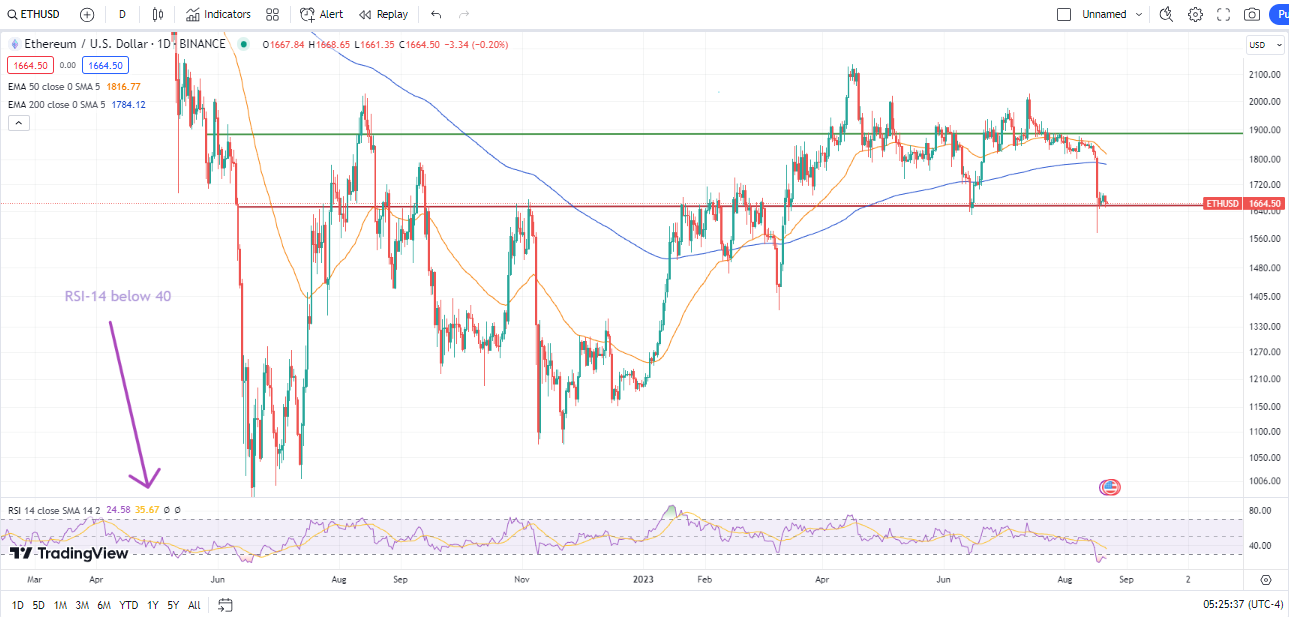 But even if there are more losses in the next few days, they might not be ample. Ethereum's price has increased slightly from a level where it usually doesn't drop much. So, a recovery might happen soon. Ethereum's fundamentals are still strong.
Ethereum has something exciting coming up in the next few weeks: the launch of its new Holesky testnet. If this goes well, it could increase the price of ETH for a while.
A testnet alone won't make Ethereum better or more valuable, but preparing for future changes is essential.
One of these changes is the Cancun-Deneb upgrade, which many people are waiting for. This upgrade will pave the way for something called Proto-DankSharding. This will help Ethereum's special networks called layer-two rollups. These changes will help these networks be faster, and transactions will cost less.
This will help Ethereum become a more extensive network that can handle more things simultaneously. This makes it even more vital as the top platform for smart contracts in the crypto world.
Ethereum has more than half of all the money for decentralized finance (DeFi). It's also getting more popular, like how PayPal will use its own digital money on Ethereum.
Because of these good things, we might see ETH's price go back to around $1,700 to $1,800 in the next few weeks
Ethereum (ETH) Statistics:
Today's price –  $1664
Market Cap – $220 Billion
Circulating Supply –  120,211,068 ETH
Total Supply: –   120,211,068 ETH
Coinmarketcap ranking – 2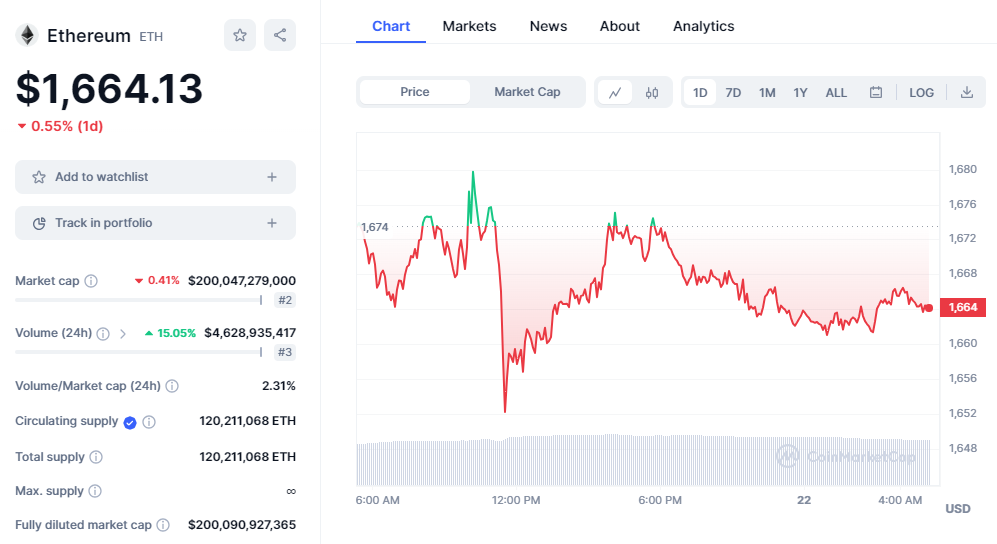 Promising Alternative to Ethereum (ETH)
The new Sonik Coin is like a particular currency that uses Ethereum technology. It's based on the fun Sonic the Hedgehog video games from SEGA. It brought some funny and charming things to meme coins when it came out. It wants to be different and find its place in the big world of cryptocurrencies.
The SONIK token started on Ethereum, and there are many of them—299,792,458,000. This number is like a tribute to speed and fun. It's a way to talk about how fast light travels and how Sonic is famous for running fast to get his coins.
Platform activities include its presale, which releases half of the token supply to the general public. By making this strategic choice, the team is committed to early supporters. The SONIK presale price is $0.000014 and has raised over $3 million. In addition to fostering community engagement, the move ensures fair accessibility for all ecosystem participants.
Sonik's ultimate goal is clear. With a $100 million market capitalization, it's aiming to match the famed character's speed. Sonik Coin appeals to meme coin enthusiasts with a high tolerance for risk due to its playful design and nostalgic connection to a beloved gaming icon.
Sonik Coin's whitepaper enhances its appeal, which reveals a forward-looking strategy aligned with current crypto trends.
Community engagement and market dynamics will determine SONIK's future value and the team's ability to execute. Incentives for long-term holding and rewards for token holders are combined with robust stake mechanisms.
The SONIK token looks promising as the launch sets the stage and establishes an initial price point. Nevertheless, investors should thoroughly research and assess their risk tolerance before investing in a rapidly evolving landscape.
fast as fuk!
🦔💨https://t.co/s1fTdXDQCK pic.twitter.com/H7JBIw32S2

— SONIK COIN (@Sonikcoin) August 17, 2023
SONIK will be listed on multiple exchanges at the end of the year. Potential listings will boost its market presence and price. The crypto community will be pumped with excitement and intrigue.
Check out the Sonik Coin website.
Other Interesting Reads:
Wall Street Memes – Next Big Crypto
Early Access Presale Live Now
Established Community of Stocks & Crypto Traders
Featured on BeInCrypto, Bitcoinist, Yahoo Finance
Rated Best Crypto to Buy Now In Meme Coin Sector
Team Behind OpenSea NFT Collection – Wall St Bulls
Tweets Replied to by Elon Musk
Join Our Telegram channel to stay up to date on breaking news coverage