On-chain data shows that Bitcoin long-term holders have continued to hold strong recently as their exchange inflows have remained low.
Bitcoin Long-Term Holder Supply Has Set A New All-Time High
The "long-term holders" (LTHs) refer to all those investors who have been holding onto their coins since more than 155 days ago. Generally, the longer a holder keeps their coins dormant, the less likely they become to move or sell them at any point. Thus, the LTHs are usually the most persistent bunch in the sector.
Whether the market is going through FUD or a profit-taking opportunity, these investors tend to stay quiet and not make too many moves. Their resilience has also earned them the popular name "diamond hands."
The times that these investors do end up selling, through, are, therefore, all the more significant, as they suggest that the market has been able to move even these strong-minded holders.
A few days back, Bitcoin observed a sharp crash that sent its price toward the $26,000 level. In its latest weekly report, the on-chain analytics firm Glassnode has looked into whether the BTC LTHs have shown any reactions to this plummet in the cryptocurrency's value or not.
There are two metrics of relevance here: the LTH supply and the LTH exchange inflows. The former measures the total amount of the assets that these investors are carrying in their wallets currently. At the same time, the latter indicator keeps track of the transactions that this cohort is sending towards exchanges.
Here is a chart that shows the trend in both of these BTC metrics over the past few years: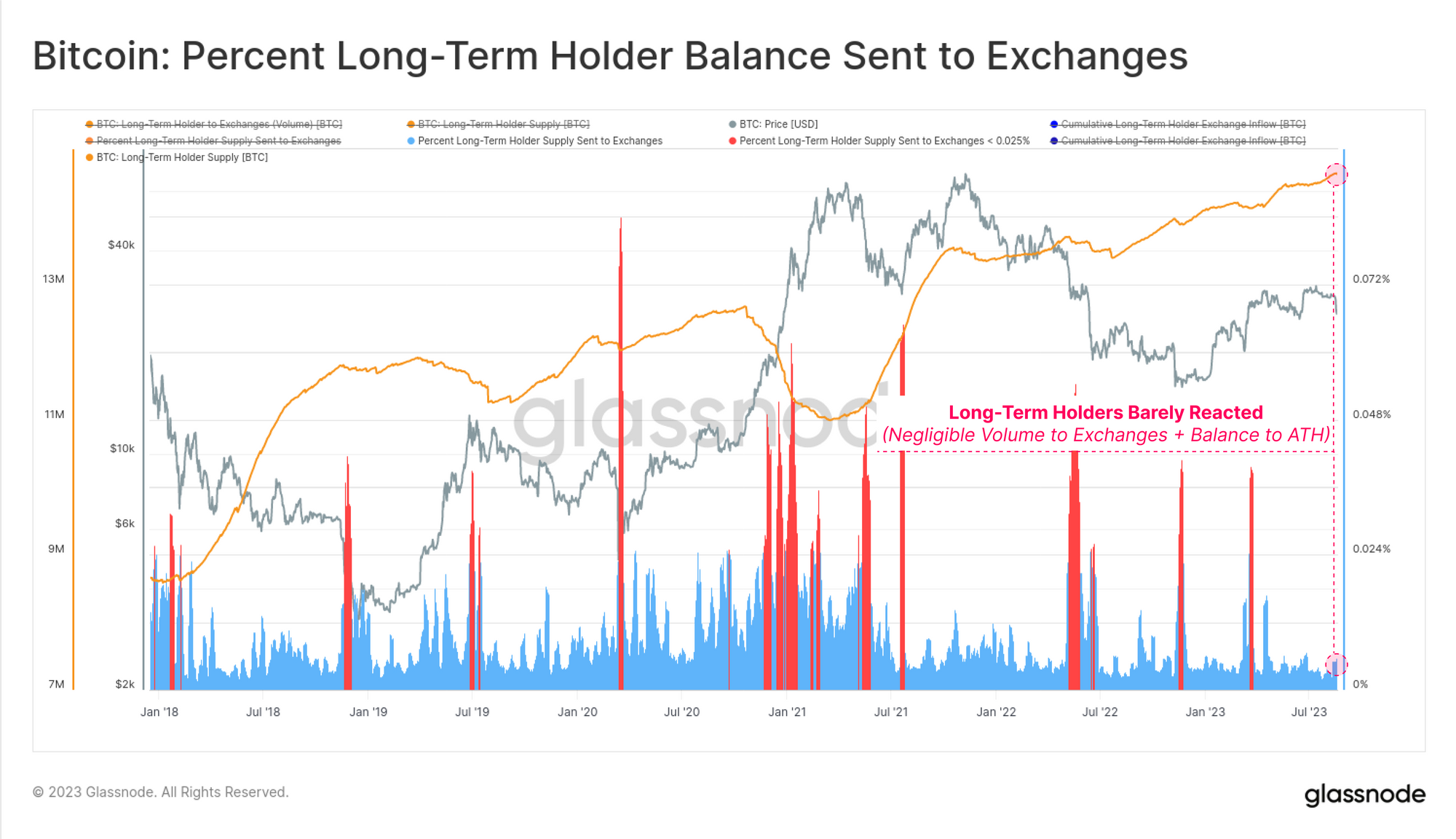 Looks like the value of the metric has been relatively low in recent days | Source: Glassnode's The Week Onchain - Week 34, 2023
The Bitcoin LTH exchange inflows are shown as a percentage of their supply. The chart shows that this cohort has only continued to send a negligible amount of their supply to the exchanges recently.
Generally, centralized exchanges are what holders use whenever they want to sell. Hence, the fact that these investors haven't been depositing to these platforms suggests that they haven't played much of a role in the crash, and its occurrence hasn't made them panic, either.
Not only have the LTHs not been selling, but their supply has continued to grow recently, as visible from the graph. Something to note here is that this isn't a sign of buying taking place right now, but rather the supply growth is a result of investors who bought 155 days ago finally maturing into the group.
The Bitcoin LTH supply has set a new all-time high with the latest growth. It would appear that the LTHs have not cared about the crash, as the cohort has only become the strongest it has ever been.
BTC Price
At the time of writing, Bitcoin is trading around $26,000, down 11% in the last week.
BTC hasn't moved much since the crash | Source: BTCUSD on TradingView
Featured image from Kanchanara on Unsplash.com, charts from TradingView.com, Glassnode.com