Join Our Telegram channel to stay up to date on breaking news coverage
Bitcoin's collapse to below $26k has not deterred Ordinals. The fundamental units of Bitcoin, akin to NFTs, still make up 85% of total BTC transactions, refuting the claims that the hype behind Bitcoin NFTs has died.
The news came out from Ordinals developer "Leonidas" who revealed that 450,785 transactions of 530,788 transactions of Bitcoin over the last day were related to Ordinals.
"Amid everyone claiming 'Ordinals are dead,' they have accounted for 84.9% of the activity on Bitcoin," he tweeted.
Over the past 24 hours Bitcoin had 530,788 transactions.

450,785 of those transactions were Ordinals related.

In the midst of everyone claiming "Ordinals are dead" they have literally accounted for 84.9% of the activity on Bitcoin.

You can't make this stuff up.

— Leonidas (@LeonidasNFT) August 20, 2023
Dune Analytics supports this trend, which has reported over 400k ordinal inscriptions arrived on August 20, despite 556,000 Bitcoin transactions that day.
Main Usecase of Bitcoin Chain is Ordinals  – Udi Wertheimer
Udi Wertheimer, a crypto influencer with over 177k followers, supported this news, stating that ordinals are the primary use case of the Bitcoin chain.
85% of on-chain bitcoin transactions in the past 24 hours are ordinals related

EIGHTY FIVE PERCENT

the main usecase of the bitcoin chain is ORDINALS pic.twitter.com/PCZt4if5jf

— Udi Wertheimer (@udiWertheimer) August 20, 2023
His bullish cries of "I am Bitcoin Chain Now" were echoed by several followers, including the likes of BitGod and Timothy. @smokes_eth added that it is an "incredible stat."
I AM THE BITCOIN CHAIN NOW

— BitGod (@BitGod21) August 20, 2023
Now everyone, however, was on the same page. Kristan Kho, a writer on CoinGecko, came out replying to this tweet, saying, "Bitcoiners are coping."
Bitcoin Ordinals Inscription Crosses 25 Million In Fees
Amidst the news of a significant portion of transactions, Dune Analytics has also reported more than 25 million inscriptions of Bitcoin, equivalent to the daily all-time high of 422,164 on July 14.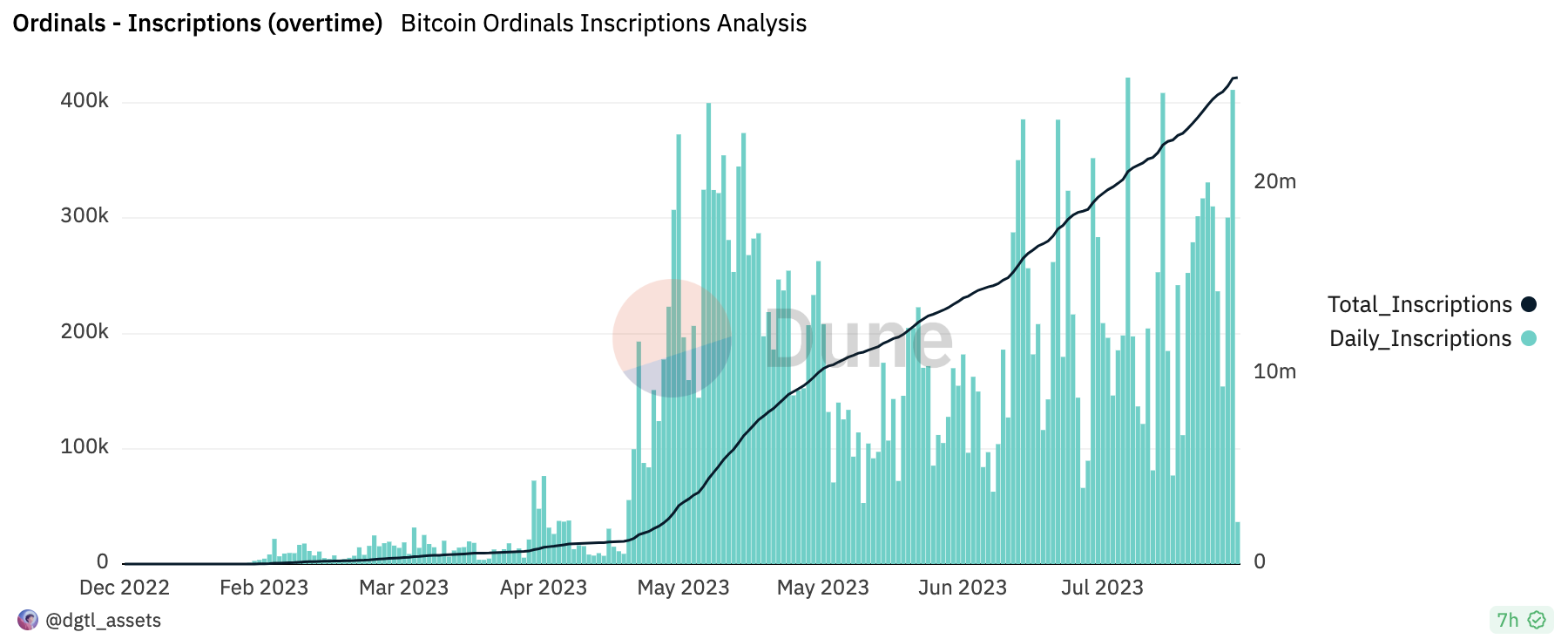 Similar to NFTs, Ordinals inscriptions are inscribed into the smallest denominations of Bitcoin, Satoshis. The protocol was launched in January, which led to many mint thousands of notes on Bitcoin. Bitcoin also received a primary bullish wave around this time in 2023.
Of the 25 million inscriptions, recursive inscriptions – upgrade on Ordinals – account for 140,000. Recursive reminders allow developers to use data from the last notes in new ones, bypassing the size of Bitcoin blocks.
Bitcoin Price Drops by 0.65%
Bitcoin has received another marginal blow in price today, dropping by 0.65% in the last 24 hours. At press time, the BTC price is just below $26k.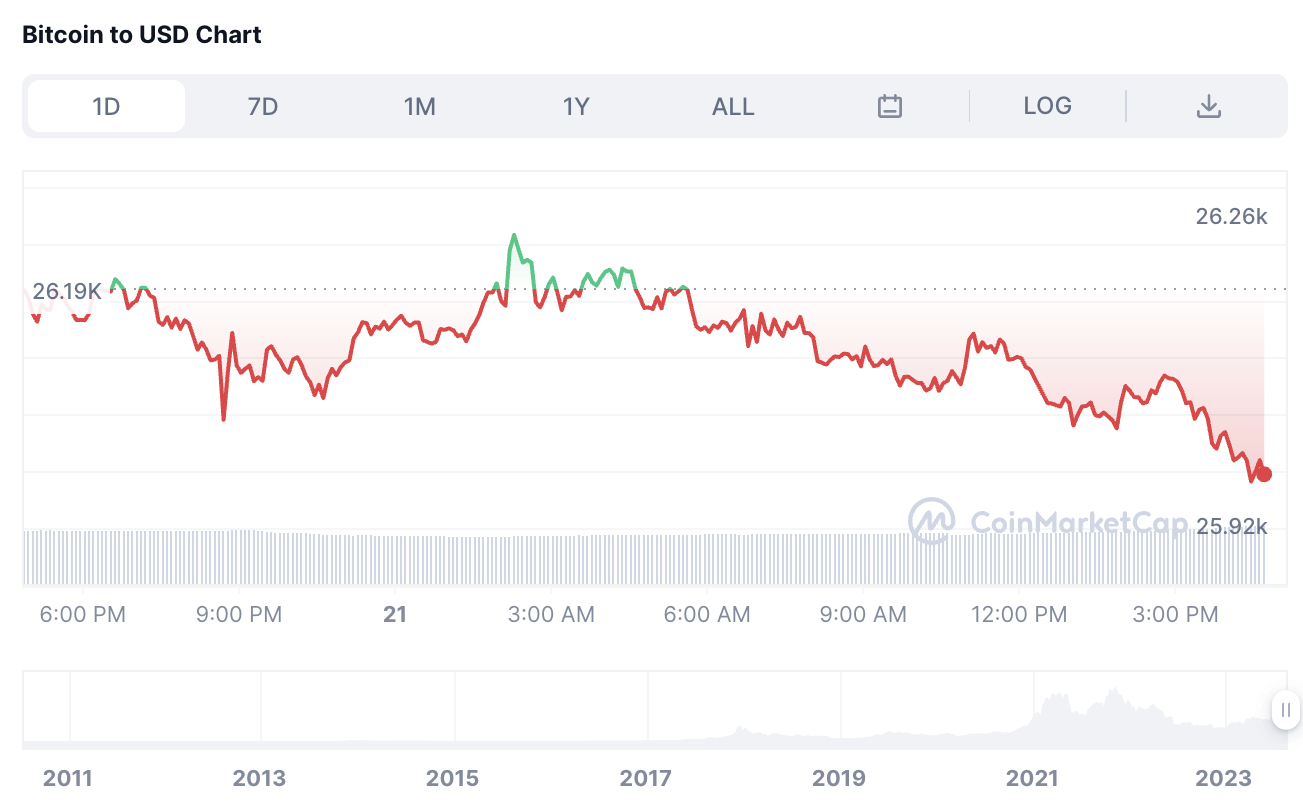 This downturn is accompanied by a 10% increase in its trading volume, which now stands at $10.6 billion.
According to Ali, a crypto analyst with almost 30k followers on Twitter, Bitcoin must reach $31.7k to establish a bullish reversal trend. Ali has used the Parabolic SAR to estimate, which has recently moved above $BTC on the weekly chart.
#Bitcoin | The Parabolic SAR has moved above $BTC price on the weekly chart. This is often interpreted as a potential bearish signal, indicating a downtrend.

Based on this indicator, #BTC must close above $31,700 to signal a bullish trend reversal. pic.twitter.com/g8MgsyyUkv

— Ali (@ali_charts) August 19, 2023
Related Articles
Wall Street Memes – Next Big Crypto
Early Access Presale Live Now
Established Community of Stocks & Crypto Traders
Featured on BeInCrypto, Bitcoinist, Yahoo Finance
Rated Best Crypto to Buy Now In Meme Coin Sector
Team Behind OpenSea NFT Collection – Wall St Bulls
Tweets Replied to by Elon Musk
Join Our Telegram channel to stay up to date on breaking news coverage